Have you heard? Starbucks Singapore has updated its Spring 2022 series to include two new strawberry beverages and two colour changing reusable cups! These are in addition to its current line-up, which includes delectable cakes, limited-edition beverages and cherry blossom-inspired merch. Here's what you should check out during your next coffee run.
Two new limited-edition strawberry beverages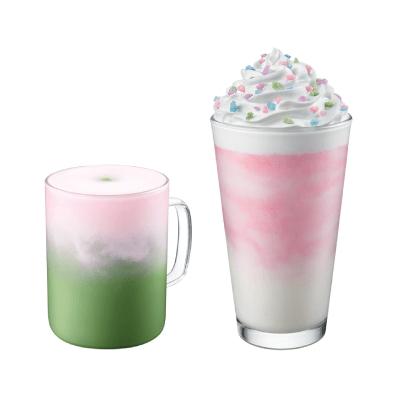 In the mood for matcha? Sip on the Strawberry Dream Pure Matcha Latte, which contains layers of strawberry flavoured cloud foam to bring your tastebuds to the skies. Priced at SGD7.80 in the tall size, enjoy this as a hot or iced beverage.
Looking for an indulgent treat? Let the Strawberry Dream Creme Frappuccino Blended Beverage delight your senses with its combination of strawberry and vanilla. Did we also mention that it has whipped cream and sprinkles? Pick this up for SGD8.20 in the tall size.
Colour changing reusable cups
Can't get enough of the pretty pink hues of the strawberry drinks? Starbucks has also launched two new colour-changing reusable cups that are inspired by the Strawberry Dream Pure Matcha Latte.
The hot version of the cup, which is priced at SGD6 turns from green to pink when hot beverages are poured in. Meanwhile, the cold version, which retails at SGD8.90, turns from pink to green when cold beverages are poured in. Both are available with any in-store purchase.
Meatless options and healthier desserts on the Starbucks menu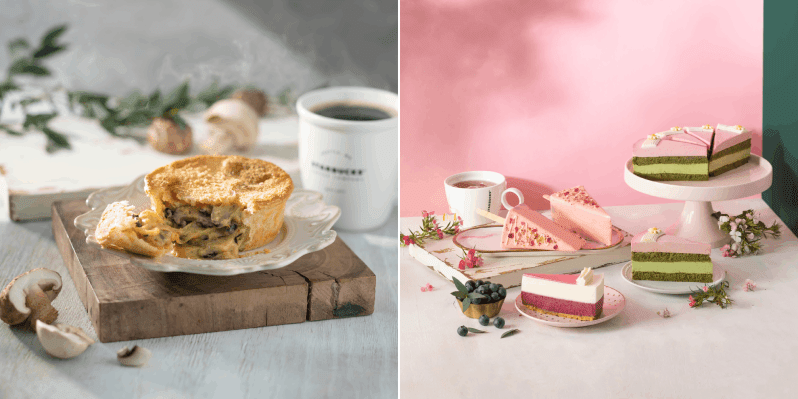 Starbucks has a great selection of bites to accompany its world-renowned coffees. Case in point: the Triple Cheese Mushroom Pie, which is back by popular demand and is now meat-free. For those who can't resist desserts, don't miss out on the Lychee Rose Cake Popsicle and Green Tea Raspberry Cake. Conscious of your sugar intake? Opt for the Blueberry Yogurt Cheesecake, which is less sweet. The cakes are priced at SGD7.20 each.
More dreamy limited-edition beverages
Keep your eyes peeled for these three limited-edition beverages: the Cocoa Cloud Macchiato, the Salted Caramel Frappuccino and the Salted Caramel Cloud Macchiato. The first two flavours are new to the brand, while the third is a returning favourite. Find them at all Starbucks outlets.
Cherry blossom merchandise
We're fast approaching sakura season in Japan! Although we can't witness these breathtaking blooms in person yet, we can still enjoy their beauty in the form of Starbucks' Cherry Blossom collection.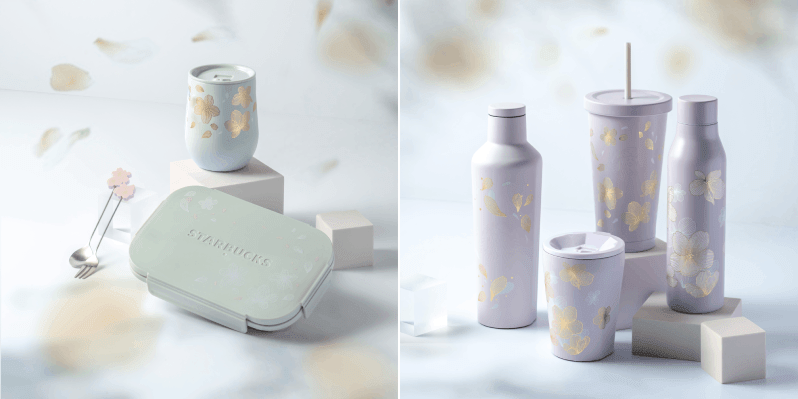 The range includes an assortment of drinkware, carriers, Starbucks cards and an umbrella — all dressed in pretty shades of pink, purple and metallic gold. The products are priced between SGD22.90 and SGD66.90.
Enjoying Starbucks' new offerings from home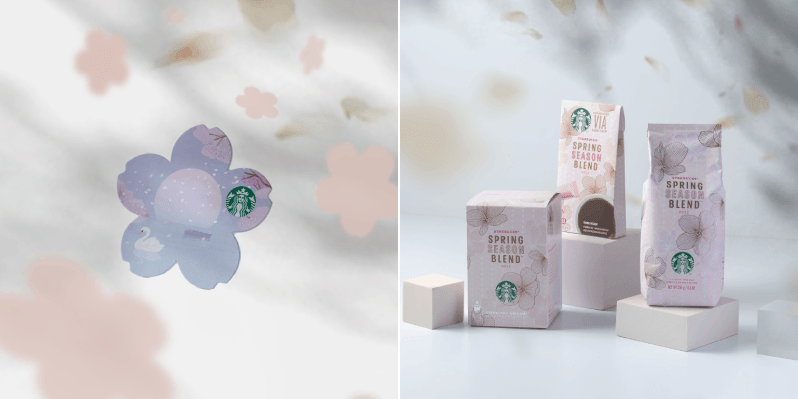 If your schedule's looking a little packed at the moment, you can still enjoy some of these new releases in the comfort of your own home. In fact, Starbucks has also launched its Spring Season Blend, its latest at-home whole bean coffee that boasts dark cherry and cedary spice notes.
Selected food and beverages are available through delivery platforms Deliveroo, Foodpanda and GrabFood as well. For merchandise, you can find them at selected Starbucks outlets, LazMall and Shopee Mall.
Meanwhile, Moleskine has teamed up with a renowned Japanese textile designer to launch a Sakura 2022 limited-edition notebook collection. Click here for more.

Comments, questions or feedback? Email us at [email protected].