We can't help but sing along to BTS' "Smooth like butter, like a criminal undercover" after seeing the cutest Butter Together collection from Starbucks Singapore.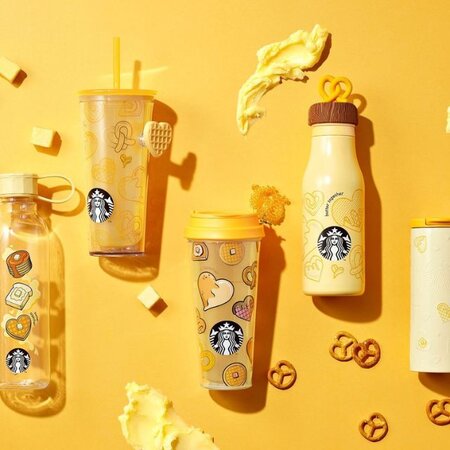 More than bringing the addictive K-pop hit into mind, the new collection makes us excited to jumpstart our day with pieces adorned with baked goodies such as pretzels, waffles, and pancakes.
Starbucks' Butter Together collection
Starbucks
has designed its latest merchandise with the season of love in mind. Instead of going for the classic red hues associated with the occasion, the brand decided to go all out with its summery yellow collection and successfully captured our hearts.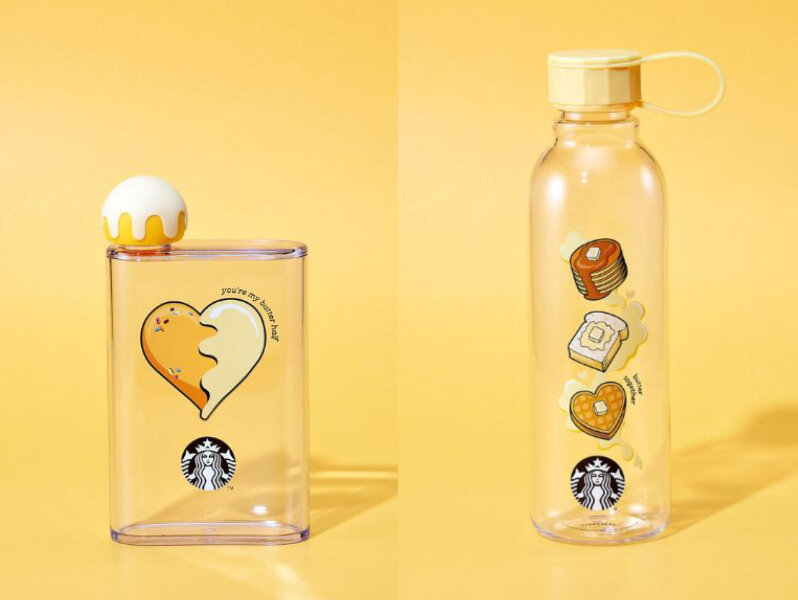 Starbucks' new collection offers a variety of drinkware options so that you can choose which one catches your vibe the most.
If you're an iced coffee lover who's always on the go, the Starbucks Dripping Heart Water Bottle 14OZ (SGD29.90) and the Melting Butter Water Bottle 25OZ (SGD33.90) might strike your fancy. It's suitable for cold beverages only.
Meanwhile, if you're someone whose choice of beverage changes depending on your mood of the day, the Baked Goods Stainless Steel Tumbler 12OZ (SGD46.90) and the Stainless Steel Water Bottle with Pretzel Ornament 16OZ (SGD53.90) are suitable for both hot and cold drinks.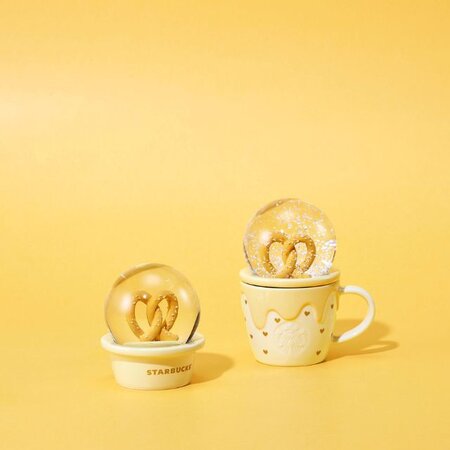 If you're the type to sip coffee at home before rushing to your daily grind, Starbucks brings you a pretty
Pretzel Heart Globe Mug 3OZ
(SGD57.90) and the
Butter Heart With Wooden Lid 12OZ
(SGD44.90).
Aside from drinkware, Starbucks will launch a Yellow Butter Dish (SGD57.90) with a heart-shaped waffle handle. It can double as a dessert platter and amp up the fun once your guests take off the lid and find the sweetest desserts inside. Starbucks will also offer a Mini Bearista with Pretzel Keychain (SGD31.90) that can also be you and your special someone's lowkey but cute couple item.
You can check out the entire collection right here.


Starbucks' Butter Together collection in Singapore
All the pieces of the Starbucks Butter Together collection will be available via the
Starbucks® Online Store
and in stores on 26 January at 10AM.
(Cover photo from: @starbuckssg, Starbucks)

Comments, questions or feedback? Email us at [email protected].