Athleisure remains one of our favourite style trends — is it yours too? Dressing up for casual days has become so much more comfortable and convenient as we can easily incorporate activewear pieces into outfits that will take us from the spin bike to brunch with our besties.
Looking for cute fitness pieces to level up your athleisure looks? #TBLBureau's Germaine Foo reviewed cheak's V Bra and Classic Legging to see if the local activewear brand (which is formerly known as butter) delivers on all fronts — from fit and functionality to fashion. Plus, cheak's co-founder Tiffany Chng tells us how the brand's designs are made with movement in mind.
cheak V Bra & classic legging: first impressions and try-ons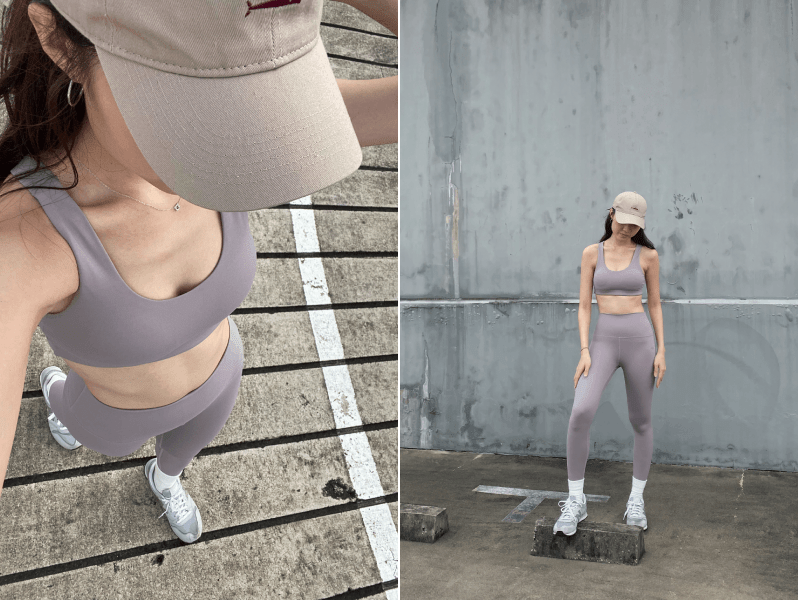 As a busy university undergraduate, Germaine enjoys going to spin classes and has a newfound love for yoga. Standing at 171CM, she looks for leggings that fit her tall and slender frame: "I prioritise comfort, so the material of the pieces strongly influences my decision to purchase. I also love when the material feels soft and buttery smooth." Other factors that are important to her? Colours, design, affordability and good support.
"My first impressions? I love the colour! It's versatile and pairs well with the neutral-coloured items in my wardrobe. The design is also simple and classic, so it will probably not go out of style," says Germaine. Germaine wears a UK8 for both her top and bottoms. She opted for a size small for her cheak activewear set in 'Moon', a limited edition beige-meets-pale grey colourway.
Product features and specifications
The cheak V Bra is made to support your "sweatiest activities" and is designed with minimal seams for a "luxe feel". "For some other active bras that I've worn, I'm conscious about the compression and tightness of them. But this one felt so comfortable," Germaine noted. She has worn the V Bra for yoga and spin classes and has noticed that the bra supports her well without digging into her skin.
These plus points are thanks to the brand's signature BaseCore fabric, which delivers compression, sweat-wicking and cooling properties and is suited for high-intensity activities such as HIIT, running and spinning.
"Our designs are created with movement in mind. We consider the types of movements and activities that we are catering to ensure our designs are supportive and not restrictive to the wearer. We also carry out fit sessions and test them out for activities and in 'real life'," explains Tiffany. The brand also offers its BaseFlex fabric, which is meant for lower-intensity activities such as yoga, pilates, and barre.
Meanwhile, the cheak Class legging boasts the same features and properties as the V Bra — from its BaseCore fabric to its sweat-wicking and cooling properties. It's also worth noting that both pieces are available in a wide range of sizes — from XXS (UK4) to XXL (UK16).
What we love: looks classic and feels oh-so-comfy
In addition to the cheak activewear set's comfort-focused features, Germaine is also a big fan of its overall design and colour. "I love the neutral tones and the simplicity of its design. I tend to look for classic designs that can be worn regularly without looking boring, and this set is just what I am looking for, " enthuses Germaine.
For that effortless, 'fresh-out-of-the-gym' athleisure look, Germaine shares that she'd gladly wear this with an oversized white shirt, simple gold or silver jewellery, a cap, a pair of high socks and sneakers. "A Pinterest-style fit that is foolproof! I'd also throw a pullover over my shoulders for cute and casual moments too," she adds.
In terms of areas for improvement, Germaine shares that she would personally prefer for the Classic legging to be longer and have a higher rise. However, she understands that she's on the taller side (the average height of an Asian woman is around 152CM) and that cheak's designs cater to an Asian fit. Perhaps in the near future, the brand can consider diversifying its designs further to cater to even more body types — from petite girls and generously curvy women to towering ladies!
cheak activewear: came for its chic colourways, staying for its superb fabric and fit
cheak activewear is a game changer and, in our opinion, it has successfully delivered on all fronts — from its inclusive size range and comfort-focused features to its fashionable colourways. Its pieces look as good as they feel — buttery soft yet supportive of movement — and fit just right into our daily wardrobes.
The cheak V Bra is priced at SGD50, while the Classic legging costs SGD79. This makes their price point comparable to other local activewear labels and more affordable than international fitness wear brands.
You can shop cheak activewear online and at Love, Bonito's ION Orchard flagship store. Friends in Malaysia can also get their hands on cheak pieces at these locations.
P.S. We tried reformer pilates for the very first time. Here's our honest verdict.

Comments, questions or feedback? Email us at [email protected].