Updated: Fitbit's latest software update (OS 5.2) will allow Fitbit Sense users to switch between different clock faces without leaving the main screen. They can now also access the SpO2 tracking on-wrist feature to better observe the level of oxygen in their blood.
Here's a relatively controversial statement to get you thinking: Electronic devices are not always anxiety- or stress-inducing. In fact, they can guide you towards leading a healthier way of life as long as you're utilising the right ones that will complement your lifestyle and needs. Agree?
Here at #TeamClozette, we've been exploring the complicated relationship between technology and mental health for a while now, having shared our honest thoughts and learnings after tracking our screen time for an entire week and trying out a few top-rated mental health apps to better understand the pros and cons of self-help therapy.
Building on this thread, we decided to take popular health and digital fitness brand Fitbit's latest 'Sense' smartwatch out for a spin. Why this device, you ask? For starters, this is the brand's most advanced health smartwatch to date. It boasts advanced heart rate tracking technology, an on-wrist temperature sensor and it's also the world's first-ever electrodermal activity (EDA) sensor to be built into a smartwatch. In short, this device — when used alongside the Fitbit mobile application — is specially designed to help you manage both your physical and mental stress. Intrigued yet?
To put this device to the test, I roped in one of #TeamClozette's Campaign Managers, Dhivya Latha, to spend one week with the Fitbit Sense to see if it truly walked the talk. Read on to find out how out our experience went down.
A quick check on our mental health status
"I used to get easily overwhelmed and not seek help even if I needed it. Now, my form of 'therapy' would be to exercise four to five times a week, cook, spend some quality time by myself, and say 'no' to things that I do not wish to do. I believe I'm doing much better than before," revealed Dhivya. She added that although she's 'not much of a watch person', she's been looking for a smartwatch that can track her workouts while monitoring her overall fitness and health.
As for myself, I struggled with stress management when the 'Circuit Breaker' measures kicked in earlier this year. Keeping up with personal obligations and work deadlines during lockdown felt quite tough for me and I could tell that it was taking a toll on my physical and mental health.
However, as the measures began to ease over the last few months, I've felt much better as I could see my friends in person again and I have since become more motivated to strengthen my exercise routine. That said, I'm still very much a novice when it comes to utilising smart fitness devices, and am more interested in exploring the Fitbit Sense's stress management functions.

First impressions
Upon unboxing the Fitbit Sense, I was immediately drawn to its simple yet sleek design. I liked how it felt lightweight and relatively comfortable on my wrist, and I was also particularly fond of the watch's responsive edge-to-edge display.
Dhivya's first impressions of the smartwatch echoed mine, and more. She shared, "I liked its design as well. It looked minimalistic; the interface was rather easy to use, and the system clock faces looked good too. As soon as I synced my phone with the watch, it was 'all systems go'. Above all, I liked that I was able to check on my resting heart rate and the number of steps I had taken so far at one glance. I was also impressed by how the watch was able to track different types of workouts that I was in the mood to participate in that day — whether it's a run, weight training or a HIIT (High-intensity interval training) session."
Sense check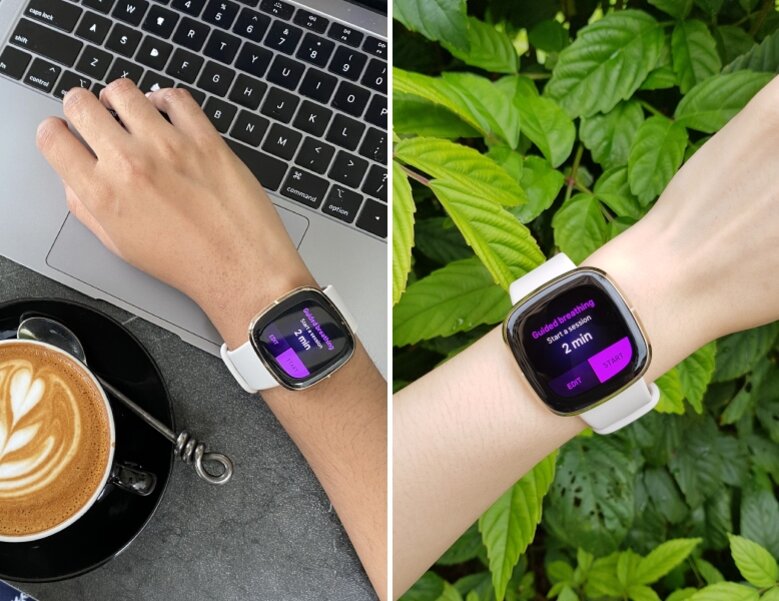 Moving on to the Fitbit Sense's key functions. Both of us had a go at the EDA scan and the Fitbit mobile app's mindfulness resources to better ascertain how they would impact our day-to-day outlook on dealing with stressful moments. How did they fare?
"With the EDA scan, users are given two options: either a quick, two-minute scan (which is great if you're always on the go) or longer, comprehensive guided sessions. In just two minutes, the smartwatch was able to detect my stress levels and the changes in my heart rate," Dhivya shared. She believes the function would be 'quite useful for those who often experience high levels of stress, as this helps to remind them to keep their physical and mental wellbeing in check on a daily basis.
In terms of the mindfulness resources available on the mobile app, I appreciated how the brand had a great variety of guided sessions for users to choose from. Whether it's a 24-minute 'Relax & Refocus' running meditation activity or a 10-minute pre-slumber bedtime body scan, there's bound to be an activity that you could easily work into your schedule. The activities served as a gentle reminder for me to set aside time to properly relax and unwind, no matter how busy my day has been.

Tracking of fitness goals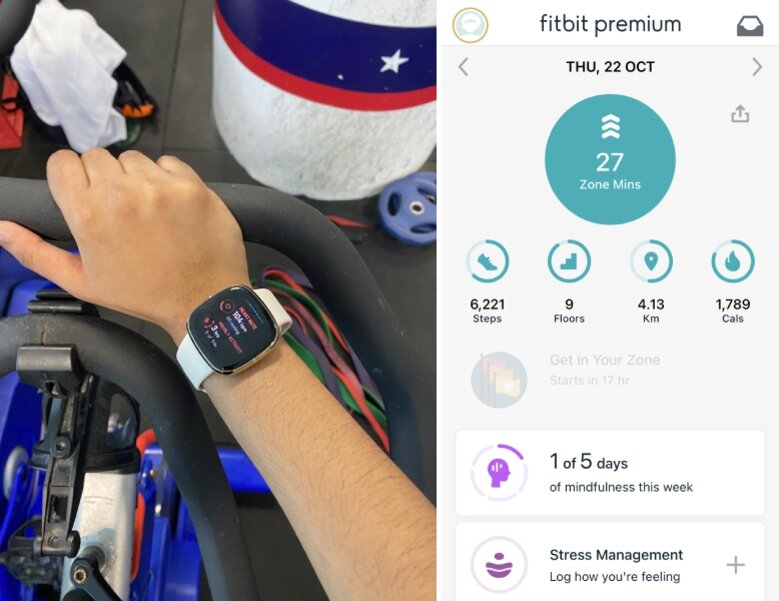 Research has shown that the psychological and physical benefits of exercising can improve one's mood and reduce anxiety. With this, we also looked at how the smartwatch helped us in achieving our fitness goals. Dhivya took the Fitbit Sense out for a spin (literally); she wore it during her spin classes and weight lifting workouts. She shared, "I was motivated to push harder whenever I observed that the number of calories burned was low. I also became more aware of my daily step count and would make it a point to compare these results daily."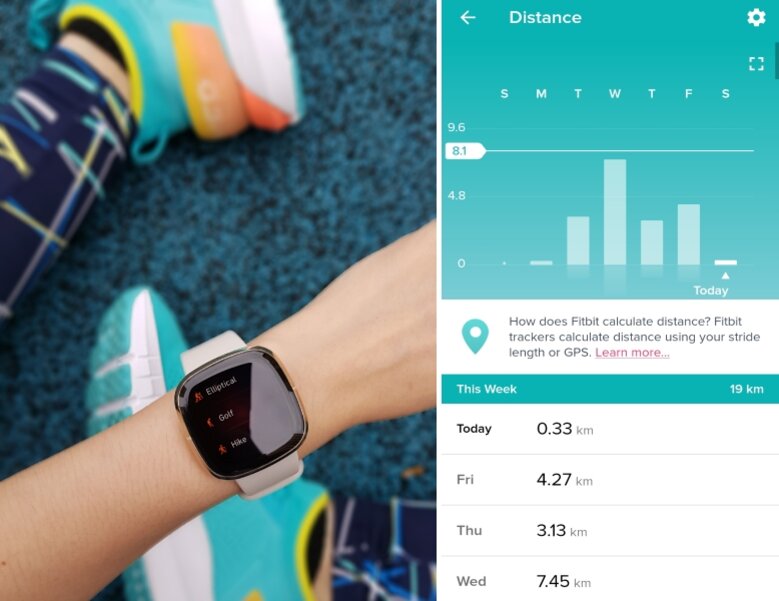 I shared the same sentiments as Dhivya. The Fitbit Sense's hourly reminders and real-time tracking of our fitness levels provided me with the right amount of 'nudging' to try a little harder. I found it tough to get my butt off the couch sometimes, but it felt incredibly rewarding to be able to see the number of calories I've burnt after every session.
Overall thoughts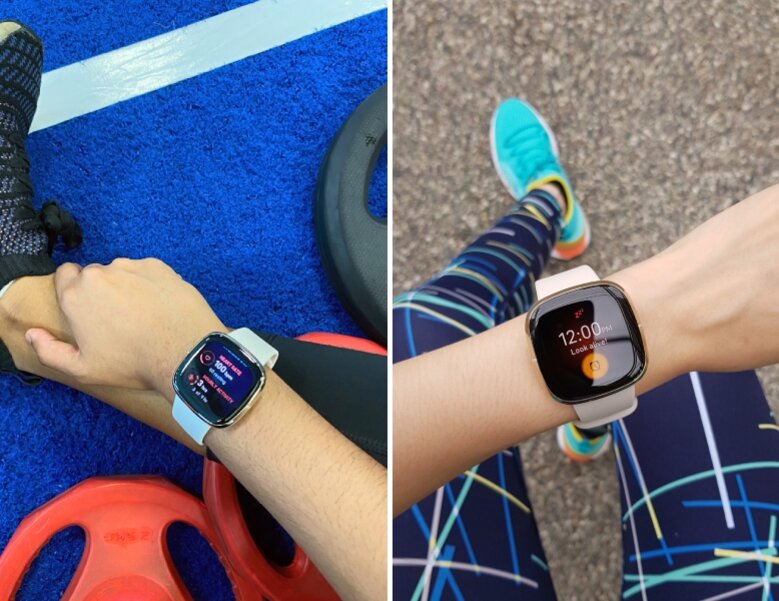 "Although the Fitbit Sense's star feature lies in its stress management functions, I found myself leaning more towards its fitness tracking functions," admitted Dhivya. After all, her priority from the get-go was to find a smartwatch that was able to encourage her to level up her fitness goals. Furthermore, her personal way of managing stress was to sweat it out at the gym. That said, she still believes the watch's EDA scan feature was useful as well and would suit those who are in highly stressful work or home environments.
Whether it's allowing myself to re-discover the joy of exercising or learning to take short breaks every once in a while, I found that the Fitbit Sense has made a positive impact on my overall physical health and mental wellbeing. It was a useful companion that had successfully helped me become a better version of myself.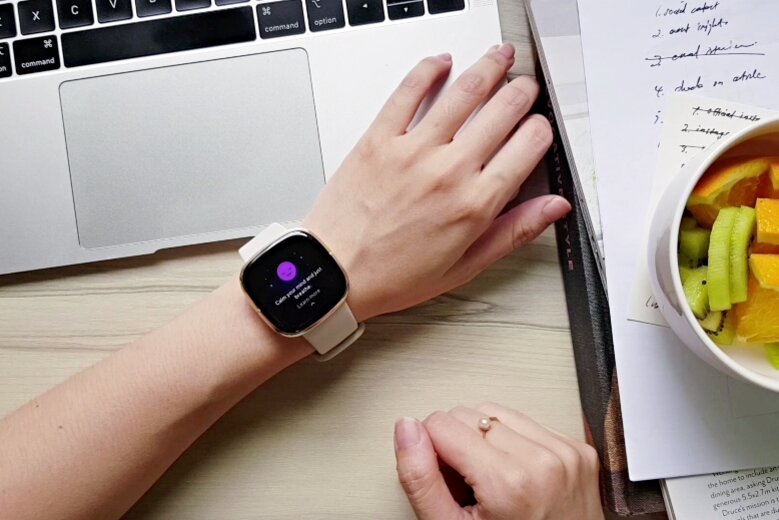 Priced at SGD488, the Fitbit Sense is a worthy investment for busy fitness enthusiasts who are serious about making their mental health a priority. It's more than equipped to keep you on track with your fast-paced, active lifestyle. But more importantly, it's also specially designed to remind you to slow down.
There are plenty more functions waiting to be explored in the Fitbit Sense, looking at how it's also the brand's first smartwatch to offer a built-in voice assistant. Its built-in speaker and microphone will soon allow you to take calls directly from your wrist when your phone is nearby, and Android users will also be able to respond to text messages on the go with voice-to-text commands. It also includes a free six-month trial of their Fitbit Premium features, which you can opt to continue via the Live Healthy SG programme at SGD9.99 per month for 12 months.
The Fitbit Sense is now available at major retail stores in Singapore and comes in two versatile colours: a combination of Lunar White and Soft Gold Stainless Steel, and Carbon and Graphite Stainless Steel. For those of you who wish to customise the watch to your personal style, the brand also offers a variety of accessories, which are sold separately, with prices starting from SGD54.90.
Next, let's discover what wellness means to different people.

Comments, questions or feedback? Email us at [email protected].