Wireless earbuds have become an essential gadget for many of us who are always on the go. From work calls to listening to music while working out, choosing earphones that don't have cords that tangle is now a prerequisite. But with many choices out there, how does the Huawei FreeBuds Pro 2 fare?
Huawei FreeBuds Pro 2: Features, availability, and price
Huawei's latest wireless earbuds (priced at SGD298), which launched in Singapore earlier this month, are co-engineered with premium audio brand Devialet. It promises an elevated audio quality delivery and top-notch noise cancellation features through an arsenal of audio tech features, from its Ultra-hearing True Sound Dual Driver and Triple Adaptive EQ to its Intelligent ANC 2.0 and 4-Mic Noise Cancelling technology. Designed to boast "bright and precise treble and overtones with a bass that packs a punch", will the FreeBuds Pro 2 pass a music lover's test?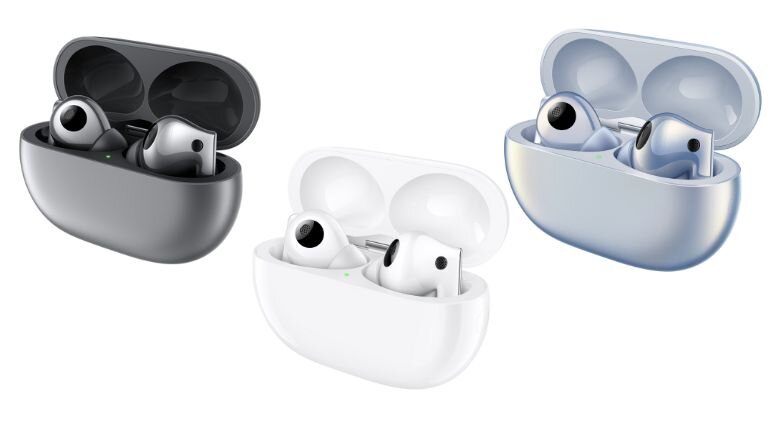 We tapped #TBLBureau Editor Becks, who uses her earbuds mostly for music, to take it for a spin.
*The product was sent as a press gift. The views and opinions of the reviewer are independent and purely editorial.
What to look for in a pair of earbuds
Other than tuning in to music, Becks is also almost always "plugged in" at work. This means having earpieces that make taking conference calls efficient no matter where she is and what she's doing is essential to her lifestyle.
She was most excited to test out Huawei FreeBuds Pro 2's noise cancelling feature because she likes to be "immersed in [her] own world" when listening to music and doesn't like conversations around her get in the way of her listening experience. Sweat resistance is also important to her since she enjoys tuning in to songs while working out — not a problem with the earbuds' IP54 rating, which protects against contamination from dust and other particles, as well as from water sprays from all direction.
"I often forget to charge my earbuds. My day without music gets kind of dull when that happens, so having earbuds with a good amount of playtime is a plus in my book," Becks added.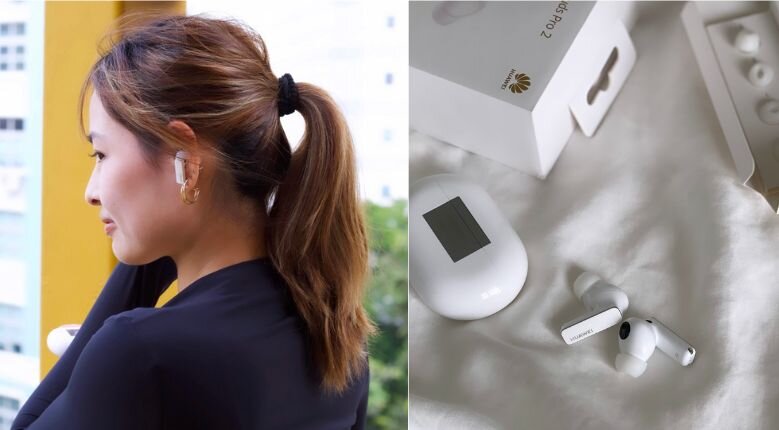 First impressions: Design & packaging
"The ceramic white wireless charging case fits right in the palm of the hand and is sleek and glossy, with the Huawei logo and collaborator Devialet's logo splashed across an unfortunately fingerprint-prone mirrored finish." Becks went on: "Just like its casing, the earbuds are minimalistic, lightweight (about 6.1G) and said to be smaller as compared to the original Freebuds Pro. Its square-shaped rounded-edged stems aren't exactly my favourite kind of look which is just a matter of personal preference, but I'd say it is a common silhouette that would appeal to most."

Apart from the earbuds and wireless charging case, Becks appreciated that the box also came with silicone ear tips in three sizes, with the medium tip attached as default. It also comes with a USB-C charging cable, a quick start guide, and a warranty card.
A complementary app, Huawei AI Life, can also be downloaded to help you control the noise, gestures and more on your FreeBuds Pro 2. This app is available for both Android and iOS users.


Audio quality and noise cancellation technology
Now, how do they sound? Becks said that Huawei and Devialet did a really good job with the device's audio output. The device also has an
Ultra-hearing True Sound Dual Driver
feature which highlights sound accuracy.
"These earbuds are co-engineered with Devialet so I had high expectations. It did not disappoint. Coupled with its remarkable noise cancellation, I could hear the different layers of the music and sounds in the tunes that I'd never heard before. I am no audiophile but this was noticeably distinct to me.
The app offers four types of sound effects (which are basically equalisers) — Default (co-created with Devialet), Bass boost (it's not too hard-hitting and superficial-sounding, which is great), Treble boost, and Voices (which gave some pretty neat and clean vocals)." Users can add their own effects depending on their preference.
The product's
Intelligent Dynamic ANC 2.0 noise cancelling feature
also does a good job of "filtering out sounds according to the environment" even when you're not listening to music. "I found it a little bizarre in a quiet elevator while on my earbuds without music on. The quietness felt deafening."
"There's also a convenient Awareness feature that allows outside sounds to be heard so I can easily order my coffee without plucking off my earbuds," Becks shared.
The Pure Voice call noise cancellation technology, which promises to deliver crisp audio quality performance during calls, did not seem to work as well as Becks expected. "I was out and about in-between events and took a call in a cafe. The noise cancellation did amazing in filtering out the noisy cafe and I was able to hear my companion clearly, but my companion on the other hand had a little bit of trouble hearing me."
Ease of use, connectivity, and battery life
Despite the small hiccup with the call quality experience, the Huawei FreeBuds Pro 2 matches competitively against other earbuds. The FreeBuds Pro 2 are also a lot more lightweight at
6.1G versus Becks's current earbuds at 18G. The FreeBuds Pro 2 also don't leave her ears sore even after hours of use and wear.
The FreeBuds Pro 2 are also compatible with all types of phones and Becks had no issues connecting it to her iPhone. Controlling the volume and playback using gestures took a bit of time to get used to but they're easy enough to learn.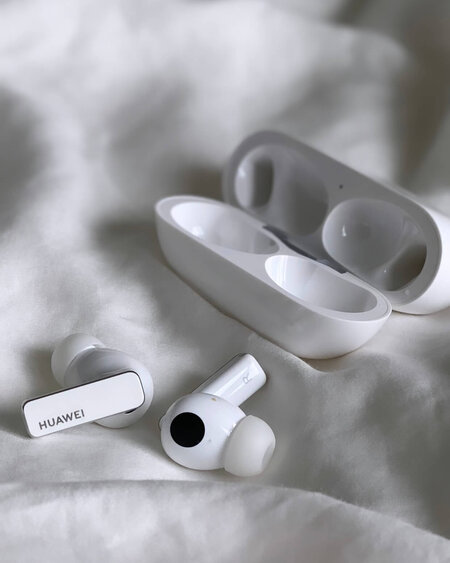 "Adjusting of volume — swiping up and down the stems — still feels a little awkward for me, but I am now a pro at controlling the playback through various pinching and holding gestures," Becks said.
As for the battery life, the earbuds lasted 18 hours of on and off use with the wireless charging case before she drained it completely.


Final verdict
The Huawei FreeBuds Pro 2 is competitive when it comes to ease of use and comfort, audio quality, battery life, and overall listening experience. If you enjoy music as much as Becks does, the Huawei FreeBuds Pro 2 is worth the splurge.
The HUAWEI FreeBuds Pro 2 (Silver Frost, Ceramic White, Silver Blue) is available online, at Lazada and Shopee, and at Huawei Authorised Stores in Singapore.
Comments, questions or feedback? Email us at [email protected].