A woman's power knows no bounds. Believe in yourself, dare to #BreakTheBias, and celebrate your achievements. To inspire you to go above and beyond in writing your own history, read on to discover 10 remarkable Asian women — from award-winning Chinese filmmaker Chloé Zhao to Thai taekwondo champion Panipak Wongpattanakit — who embody success, empowerment, beauty and brilliance.
Anna R. Oposa, co-founder of Save Philippine Seas
Anna R. Oposa is the co-founder (or Chief Mermaid, as she puts it) of Save Philippine Seas, a non-profit organisation that fights for the conservation and restoration of the Philippines' coastal and marine resources. She is also a member of the World Future Council, which focuses on building a "sustainable, just and peaceful future".
Since May 2011, Anna and her organisation have been working with many notable partners, such as Nestlé Philippines and Kiehl's Philippines to encourage consumers to lead a more sustainable lifestyle. "Don't romanticise this advocacy. The pursuit of this work requires commitment, grit, resilience, resourcefulness, and a lot of hoping against hope. Don't take shortcuts, keep failing, and keep learning," she shared.
Arum and Dawoon Kang, co-CEOs of Coffee Meets Bagel
Fun fact: popular social networking service Coffee Meets Bagel was founded by twin sisters Arum Kang and Dawoon Kang and their sister Soo Kang, who wanted to create a safe and good-quality dating platform for everyone. The Kang sisters emigrated from South Korea to the United States at a young age and founded the app in 2012. The app has reportedly amassed over 10 million users to date.
Dawoon advocates for diversity in the workplace and has revealed how being a woman has "really shaped" her worldview. "... If you don't have those consumers represented in the people who actually work on the products, you just don't have the edge. From a business perspective, it's a no brainer. Diversity has to come first," she said.
Ayesha Khanna, co-founder and CEO of ADDO AI
Apart from running her artificial intelligence (AI) solutions firm and incubator ADDO AI, Ayesha Khanna is also actively involved in 21C girls, a charity she founded that delivers free coding and artificial intelligence classes to girls in Singapore.
The Singaporean entrepreneur also serves on multiple boards of organisations and institutions including Ngee Ann Polytechnic. "We need a lot more women who are comfortable with doing technology and being engineers and data scientists. Otherwise, the systems that you develop will be grossly biased. We want to be the designers of the systems that we use every day," shared Ayesha.
Chloé Zhao, director
Chinese filmmaker Chloé Zhao, or Zhao Ting, created movie history when she became the first Asian woman to be nominated — and awarded — Best Director at the 2021 Oscars for the film Nomadland.
"For Asian filmmakers, for all filmmakers, we have to stay true to who we are, and we have to tell the stories that we feel connected to," she shared in an interview. She is also the director behind the superhero flick, The Marvels.
Cynthia Chua, founder of Spa Esprit Group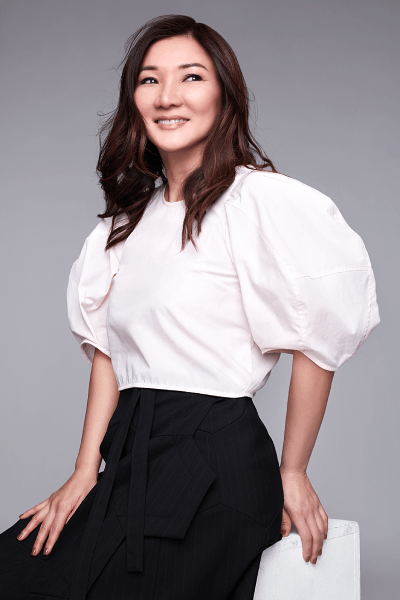 Speaking up about intimate health. Loving and caring for your vulva. Signing up for a Brazilian waxing appointment — and not feeling embarrassed about it. These topics are considered pretty taboo in our region, but Cynthia Chua, the founder of Spa Esprit Group — which owns brands Strip and TWO L(I)PS, and Browhaus — has made it her mission to normalise these conversations.
"I always believed that loving and taking care of yourself is an important part of building self-confidence… it is all about loving yourself more and amplifying confidence," she revealed.
Panipak Wongpattanakit, Thai taekwondo practitioner
24-year-old Panipak "Tennis" Wongpattanakit clinched Thailand's first-ever gold medal at the 2020 Tokyo Olympics, under the women's taekwondo (49KG) category. Prior to making her mark at the Olympics, Panipak has already won countless gold medals from major international tournaments, including the Asian Games.
Panipak's epic return to Thailand after her historic Olympics win made headlines too — she was photographed arriving at Phuket International airport, where she readily knelt on the floor and presented her gold medal to her father.
Sania Mirza, professional tennis player
Sania has become one of the most celebrated sports stars in India after arising as the first Indian to win a Women's Tennis Association (WTA) singles title in 2005. She also reached a "career high" singles ranking of 27 in the world — the highest ever achieved by an Indian woman.
Beyond these impressive accolades, Sania is also unafraid to hit back at negative criticism. Once, she was told to "cover up" during her games and, in response, she said, "As long as I am winning, people should not care whether my skirt is six inches long or six feet long."
Vivy Yusof, co-founder of FashionValet and dUCk
Modest fashion and beauty representation has seen unprecedented growth in recent years, and it's partly thanks to Malaysian entrepreneur Vivy Yusof. The creative force founded FashionValet in 2010, an online platform that carries many modest fashion brands, and established The dUCk Group in 2015, a lifestyle brand that has collaborated with renowned names such as Mattel and Warner Bros.
During the height of COVID-19 in March 2020, Vivy and her husband, Fadza Anuar, initiated a platform to raise funds for the Malaysian healthcare system. They managed to raise over MYR1,100,000.
Yeo Pei Shan, food sustainability advocate
True beauty is learning to embrace imperfections — even the ones that you find in your food. 26-year-old Yeo Pei Shan is the co-founder of UglyFood and the founder of Food Warrior. Both organisations aim to tackle the issue of food waste in Singapore and to educate more people about food sustainability.
"A sustainable lifestyle can sound scary and intimidating. Ignore those who want to put you down because it is about your intention. Remember that it is a process," she revealed.
(Cover photos from: @annaoposa, @coffeemeetsbagel, and @vivyyusof)
Click here to learn about the 13 women whom #TBLBureau members look up to.

Comments, questions or feedback? Email us at [email protected].