Our "I Am Her" series features the female movers and shakers of the industry to learn how femininity and power coincide beautifully and seamlessly together.
Women in the fields of technology and science have often been relegated to supporting roles, but not Ayesha Khanna. As the co-founder and CEO of ADDO AI, Ayesha's work has been instrumental in establishing her company as one of Forbes' top four leading artificial intelligence companies in Asia. This, in addition to her efforts with 21C Girls, a charity which provides free coding and AI classes to girls in Singapore, has enabled her to open opportunities for women in technology and to push the limits of human potential.
Ahead, we learn more about Ayesha and her life's work.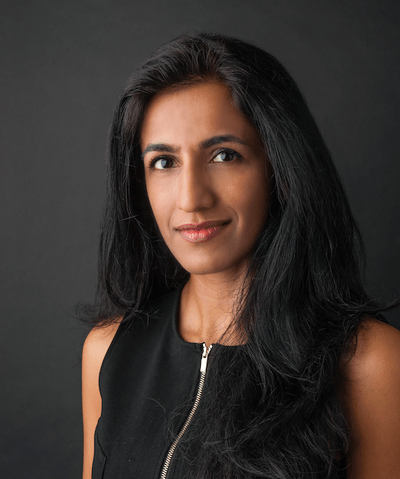 Fill in the blank: I am a CEO, entrepreneur, and _________.
Mum
What inspired you to start ADDO AI?
I was inspired to start ADDO AI because I saw that in Asia if you use tech and big data and AI you can really improve and reduce the costs of basic services like transport, improve access to education, lower the risk of getting hurt in manufacturing processes… all of these positive benefits to companies, to businesses and governments, inspired me to be in this field. When I came to Singapore, I saw a big gap in AI-related skills so I thought I would start a firm to address that.
As a woman, how did you overcome the gender bias in your field of work?
I was part of a very small group of women working in software. I wanted to do something about it to support women. It really makes women lose their confidence when there's not enough support. So I started a charity called 21C Girls. I wanted to provide a group that advocated for equal representation in technology, where girls felt encouraged and confident being part of the industry.
Historically, women did not get as much recognition in your field. What do you think is the future of women in science and technology?
I think the future for women is very bright. There's a global movement right now where many women are coming out, wanting to be recognized and paid equally, and are encouraging each other. There are also many wonderful men supporting women in the industry in terms of equal pay and rights. We're not there yet but maybe in five years, we'll really make a difference and the traditional gender biases will be part of the past.
As someone who is fully immersed in tech, how do you deal with tech-related stress?

I don't find it stressful at all; I love technology! I have curated where I go on the internet, who I follow, and I also read very specific magazines and publications so I don't experience the information overload as much. I don't spend a lot of time on social media. I enjoy it but I wouldn't recommend too much of it as it can be misleading when you only see the picture-perfect lives of people. It also puts you in a filter bubble and disconnects you from reality because it reinforces only your way of thinking.
Aside from coding and AI, what other skills/interests have you nurtured?
I've always been interested in the arts. When I was younger I started a magazine in New York, produced short films, and translated poetry in Urdu (a language in Pakistan). I think anyone who's interested in tech should also learn something about the humanities and social sciences. The reverse is the same. The 21st Century Renaissance man/woman must learn to work in interdisciplinary teams, follow what they're passionate about but also know a little about other people.
Would you have any advice for young women or women all over the world who want to achieve something but feel limited by their circumstances?

I would definitely say the first step is to take action. We are so lucky to have so many educational opportunities for free. You can digitally educate yourself then you can find digital work, there are lots available for both. If you upscale yourself, you will get a job. All you need is internet and a laptop. This is fantastic for women; they don't need permission to do this, they can just go and direct their own lives. The best way to empower yourself is to improve your skills and to educate yourself.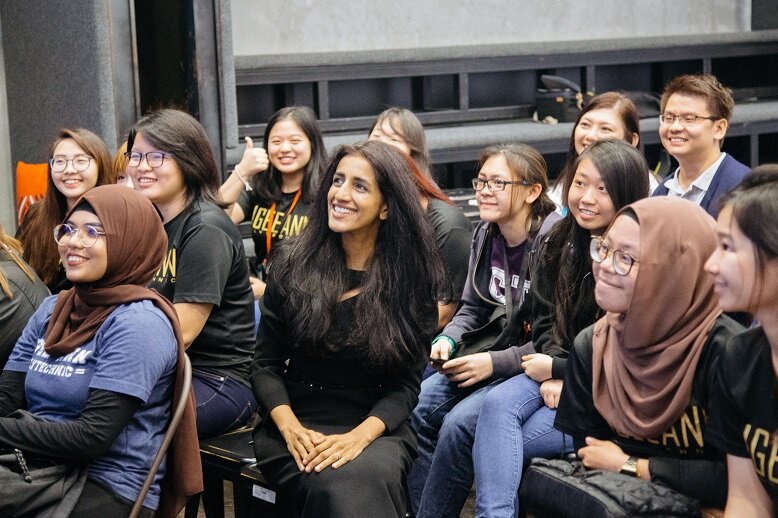 Will you tell us something about yourself that people wouldn't normally expect?
I think lots of people associate me with this very high tech AI big data world. They don't know I look at it in a philosophical manner, in the human value that AI is creating. I think it should support humans to achieve more in our lives and achieve harmony with each other and that also comes from my years of working in Human Rights.
We've noticed you tend to go for a bit of colour in your sartorial choices. Can you share with us your Clozette essentials?

Definitely black. I always have a black dress, pants, or heels. Then I match it with emerald green or magenta pink, always a bit of colour. Clean lines look professional, but I do like to do my hair and add a bit of flare and colour to show that I'm having fun being a woman while also being a professional.
This interview was edited for brevity and clarity.
Inspired? Check out stories of other exceptional women here.
Comments, questions or feedback? Email us at [email protected].