"If your actions create a legacy that inspires others to dream more, learn more, do more and become more, then, you are an excellent leader," singer Dolly Parton once said.
But where do we start looking for such inspiration? The answer is simple and we don't need to look very far. It can be your mum, sister, friend, boss, or mentor. Maybe there's a celebrity who inspired you through their advocacy work. We are surrounded by inspiring women who offer lots of wisdom that we can learn. In celebration of International Women's Day on 8 March, #TBLBureau members share the women they look up to and the best piece of advice a woman has ever given them.
Cheryl
On the woman she admires the most: "My late mum is my hero and my inspiration since young. She was born in the 1920s into a poor farmer family and didn't have the opportunity to go to school. She was illiterate and we were very poor growing up, but she was so kind and generous to everyone and had so much inner strength though life was hard on her. She showed me that we can always give love, kindness and be open-minded and inclusive. I miss her so much!"
On the best piece of advice from a woman: "Always find the strength to dance in the rain, rather than wait for the storm to pass."

Janice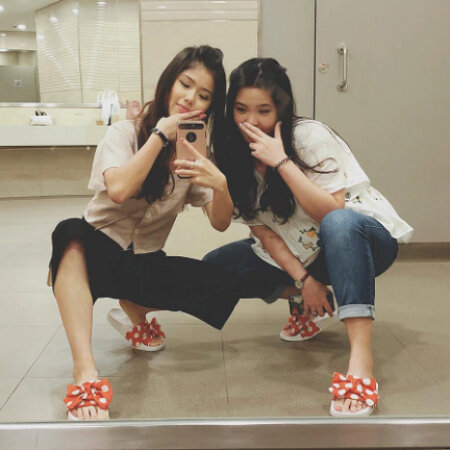 On the woman she admires the most: "My best friend Shuyi taught me what the best bubble tea combination should be — Oolong Milk Tea 25% sugar with fewer pearls. We've taught each other so much over the years and one of the greatest things that I've learned from you is not to take things too seriously and that it's alright to be silly in life. Cheers to laughter!"
On her celebrity inspiration: "Adele once said, 'I have insecurities, of course, but I don't hang out with anyone who points them out to me.' I think it's great to know and accept that we all have insecurities because humans have insecurities. As I grew older, I felt that I didn't need the negativity of people constantly pointing them out to me, so I've been cutting such people out of my life. Instead, I need people who encourage me that it's ok as long as I'm making progress in my own way."
On the best piece of advice from a woman: "Tina Fey said, 'Do your thing and don't care if they like it.' This makes me unafraid to stand up for things that I know my disagreement will make a difference."
Soo Sin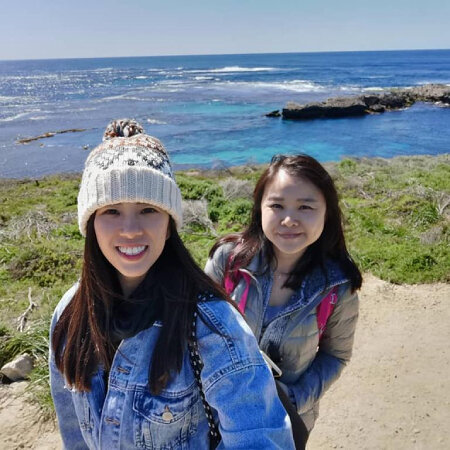 On the woman she admires the most: "Claire is my cousin, my childhood friend and partner in crime. We grew up together and she's played a huge role in helping me become the person I am. She is like the big sister I always look up to and go to. She is selfless, compassionate and always gives me the best advice and guidance."
On her celebrity inspiration: "Jane Marczewski a.k.a. Nightbirde. Although she just lost her battle to cancer, she inspired me to be strong enough to face anything and that life is always worth fighting for with our dreams and passion. With the little strength you have in your heart and body, you can turn your pain into magic."
On the best piece of advice from a woman: "You can't wait until life isn't hard anymore before you decide to be happy."
Rebecca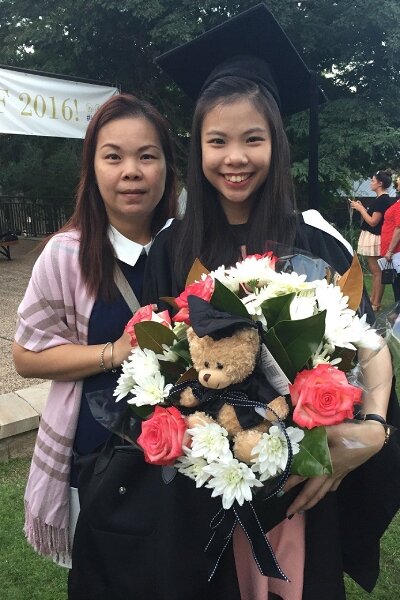 On the woman she admires the most: "Despite being a full-time working mum, she still makes the effort to ensure that the family is well taken care of. No matter what tough challenges she faces, she is always able to find a solution to everything and is always there for me and my three siblings. This is a constant reminder to me that no matter how tough times might be, there'll always be light at the end of the tunnel."
On her celebrity inspiration: "[Korean actress] Han So-hee. Even though she came from a broken family and isn't from a rich background, she worked hard and depended on herself to purchase a luxury villa at the young age of 27/28. It's a common myth that most children from divorced families may be more problematic, however, with hard work and self-discipline, anything is possible."
On the best piece of advice from a woman: "'Never be afraid to speak up and stand up for yourself because if you never try you'll never know.' This was advice that my former colleague shared and something that I always remembered till today."
Sheryl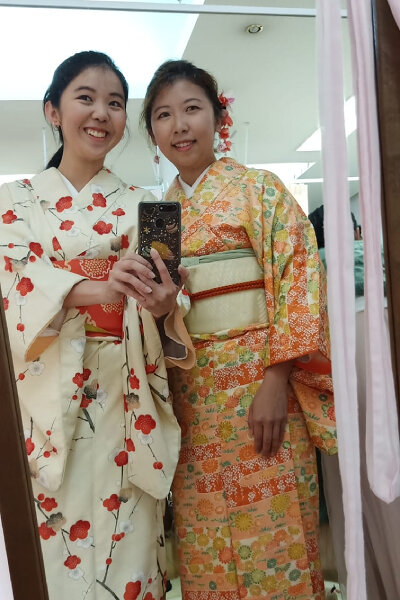 On the woman she admires the most: "I admire my sister's resilience, wit and creativity! She's what I'd call a sassy Sagittarius — firm in her beliefs yet independent and fiercely loyal to her loved ones. I often doubt my abilities and tend to second guess my decisions. But she's always around to encourage me to have fun, to think outside of the box, and to be brave enough to trust my instincts."
On her celebrity inspiration: "I also admire South Korean singer IU, whose actual name is Lee Ji-Eun. She's accomplished so much in her career, but what's more impressive about her is how she's still surviving and thriving in the K-entertainment industry. She debuted at the age of 15 and was a victim of bullying. She grew up in poverty and even had to endure the passing of her close friend, fellow K-pop idol Sulli.
In spite of these adversities, she remained strong, authentic and used her music to bring comfort to others. Whenever I hear about IU, I can't help but be inspired by her story and am motivated to do better myself."
On the best piece of advice from a woman: "'Do not fear your fear. Own it. Free it. This isn't a liberation that I or anyone can give you — it's a power you must look for, learn, love, lead and locate for yourself,' wrote Amanda Gorman, the youngest poet laureate in the US. She's a shining example of what it means to move people with words."
Denise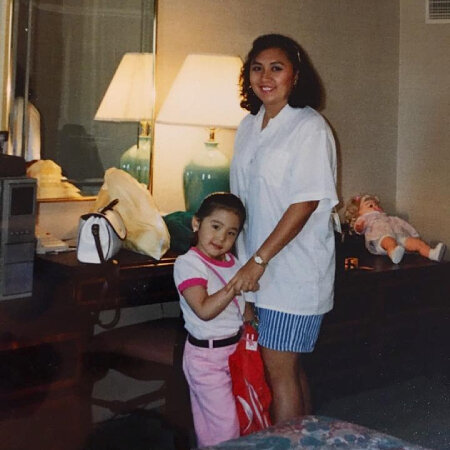 On the woman she admires the most: "My mum taught me a lot about what it means to live and enjoy life, both by example and by sharing her insights with me as I was growing up. She taught me the value of staying youthful, regardless of age, because it makes having a sunny disposition come naturally. She also taught me to make the most of every opportunity, whether it be a quick opportunity like a trip, or a longer one like my season of singlehood because these things are over before you know it and you'd be glad to make the best memories and milestones while you're at them."
On her celebrity inspiration: "One local 'influencer' I look up to is Kristia Roco. She's a nutrition coach whose speciality is enabling women to reach and maintain their body goals sustainably while keeping them sane, empowering them, and above all, by acknowledging their need to enjoy food."
On the best piece of advice from a woman: "'Don't get stuck. Move, travel, take a class, take a risk. Walk away, try something new. There is a season for wildness and a season for settledness, and this is neither. This season is about becoming. Don't lose yourself at happy hour, but don't lose yourself on the corporate ladder either,' wrote Shauna Niequist in Bittersweet."
Kristel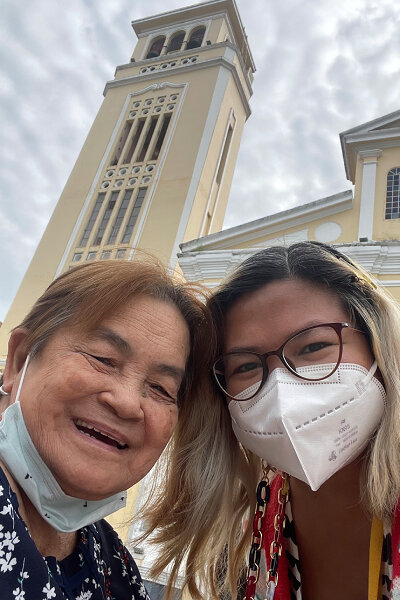 On the woman she admires the most: "I have a long list of women I look up to, but the top spot belongs to my Grandma Alicia. She is loving, kind, generous, and the most selfless person I know. She also encouraged me to learn to read early by giving me storybooks and comics when I was a young child. Even when tragedy befell our family, her faith and strength remained steadfast. Her love is a constant presence in my life, even when I moved out and started living on my own."
On her celebrity inspiration: "I have been a huge Britney Spears fan since I was 12, and even now after everything that has happened to her I remain a fan. Her concert here in Manila in 2017 was one of the most memorable nights of my life as a fangirl. I am in awe of how she remained strong despite losing her freedom during the conservatorship and having no one from her family advocate for her. I am glad she is now free."
On the best piece of advice from a woman: "'Find a love that doesn't hold you back.' This was shared by former Cosmopolitan Philippines Editor-In-Chief Jillian Gatcheco-Cantada in a talk of hers at a women's summit that I attended. It's a great piece of advice that's applicable in relationships — whether it be with your significant other, with your career, or with yourself."
(Cover photo from: Aline Viana Prado via Pexels)
Be inspired by more stories of wisdom here.
Comments, questions or feedback? Email us at [email protected].