Our "I Am Her" series features the female movers and shakers of the industry to learn how femininity and power coincide beautifully and seamlessly together.
Naomi Yeo is a familiar name to young Singaporeans. But to those who aren't, here's a quick rundown of the vibrant personality. She juggles multiple hats as an actress, host, and content creator. At 18, she nabbed a role in Yee Wei Chai's 2013 musical film That Girl In Pinafore. Her debut single, "细水长流", hit #1 on the iTunes charts. Now at 29, she's the first lululemon ambassador from the Asia Pacific who is featured in the brand's global brand campaign.
It takes a lot of energy to dabble in different fields, but Naomi seems to take to it with ease. It definitely helps that she's got a great mindfulness routine, rooted in yoga. But it wasn't always the case.
Read on as Naomi shares more on how she went from late bloomer to fitness and mindfulness advocate, how flexibility plays into her career journey, and what a "beautiful life" looks like for her.
Fill in the blank (be as creative as you like): I am an actress, yogi, lululemon ambassador, and _______.
"Full-time introvert."
How did you get into the fitness space? Can you share any struggles you personally had in your own wellness journey — especially since you're in an industry that puts you in the public eye — and how did you overcome them?
"Compared to the rest of my peers, I'm a bit of a late bloomer coming into fitness. I only started paying attention to my physical health when I started working — I noticed how difficult it was to climb a flight of stairs. I was also getting tired of feeling weak and falling sick fairly often.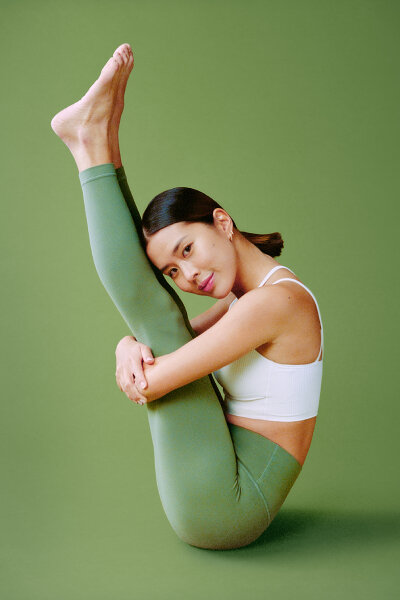 I've learnt that the way you speak to yourself behind closed doors is very telling of where your mind's at. I remember talking down to myself when I first started taking fitness seriously — making unreasonable comparisons was a struggle to get over, and if it weren't for encouraging teachers and friends I made along the way in this journey, I think finding my footing and making progress in my own way and at in own time would have been difficult to grasp."
You're frequently seen doing yoga on your Instagram. What does yoga mean to you? And since yoga is all about improving flexibility, how do you stay flexible not just while on the mat but in other areas of your life?
"Yoga means finding equilibrium between your thoughts and actions. This also applies to the approach I have to wellbeing. The word Yoga itself means 'to yoke' or 'union'. I find that the physical endeavours I have with every class or self-practise I take have led to meaningful and impactful progress, and I don't ever feel like I need to impress or play catch up in my practice.
While yoga can help to improve flexibility, yoga is not all about that! There is a quote by Ayurveda doctor Jigar Gor that says 'Yoga is not about touching your toes. It is what you learn on the way down.' I've come to understand that acceptance does not mean a loss or a defeat. It's coming to terms with what's being presented at this point in life, and what I choose to do with it. My attitude will determine how malleable and versatile I can be when a challenge is in front of me."
You've juggled multiple roles as an actress, host, content creator, and now as a brand ambassador. What has been your favourite project to date and why? What factors do you consider when choosing the projects you'd like to work on and how do they align with your own personal values?
"To be honest, I really can't play favourites! I love the nature of my work and these multiple roles show different facets of myself. When choosing projects, I find myself wondering what would be a wise thing to do, and if future Naomi would be proud of this project.
It's easy to pick up a project for its timeliness, but it's another if you are working on projects that have a timelessness about them. This helps me to be honest with the conversations I have surrounding work, and if I'm at peace about the decision I've made — even if it's taking a while to draw a conclusion — I'll know it's worth it."
Why did you choose to go into voiceover acting? What are your favourite voice acting jobs and why did these stand out to you?
"This is interesting! I didn't choose to move into voiceover acting — in fact, one thing led to another. I started off as a part-time radio DJ right after I graduated from school, and I suppose that's where I found myself using my voice for work. I never in a million years thought my voice would be my work.
I enjoyed doing my own take on reading out MRT station names — and this is not a job but on TikTok really — and now when I think of it, this is sort of special. It was my very first point of contact for voiceovers. The train was an essential part of my growing years, and I had to look out for my stop. I always mimicked the announcement of these train station names and had plenty of time practising over the years. I chuckle when I think about it!"
What are your top priorities when it comes to your fitness clothes and why?
"I've always prioritised freedom of movement and comfort when it comes to what I wear. Since the weather is getting really unpredictable, essentials that are versatile, sweat-wicking and breathable are important too!
Some of my essentials are the lululemon Align Pant (Asia Fit) 24" and the Flow Y Nulu Bra — you can wear them almost anywhere, from practice to meetings. They feel like a second skin on my body and are so comfortable in any weather!"
Talk us through your essentials in living out your 'most beautiful life'. It can be anything from beauty, fashion, lifestyle, wellness, etc.
"As cliché as this goes, a beautiful life comes with its own set of challenges too. But time heals all things, and teaches us that patience can reveal a great many things about ourselves. I do my best and try to lead a lifestyle that is not wasteful, not compare myself to others, and to find beauty in trying times."
(Cover photo from: @naomiyhs)
For more inspiring stories from inspiring women, head over here.
Comments, questions or feedback? Email us at [email protected].