Our "I Am Her" series features the female movers and shakers of the industry to learn how femininity and power coincide beautifully and seamlessly together.
Ever come across the term "She's a rare gem"? Well, Carolyn Kan is undisputedly one.
Beyond elevating women's everyday moments with versatile, modern heirloom jewellery under her award-winning label Carrie K., Carolyn also believes in investing in her team and has made it her mission to help develop their resilience and self-leadership skills.
And while many others prefer to reminisce on their younger days, Carolyn finds joy and fulfilment in the present. "My life rebooted at 50," she tells us.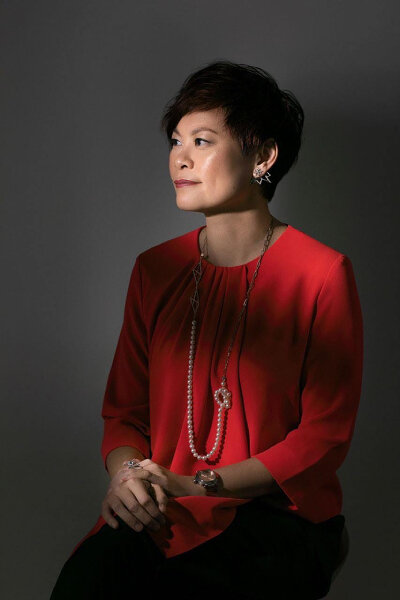 Indeed, it takes a remarkable person like Carolyn to impact women's lives in many ways — from making brides look and feel beautiful on their big day to uplifting other women to be strong and empowered leaders. She's a woman who lives life with intention and hopes that we'll do the same.
Read on as Carolyn tells us more about building a culture of curiosity, entrepreneurship's harsh realities, and what living 'TheBeauLife' means to her.
Fill in the blank (be as creative as you like): I am the founder of Carrie K., a jewellery designer and .
"A hopeless romantic."
Walk us through the process of creating a jewellery collection. Who is your customer and what do you wish for them to take away from wearing one of your pieces?
"Carrie K. creates meaningful fine jewellery that celebrates life and love through precious wearable wishes for engagements, weddings, and significant milestones. Our versatile, modern heirloom jewellery celebrates the four loves of one's life – family, friends, soulmate and, most importantly, oneself. Designed for mums to love and daughters to covet.
We noticed a common problem amongst our clients — many inherited their mothers' jewellery or had been gifted traditional wedding jewellery. While they are important to them, they rarely wear them and have no idea what to do with them because the traditional-looking jewellery does not suit their style.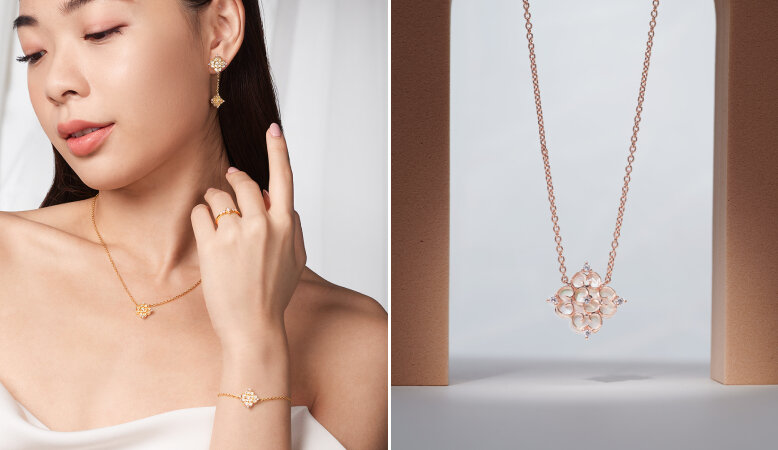 We solved this by innovating our jewellery to be interchangeable — our fine jewellery can be deconstructed to its simplest element for everyday use or have elements added to transform it into an eye-catching statement piece for special occasions.
I would describe our clients as members of "The Good Life Club" who aspire to live life fully, and with intention. They value things that are unique and meaningful to them and their loved ones, and our jewellery are precious wearable reminders of those stories."
You updated traditions like the Chinese si dian jin into modern, stylish pieces "for mums to love and daughters to 'steal'" — tell us more about that.
"Traditionally, the Chinese si dian jin are sizable pieces of gold jewellery gifted by a mother-in-law to a bride before her wedding. Jin translates to the "four points of the Chinese roof" and the four points of gold symbolise the In-laws welcoming their daughter-in-law under their roof and into their family, and their promise to care for her as one of the family.
At Carrie K., we add a modern twist to this meaningful tradition by creating jewellery that transitions gracefully from the wedding day to every day after with detachable elements while still preserving the grandeur that si dian jin is usually associated with. That way, the si dian jin which is usually kept in drawers at home may be enjoyed daily."
What's one common question that women ask you when shopping for milestone jewellery at Carrie K.? What advice do you give them?
"Their initial reaction when they see the transformable system is that they are not that creative and how they can style the jewellery in different ways to suit them.
Our jewellery stylist will work with the client to create a few of their favourite looks and then send them videos of how to reproduce them. But more often than not, after our clients bring the jewellery pieces home, they start to play with the pieces and end up creating looks that even we have not imagined.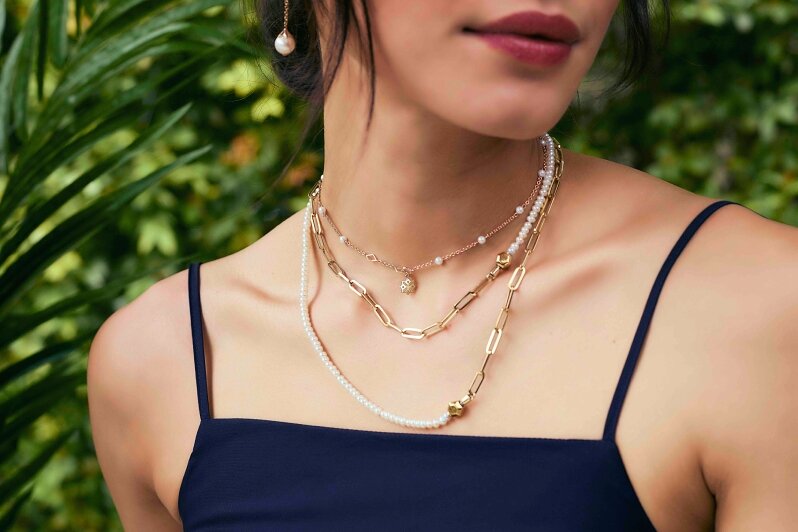 My advice is to have fun with jewellery and release your inner child. You will surprise yourself with the ideas you come up with when you let yourself play."
Beyond elevating women's everyday moments with chic jewellery, you've also made a point to support your team by sending them to executive coaching and women's leadership conferences. Why is this important to you?
"I believe that we each have so much potential. And if the person is hungry and has the drive to develop and grow, I am willing to create the right environment, training and mentorship to unlock that. Seeing the members of my Carrie K. Family grow fuels me.
After going through the pandemic, I learnt that I had to lead, not manage. This led me to start investing heavily in developing our talent, building resilience and self-leadership, and building our vision with the team. Mentoring young talent also became an important guiding principle for a brand.
The retail landscape in Singapore is immensely competitive — with high attrition, it has always been important to promote an employee-focused approach towards running the business. Having the team believe in the brand and building a strong brand culture and identity is critical to our business and is something that we have learnt to prioritise throughout the years.
The entire team has taken part in a Change Management workshop, a Communications Workshop, and a Positive Intelligence programme along with team coaching for team building and resilience. Senior leaders have also been offered executive coaching and attended women's leadership conferences such as She.Brilliance to learn from other women leaders.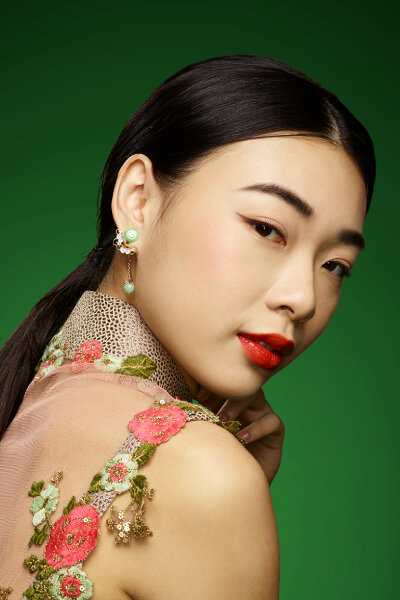 As for me, I have taken a course on executive coaching to become a better leader and better create a culture of care, and empowerment. By sending the team to these various workshops and conferences, we are living our promise of empowering, uplifting and celebrating our personal triumphs. That would count as a milestone.
Last but not least, The team at Carrie K. look to build a culture of curiosity and to build a team that asks the right questions."
You made the decision to switch careers from helming a leadership role in an advertising agency to establishing your own jewellery label. What advice do you have for women who are looking to take that first step to entrepreneurship, just like you did?
"Find your inner circle of mentors and don't be afraid to ask for help. Entrepreneurship is a long and lonely journey. So tap on the experience of category experts from Marketing to HR. When I first started Carrie K., I did not want to trouble people by asking for help — but I realised quickly that I could not do it alone.
So, I asked for help and my mentors were so generous with their time and knowledge. I then made a promise to pay it forward by supporting fellow entrepreneurs and started Keepers, the Singapore Designer Collective. Subsequently, I started mentoring future female leaders of tomorrow and fundraising initiatives supporting Daughters of Tomorrow and AWARE."
In July 2022, you penned a heartfelt post on Instagram about being "in love" with your future — what are some things you look forward to as you embrace your 50s?
"My life rebooted at 50. I found a new zest for life fuelled by my love of learning and discovering the world outside and inside of me. I started a programme to learn to be a life coach in order to be a better leader and friend who asks good questions and listens actively.
This has translated to clarity and focus for Carrie K.'s purpose: to spark joy by celebrating life and love with people through their milestones. I feel energised when I see growth in the people I mentor or coach.
And I love that Carrie K. celebrates milestones because our lifelong relationship with our clients only begins when they get engaged. Many of our clients visit us years later for push presents and later introduce us to their babies. Celebrating people's milestones and personal triumphs is a joyous business.
Personally, I enjoy coaching and mentoring, sharing not just my successes but my life lessons. After all, I have paid for my mistakes, so I am very open to sharing my learnings to amortise my "school fees" to benefit others."
What's one 'fail-proof' ensemble or beauty item that never fails to give you a confidence boost?
"I love the GlamGlow Thirstymud Hydrating Mask. I put on the mask overnight and my skin is moist and glowing the next day. It's my secret obsession."
What does living 'your most beautiful life' mean to you?
"It is to be truly alive and live it fully with thoughtfulness and purpose, integrity, and curiosity, whilst striving to do things well to uplift those around us. And to be in harmony and good health within, not just intellectually and physically, but emotionally too."
This interview has been edited for clarity and brevity.
Read more empowering stories about women here.

Comments, questions or feedback? Email us at [email protected].