Our "I Am Her" series features the female movers and shakers of the industry to learn how femininity and power coincide beautifully and seamlessly together.
Becoming a mother comes with a series of transitional — and transformational — periods that come in quick succession. Oftentimes, some mothers choose to stop working and become a full-time caretaker role for their young children.
In fact, Singaporean mums like Lam Li Min have done just that. She was an accountant who decided to become a stay-at-home mum. Li Min later realised that she needed to rediscover her sense of self too, and sought for purpose outside of her home and role as a mother and wife.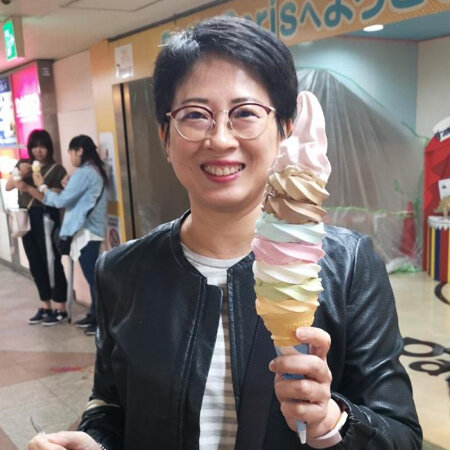 This led to her volunteering as a Befriender at Daughters of Tomorrow (DOT). Daughters of Tomorrow is a charity organisation that seeks to empower underprivileged women to find sustained employment. DOT's army of volunteer Befrienders also provide much-needed emotional support to women in need in the form of a listening ear and affirmations that their feelings are valid.
To learn more about her life's mission, we chat with Li Min about how she began as a Befriender, the real pressure for women to be primary caregivers and its accompanying struggles, how she takes care of her mental health, and more.
Fill in the blank: I am a mother, a mental health advocate, and .
"A friend."
You transitioned from being an accountant to being a stay-at-home mum. What were some significant changes and challenges that you experienced during this period?
"One of the most notable changes was adjusting to the shift in routine and identity. In my previous role as an accountant, I had a defined professional identity and a structured work schedule. As a stay-at-home mother, my days became centered around caring for my family and it was important to me to have something that was mine beyond the home environment. This ultimately encouraged the start of my volunteer journey, as I sought to balance my roles as a mother and find fulfilment through giving back to the community."
What inspired you to become a Befriender at Daughters of Tomorrow and how have you come to embrace this meaningful role?
"My journey began when I was looking for volunteer opportunities. I came upon Daughters Of Tomorrow (DOT) and was inspired by their mission to empower women from low-income backgrounds. Being a befriender at DOT allowed me to build one-on-one friendships with DOT beneficiaries, which I found incredibly rewarding.
Embracing this role meant that I could offer personal support and encouragement to these women on their journey towards sustainable employment. It's been an enriching experience, and I'm grateful for the chance to make a positive impact on the lives of others."
You encounter a lot of women in need in your role. What are common challenges that they experience and what do you think this means for our society on a wider scale?
"Caregiving responsibilities are the number one reason why women don't go back to work. Many women find it a challenge to balance their caregiving duties while pursuing a career. As a mother myself, I can empathise with the challenge of balancing the demands of both career and family.
The challenges faced by women in need have broader societal implications. When women are unable to participate fully in the workforce due to caregiving responsibilities or lack of opportunities, it perpetuates the existing disadvantages faced by mothers. To provide better support, we need to focus on developing a community that fosters a sense of belonging for women. While DOT's core work focuses on bridging women from the low-income community into sustainable employment opportunities, DOT also focuses on building a community that encourages emotional and physical wellness towards an overall improved quality of life.
We can improve support for women in need through curated mentorship programmes, and advocating for family-friendly workplace policies that enable women to balance their responsibilities effectively."
You also have a psychology diploma and are continuing your role as a professional counsellor. How do you think this helps you further your passion for helping marginalised women?
"I started pursuing my Diploma in Psychology as a form of self-development. While I'm not sure if I may pursue a career in counselling, I am grateful that the knowledge and skills gained can support my volunteer role to support these women.
Understanding the fundamentals of psychology enables me to better connect with and empathise with the women I befriend. It helps me provide them with the emotional support they may need during challenging times, ultimately enhancing my effectiveness as a befriender."
Taking care of others also means taking care of yourself. How do you take care of your mental well-being? Can you share some of your self-care methods or routines?
"One of the lessons from my Diploma in Counselling is the importance of self-care, including making sure I don't bring the stresses from my time spent with my assigned DOT women into my home life."
Outside of your time at DOT and taking care of your family, what other hobbies and interests do you have and like to do?
"I enjoy travelling and spending time with my family. While I am away on my travels, I make it a point to enjoy every minute that we have together."
Talk us through your essentials in living out your 'most beautiful life'. It can be anything from beauty, fashion, lifestyle, wellness, etc.
"To me, living out my 'most beautiful life' means finding beauty in simplicity. It's about having space and time for myself and for family, and fulfilling a calling to make a positive impact on the lives of others."
If you would like to know more about Daughters of Tomorrow's Befriender Support Programme, head over here.
This interview was edited for clarity and brevity.
Feel empowered by empowering women here.
Comments, questions or feedback? Email us at [email protected].