Our "I Am Her" series features the female movers and shakers of the industry to learn how femininity and power coincide beautifully and seamlessly together.
Singer-songwriter and founder of lifestyle accessories brand Taizjo, Sarah Cheng-De Winne, also known as Sarah X. Miracle, embodies the awe-inspiring lady boss persona we all aspire to be. She is talented, fashion-forward, and juggles her role well as both a public figure and a hands-on mum, proving that women are and can be invincible. However, being who she is now is not all stories of wins and successes. In fact, her life is laced with several episodes of uncertainty — from surviving a car accident, dealing with teen pregnancy, and the recent loss of her third child — that seems insufferable for one to bear.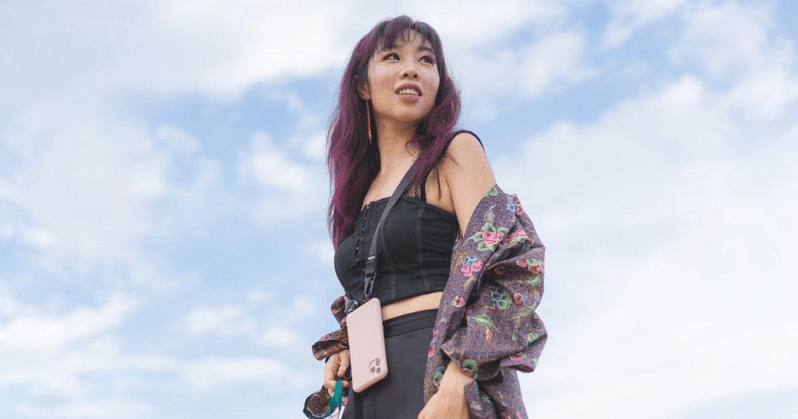 But through these, she emerged and chose to be an enabler of life. We chatted about her life as an entrepreneur, an artist, a singer-songwriter — she is releasing a single on 28th August called 'Don't Say It', a song she hopes gives young women a way to express their right to exit a dating relationship without feeling obliged to go further.
Fill in the blank: I am a creative entrepreneur, a singer-songwriter, a mother and a ___________.
A floral designer at
earthwindflower
. I used to buy flowers and make custom bouquets. Now, it's my fun, subsidised hobby.
What is your favourite thing about each role you take on in life?
For entrepreneurship, it's really fun to just create value that actually helps people on a very practical level. Like when you see your products make a difference in people's lives and it may seem like a very small and humble product. But I think sometimes the smallest things can make a big difference in a very physical, tangible way.
As an artist, I really enjoy combining a lot of different mediums. Everything cuts across my music, my image... to the point that I can impact people in a very intangible way. So both aspects provide a great balance between what's tangible and intangible and how it affects people around me.
As a mother of two kids, it's first and foremost about understanding that your life is not just centred on you. It gives me a different perspective on how other people also have their needs and we prioritise the people we love. It's an irreplaceable experience to see someone who you've dedicated so much of your life to become their own person. It's definitely one of the most rewarding things, especially since I chose to be a mum early in my life. And then, of course, there's also finding that balance of having time for yourself and for your marriage.

Speaking of motherhood, one of the things you had to go through early in life is teen pregnancy. Walk us through that experience.

My daughter was born before just before university started. She was pretty young when I was going to school. That meant I couldn't go on exchange programs, among other things. There's definitely a lot of sacrifices on my part. But I think having my husband, who's been supportive the entire time, enabled me to still pursue other things and be very active in things like extracurricular activities. I was able to participate in the [National University of Singapore] Jazz Band and I also got to do musicals and join other student groups. So there's definitely a lot of juggling between, like, putting my baby to sleep then going to rehearsals. Usually, my husband would take over from there so that kind of partnership even early on was very crucial for us.

When it comes to the social stigma, it's quite common to be treated as 'a rarity or an oddity' especially in university [given my situation]. Interestingly enough, there was another couple in the same student group as myself who also got married because they were pregnant and eventually we became friends. From there, everyone who met me and learnt about my situation in university never treated me like I was different. We also had a very faith-based community that was very supportive. That's when I got people asking if I want to talk about my experiences.
Why did you decide to start talking about your experiences publicly?

Around 2014, I realised that there is a story that can and must be shared and to frame it as something that I have overcome. When my daughter got a bit older, that's when I saw my past experience in a different light and that it is something worth sharing on a more public platform. It enabled me to also process everything that happened and is happening and I wanted to help people realise that there is hope. Because people thought that when I got pregnant at such a young age, that was going to be the end of me. And since it's not a very common topic that people openly talk about, I still decided to go for it.
It's also worth saying that I might be a rare exception being still married to the person whom I had to go through all of this with. Most couples we knew who were in the same situation then are already divorced. So it helps to have someone remind people that [while] it is very different for everybody, but there is hope.

You also went through a tragic loss just as you were about to launch your business. How was it like to go through that?

I chose to be very public about losing my third child on my Instagram page and realised that this is also something people avoid to talk about. When I posted about it, a lot of people started sending me messages about their own loss — both men and women, father and mothers — who I didn't know had gone through a similar experience. It's because most people don't announce pregnancies publicly until it's 'safe' to talk about it. But miscarriages and pregnancy loss are not discussed at all. And I think it's because when people hear that you lost a baby, the first question that pops to mind is 'is there something wrong with you?'

I'm here to tell people that's absolutely not true. In our case, I was perfectly healthy but when we got the baby out, it seemed like the umbilical cord was caught around her neck. There are a lot of reasons why babies don't come to term and people should be reminded of that because, for some reason, people are always quick to blame the mum. I personally also had to fight these thoughts because it was something we're all used to thinking. But these are things that happen. And people should not live in guilt or be in shame about it. It's also about painting a story for the rest of the family and just talking about it instead of pretending it didn't happen. Our baby Nadia's name means 'hope'. So it's like remembering her and what she meant. That's why I chose to openly speak about it.
One of the people who I talked to was my uncle living in the States and he suggested that one way to help me recover is to keep busy instead of wallowing in nothingness. It's very solid advice for people going through grief. You'd want to manage your emotions instead of allowing it to come to you like a wave. While I was physically in recovery, it was good that mentally and emotionally there was something I poured my focus on. We were trying to launch on Black Friday then so we still had late nights and all that and it was good that prior to what happened, we already had some of the prep done. It really helped to have a very clear goal at the time, but of course, it still had to be balanced delicately with my overall recovery. And again, having the right support mattered.
What's your inspiration for Taizjo and what does the brand stand for?

I came across this product category before and I thought, 'this isn't designed right.' So what I wanted to do was improve on how that type of product was being executed. Because it's a nice idea to have a phone sling but I thought it would be better with card slots so that it's all compact in one product. And so we started thinking about the main differentiators as to how this product concept can be improved. We also wanted something that men can also use and that's why we also have an all-black one that's very sleek and functional. Later on, we wanted to be able to offer products that can be detached, customised and just give a flexible user experience.

When we developed the brand, we wanted it to represent people's dreams. We want people to feel that they have the ability to take their lives where they want it to go. That's what we feel like our phones represent — from our social life, our work, everything. It's getting people empowered.
You are the definition of looking good while doing what you do. How do you remain empowered?

I think just recognising that there is supernatural protection on my life is one of the biggest factors. The fact that I'm alive, after everything that has happened, is a miracle. When a car accident happened years back, the truck that hit me was toppled to its side and I was thrown out of the car. So when we were rushed to the hospital — me and the driver and the other passenger of the truck — everyone was aware of what happened. I was in tabloids the next day and the headline was "Woman walked out of this wreck". I didn't have any broken bones, no blood clot; everyone was surprised at the state that I was in. I mean, I'm still here. I'm still alive. And knowing that pushes me to make use of all the skills and gifts that I have to empower and inspire and make a difference in the lives of other people.

What are your 5 Clozette essentials?

For beauty, The Buffet from The Ordinary. I use that in addition to my moisturiser and I think that makes a good balance for my skin.

Next is Taizjo's DAWN Modular in Grey with Luxchain XL. I love the gold chain and the modular function lets me remove the chain when I don't need it.
Third, a candle to help me wind down for the night. I'm currently using Voluspa's Crane Flower.
Fourth, pilates reformer classes. It's just hard to book a slot these days.
And finally, a short weekend getaway with my husband Mark every few months or so — definitely the first thing we are booking once travel bans are lifted.
This interview was edited for clarity and brevity.
Inspired? Check out stories of other exceptional women here.
Comments, questions or feedback? Email us at [email protected].