World Dream Day falls on 25 September and it's a special day that aims to inspire us to focus on turning our dreams into reality. To mark this meaningful occasion, we checked in with four sleepwear brand founders who told us their dreams for women-led businesses and of course, their relaxing regimens for rest. After all, allowing yourself the opportunity to recharge and recover makes you stronger for the road ahead. Read on to get inspired!
Anna (Aya) Limbo, founder of Private Storey (Philippines)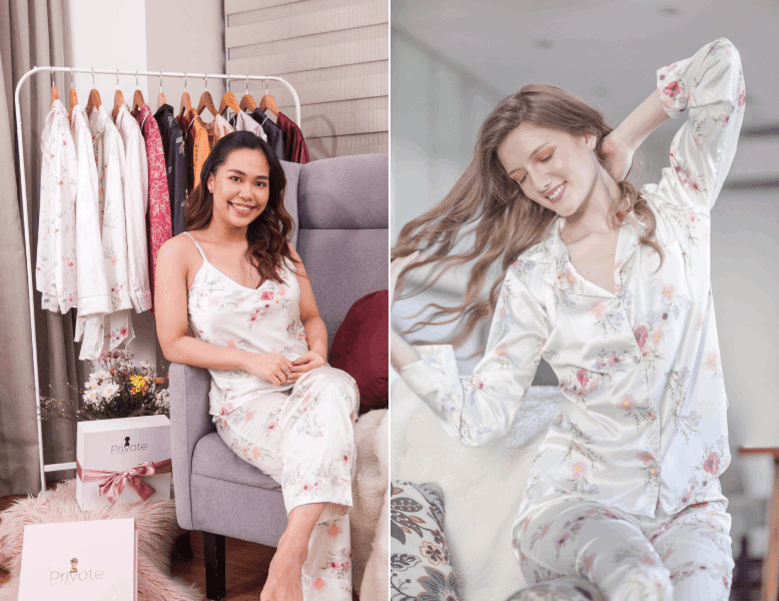 "Dream big and slay the day! Be confident and don't be discouraged in following your heart's desires," is Anna "Aya" Limbo's advice for fellow women who are looking to establish their own businesses. Aya founded Filipino sleepwear brand Private Storey in 2016 as she wasn't able to find comfortable, affordable sleepwear sets that would help her look nice for her significant other. "I've been in a long-distance relationship for more than five years and I just wanted to look nice for him whenever we see each other during our video calls. In simple terms, [I started the business] because of love," she explained.
Fast forward to the present, Private Storey's offerings now include accessories, such as scrunchies and fragrances to equip women with glamorous, timeless essentials for the bedroom. "Every woman who wears Private Storey will enter their dreams with a smile and start their mornings feeling beautiful, confident and ready to face the day," shared Aya.
Aya's regimen for rest: "I take a hot shower and use my lavender body wash before slipping into a sleepwear set. Then, I light up a Private Storey No.3 Lavender + Vanilla teacup candle set, which includes a rose quartz to inspire self-love. Next, I put on my headband and work on my evening skincare routine. I use products from Klairs, Kiehl's, CeraVe and Garnier. As I head to bed, I spritz my Aurora Perfume on my body so that I smell nice until the next morning and fluff my pillows.
I work on a 10-minute mindfulness exercise on my Daydream Journal and do a night prayer. After drinking a glass of warm water, I turn on my salt lamp and blow out my teacup candle. For my final step, I put on my Eye Mask and drift off to dreamland," revealed Aya.
Soukaina Faruq, co-founder of Rawbought (Singapore)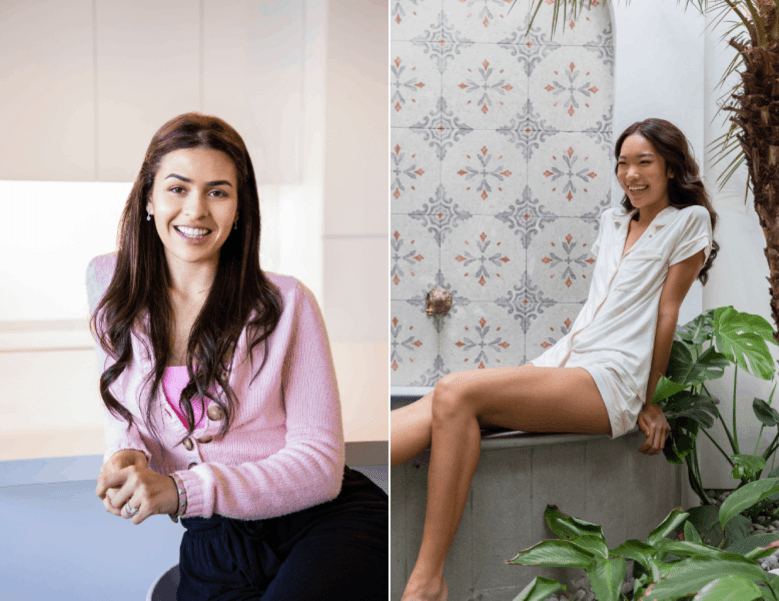 "As women entrepreneurs, we want to encourage other women to take a front seat in their own lives and to develop a strong voice for themselves. We dream of a society where every woman supports and uplifts one another," revealed Soukaina, who established Singaporean sleepwear brand Rawbought in 2020 with her sisters Boutaina and Amira after experiencing firsthand the stresses of working from home.
To realise this mission of theirs, Soukaina revealed that Rawbought is an all-women team and the founders want to "work with brands that are also women-led and have women empowerment at their core." As for the brand's range of buttery-soft pyjamas, lingerie and loungewear, the pieces are made ethically using sustainable fabric and are available in a variety of chic, solid colours. "We wanted to create sleepwear that reminded people of how blissful it can be to take time for themselves," she added.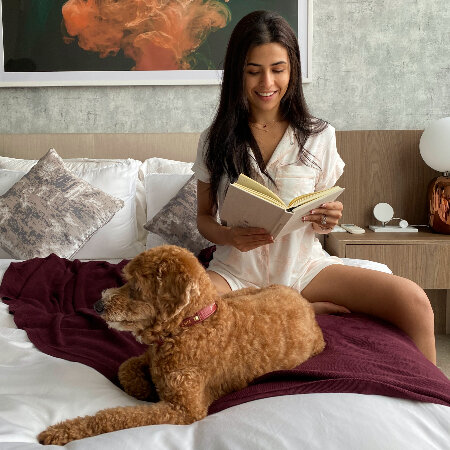 Soukaina's regimen for rest: "My wind-down routine starts with a light pilates home workout before I proceed with my skincare routine. I've had sensitive skin all my life so I'm really glad to have found products that work for me. I use a cleanser from Caudalie, a retinol product by Drunk Elephant and my favourite moisturiser from La Mer. I also enjoy making Moroccan mint tea in the evenings to signify the end of my day.
Scents play a huge role in influencing my mood so I like to surround myself with specific scents for different times of the day. I like to light my favourite Baise Candle from Diptyque in the evenings to help me wind down and I also take time out to catch up with my husband while folding the laundry. The scent of fresh laundry always soothes me. Right before bed, I spray my pillows with a bespoke lavender-mint fabric spray from Maison 21G as I find that it helps me sleep much better," shared Soukaina.
Georgina Monique Tan, founder of Sleebbee (Singapore)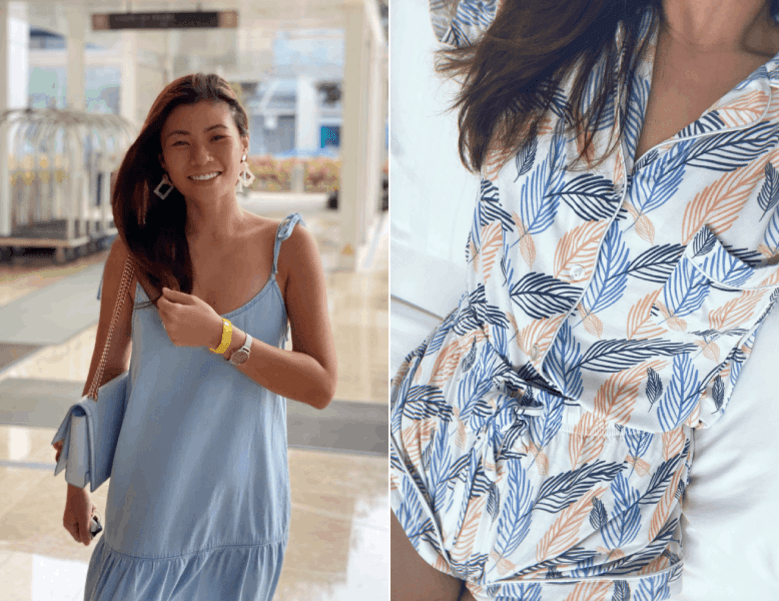 Severe backaches. Nausea. Insomnia. Georgina faced a tough pregnancy back in 2019 and was desperate for comfortable, chic pyjamas that would help her to alleviate her sleep woes and insecurities. "I chanced upon bamboo fabric while shopping for my baby's clothes and it felt like the softest and most cooling fabric ever. So, I started to search for bamboo pyjamas but most of them were either too plain, expensive or inaccessible," recalled Georgina. As such, she decided to take matters into her own hands and founded her own sustainable and affordable sleepwear brand, Sleebbee, which stands for "sleep like a babe."
"Our mission is to give women the sleep they deserve, empowering them to realise their full potential, break boundaries and achieve dreams they never thought they could, " she explained. Sleebbee's products offer extreme breathability and unique prints, and they cater to both pregnant mamas and non-pregnant women.
Georgina's regimen for rest: "I always take a shower before bed. After which, I'll work on my face by applying my toner from Uriage EAU Thermal, followed by QV night cream. On nights when my face feels dry, I use a cold face mask from SkinCeuticals. Next, I apply my QV body moisturiser and don my Sleebbee PJs! I like to choose the print I want to wear based on my mood each night.
Sometimes, I scent my room with my favourite Royal Doulton white tea to lighten up the mood of the room. After tucking under my covers, I usually do some light catching up on the news, my emails and Sleebbee orders before I turn in for the night."
Haylea Khoo, founder of Wustler (Malaysia)
"We believe that dressing up to rest has immense psychological power to make every woman feel like she's more in control of her life and to match the strong woman she is or aspires to be," shared Haylea, who established her lifestyle brand Wustler in 2020 with the aim to provide thoughtfully designed pieces that are "a source of comfort and [an] armour of confidence" for women.
In terms of her vision for women-led businesses in the future, Haylea wishes to play her part in helping to "cultivate and build strong communities where women can thrive in their own special ways." With Wustler, the business school graduate wants to focus on delivering authentic, meaningful experiences to elevate women in their daily lives — this includes designing pieces that are specially tailored to Asian women's body shapes, as well as offering complimentary personalisation services for women to select their preferred font styles and embroidery thread colours.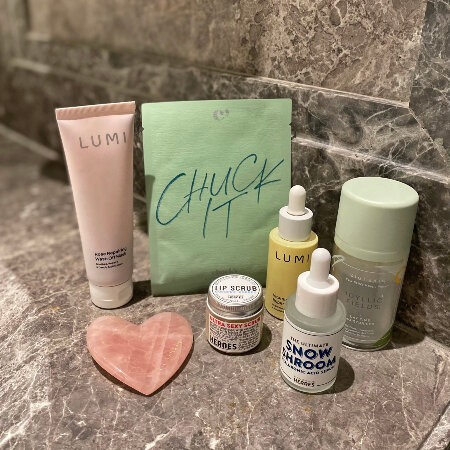 Haylea's regimen for rest: I usually start my evening routine with a lukewarm shower or bath and I exfoliate my body with Handmade Heroes' Coffee Scrub. It's a great way to release tension after a long day! Next, I'll slip into a Wustler sleepwear set of my choice (I love giving my sleepwear a quick steam so that it feels soft and silky when I put it on.), before pampering myself with my favourite evening skincare products.
The Chuck's Purifying Kale Mask is my go-to on days where my skin needs some extra loving. Then, I like to alternate between the LUMI Beauty Super Serum and the Handmade Heroes Hyaluronic Acid Serum. I follow with a quick facial and neck massage using the Glasskin Love Gua Sha before applying the Sigi Skin Idyllic Fields Moisturiser on my face.
I'll set the mood right for a cosy night by lighting up one of my favourite candles from Diptyque while putting on a calming playlist. This helps get me into the restful mindset to do some bedside journalling with Kāi's Personal Planner. I tend to jot down whatever's on my mind, self-reflect or plan for the next day's hustle. Finally, I'll watch a feel-good show or movie on Netflix with a cup of tea or a glass of wine.
What does your relaxing nighttime routine look like?
(Cover photos from: Private Storey and Rawbought)
Next, hear from Cicheti Group's Liling Ong on what drives her to sustain her many roles as an entrepreneur.

Comments, questions or feedback? Email us at [email protected].