Goh Chui Ling has been an athlete since she was 13 years old. Now 29, the Singapore national track-and-field representative has participated in several local and international competitions. Her most recent accomplishment is standing at the 2022 SEA Games podium in Hanoi, holding two bronze medals.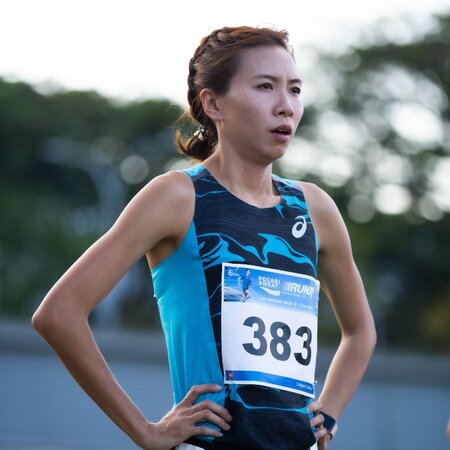 Aside from her sprinting achievements, Chui Ling is also an accomplished professional in the field of law. As a
sports lawyer
, she has published in some international sports law journals and has co-authored several sports policy reports globally. She's also a board member of Chiam See Tong Sports Fund, Singapore's only sports charity.
Chui Ling also recently took part in ASICS' Live Uplifted campaign, an initiative championing athletes and their impact on making a change through sports.


With so many things on her plate, it's quite a wonder how Chui Ling can keep her mental, physical, and emotional toughness intact. We're in luck, though, because she let us in on her secrets to keeping one's mind, body, and soul healthy despite the many taxing demands of a multi-faceted career. Read on for inspiration.
How did starting as an athlete at a young age affect your perception of physical and mental health?
"I really started processing the impact of sports on my physical and mental health when I was older, when studying for examinations and working as a lawyer. I found sports and running to be an outlet for accumulated stress from studying and working, and it became not just a quiet mental space to process my thoughts, but also a safe physical space to find myself outside of studies and work. Sometime in my early twenties, I had a period of stress-induced insomnia, which was very rough on me mentally and physically, and I addressed it by running. That had a positive impact on my sleep."
What's the most rewarding aspect of being an athlete? How about the not-so-good side to it?
"In my opinion, one of the most rewarding aspects of being a high-performance athlete is cultivating the ability to manage time and pressure well. Going through intense training sessions and competitions from a young age was not easy, but these experiences have made me who I am today as a person.
Often, I find myself being able to juggle a huge amount of commitments and withstand high pressure as a professional and as a person, and I attribute it to the unique growth I have made as a high-performance athlete. Sports have also taught me a high sense of self-discipline and managing priorities in life, which are definitely assets in my life today.
Some not-so-good sides of being an athlete: one of them would be living a restricted lifestyle for the purposes of sports. For most of my life, I did not have the luxury or freedom to have a night out with my friends after examinations, or have a nice evening of drinks after work, because it is not aligned with the recovery and nutrition that a lifestyle in high-performance sports requires. This also means my social life has always been primarily restricted to sports and work, which may not always be sufficient. My family has been extremely supportive from the beginning, and I count myself blessed to always have them in my life."


We've all heard stories of overexertion by athletes, which leads to injuries and sometimes stress. Have you ever been through something like that? Can you walk us through the experience?

"Oh, most definitely. I have also always been a student-athlete or working athlete, which makes these overexertions very real. Most recently, at the SEA Games 2022 at Hanoi, I was competing in the 1500M, 800M, and 10,000M within five days. Coupled with the heat, I was completely exhausted at the end of the last event and my body basically crashed. I was dehydrated and vomiting through the night — it was not pretty.
I have never had a major injury which set me back for a long period of time, primarily because I have been under proper sports medical care. Sometime last year, I was diagnosed with stress reaction to my calves, which was the result of overloading, stress in my muscles, and weaknesses in my bones. I pushed through to the end of the season and went off running completely for a month for intense rehabilitation and foundation work — it was really hard for me. I came back into running much stronger than before, and I have broken national records four times since (10KM twice, 5KM, and 2.4KM)."


What's a typical day in Goh Chui Ling's rest day like? What do you do during your downtime that most people would probably be shocked to hear about?
"Oh, I do not get rest days very much. I do seven to 10 sessions a week on most weeks, and on my recovery week, I have at least six sessions, so that is one rest (or non-training) day every month. I often have a lighter week closer to competitions too.
My typical training day looks like this — I wake up between 7:30AM and 8AM every day. If I have a morning run, I have a cup of coffee with milk (and sugar) before. If there is no training, I start my day with breakfast that looks like a bowl of chocolate muesli cereal with banana, or bread and eggs. I leave for work at about 9:30AM, have lunch with my colleagues at 1PM, and leave work between 5PM and 5:30PM. I head home to get ready for my second session. I am usually done with training at about 8:30PM, and I will cook and have dinner, wash up, and sleep.
It might be shocking to many, but I do not do well on rest days because sports is such a lifestyle for me, and I often struggle to find new activities to fill my day with.
One thing I have started to do a lot more frequently on my free days, which might be interesting, is painting. I usually find something I like to admire i.e., an animal or a painting, and I would go to an art studio for an art jamming session. I like acrylic paint, but I started to dabble into watercolour, which is more challenging for me than acrylic paint!"


Do you have a motivational mantra? Is there a difference between your 'athlete mantra' versus your 'day-to-day mantra'?


"My motivations and values as an athlete and person have evolved quite a bit since I was younger. My values as an athlete and a lawyer – basically 'work' – are primarily to be competent, courageous, and resilient. These values have shaped my attitude and motivation in training, competitions, and at work.
However, on a personal level, my values are slightly different. I have always strived to be authentic and honest, which operates very differently in my friendships and relationships, compared to me as an athlete or lawyer.
Living Uplifted comes into play in both my work and day-to-day. I have always shared that I want to live a life uplifted in order to uplift others, whether at work or in my personal relationships. It is always important to me to be a blessing to others, whether in my triumphs or struggles, that through shared experiences, we can lead a more fulfilling and complete life together."


You also have a law degree and have various participations in sports-related legal research. What were some of the standout experiences you've had in line with this side of your profession? How has interacting with fellow athletes in this non-competitive setting help you grow mentally and emotionally?

"Being a lawyer and a sports law academic amongst international sports federations and athletes has been quite an experience for me as an athlete, and vice versa; because I am an athlete, I have been approached by many professional athletes and federations for legal advice on their contracts and regulations internationally, and through this, I have been able to understand the life of international sports on a very personal level.
On the other side, I have been contributing to sports law academia because of my experience as an athlete and speaking to athletes on the ground.
For example, I was able to get very unique perspectives as an athlete about gender fluidity in sports, and freedom of expression in sports, which led to several academic publications on them.
Being a sports lawyer in sports, I have clarity on the rules and processes in the games and competitions. This, in turn, helps me give advice during competitions on what is right and wrong according to the prevailing rules.


In one of my races at the 2022 SEA Games, one of the competitors was wearing a pair of shoes that was prohibited by the rules (i.e., super shoes have been forbidden on the track since earlier this year by World Athletics, which the competitor was not aware of). The technical officials of the race were also not privy to the change in the rules and were only convinced after our Singapore officials showed them the new rules. We were able to file a protest in the process and were successful in that.
I have been very blessed to have a formal education and a sport in which I am deeply passionate. There have been many occasions that sports brought me opportunities in education — despite many perspectives that sports can only distract you from education. When I was 15 years old, I was invited to train with the team at Hwa Chong Institution based on my sports achievements and was eventually granted admission to the Junior College when I was 17 years old. When I was 19 years old, I was invited and granted the NUS Sports Scholarship for my sports achievements, which was a full education scholarship for my law degree in NUS."
What are some misconceptions you've heard from people or have seen in sports movies or dramas about athletes that you'd like to debunk?

"One of the greatest myths I have had to debunk was the value of rest and recovery in sports. Especially in Singapore, there is a striving for hard work and excellence, but there is little talk about the value of rest in the midst of it all. I had to learn over the years that recovery is equally important as training, and if you do not have proper recovery sometimes you might be better off without training or work because it would be counter-productive.
Rest comes in very different forms for many people, it can be sleeping and eating, lying in bed with a book or watching television; but I have also seen rest in other forms, such as having a day out shopping with friends, watching a movie, or doing your nails. For me, I have had to intentionally take time off to do some of these 'self-care' routines as part of my recovery mentally and emotionally.


It honestly does not take much to stay uplifted physically and mentally. The hardest part of any movement is getting started. So the advice I always give — stay accountable. Staying accountable can also take many different forms, such as paying for classes, or exercising with a friend. But always do something you like — if running is not your thing for now, then go for a cycle, a swim, or a dance class. You can look forward to listening to a podcast, a lecture, or your favourite music while you are moving alone — find little joys to have and hold in the day!"
What's your advice to someone who would like to improve their physical, mental and emotional discipline?

"A good piece of advice I have gotten from my coach is to not be afraid to be uncomfortable. If you are not content with your present state, then endeavour to do something different to live a more uplifted life. Take things step by step, and be patient. We are all creatures of habit, so if we take our commitment day by day, one day it will become a habit.
Discipline is a big subject, and should be directed towards something in order for it to be valuable. So first, set a goal and make a plan to get to that goal. Commit to the plan day by day, and manoeuvre through difficult times (I was once given a piece of advice to "dance with the pain"). Stay accountable, find different motivations and values to stay committed. And most importantly, do not lose sight of the goal!"
Next, more women share their stories on self-care and body acceptance here.
Comments, questions or feedback? Email us at [email protected].