Fitness is for every body. It is an inclusive space that inspires you to achieve your goals: whether it is to sculpt a stronger self, foster a healthier mindset, or bond with like-minded individuals who love the same sports as you do. Beyond vanity's sake, what do body fitness and body acceptance mean to you? Are you able to look past the numbers on the weighing scale and see your body for what it truly is — a precious vessel for your experiences and memories?
To inspire you to keep moving in the face of life's countless surprises and tribulations, we spoke to two women in Singapore — self-love advocate and digital content creator Mathilda and dance coach Melissa — who opened up to us about their active journeys thus far, the songs that spur them to get back on their feet (again and again), and their honest advice on how we can all learn to be kinder to our selves.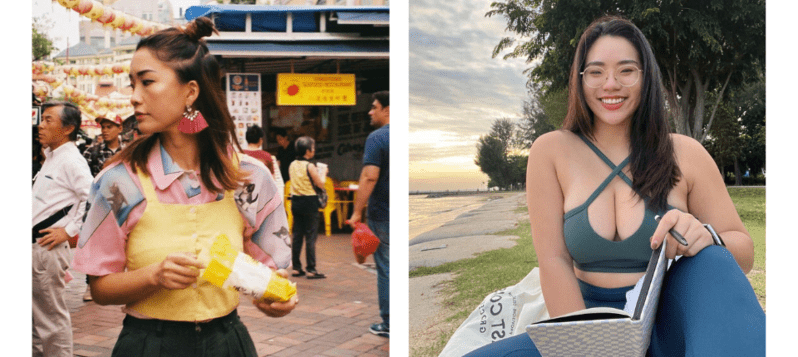 Be gentle with your BODY;
"Keeping up with my 18-month-old is a workout in itself," confessed Melissa. Prior to giving birth, Melissa was a full-time dance instructor who believed that she could "bounce back" into action quickly. "That's what I see on social media: how one goes back to their usual business one week after giving birth and all these positive success stories," she explained.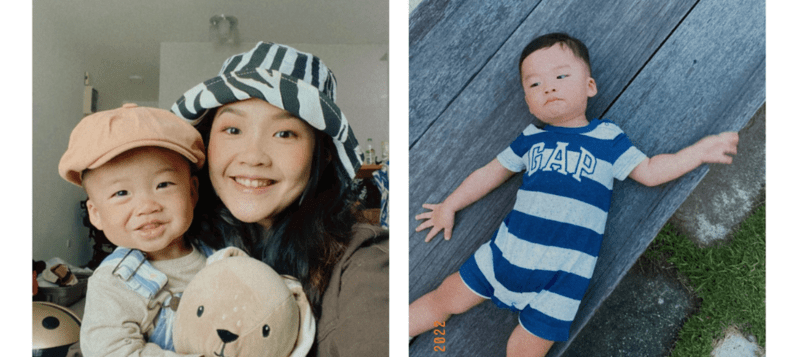 However, after stepping into motherhood, she consciously decided that exercising would be the "last thing" on her mind and chose to focus on what was dearest to her heart: her son. "Everything was about the baby and I tried not to be too hard on myself." Even then, Melissa admitted that she still faced the pressures of returning to her "old" self.
"The price of a plate of chicken rice has changed from SGD2.50 to SGD3.50. But the expectations of a woman are still boxed up in the same old gender stereotypes."
Coupled with the newfound challenges of taking care of a baby, Melissa shared that this experience took a toll on her physical and mental health. "I used to be able to hold a 3-minute plank and teach a 2-hour class but reality didn't match up. I was struggling to lose weight, struggling to look at myself in the mirror; for a while, I thought this was it, this is my new body, my new life," she said.
Meanwhile, for 25-year-old content creator Mathilda, staying active is a motivation to step out of her comfort zone. Although her content creation journey began with her sharing more about her travels and music festival experiences, she's since become more intentional in advocating for self-love, body positivity and mental health.
"Self-love is something we don't address as we live in a 'hustle' culture. We face a lot of pressure to settle down, but I hope to push out the message that you can afford to treat yourself better."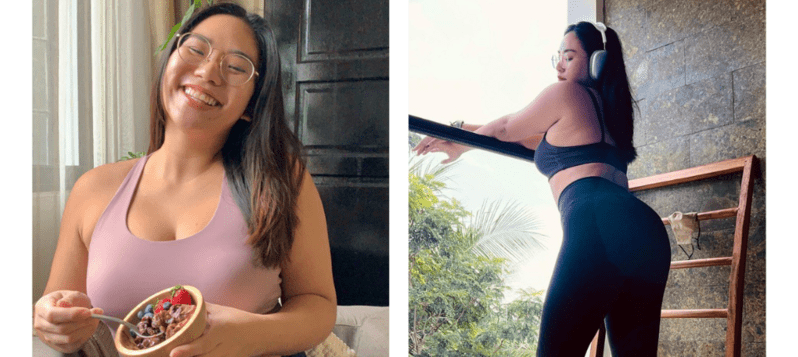 However, there's also more than meets the eye with Mathilda's fun active moments on social media. As she spoke about her personal journey toward self-love, Mathilda revealed her struggles with embracing her body after experiencing an ectopic pregnancy in 2021. "I didn't know I was pregnant and I had to undergo same-day surgery. I felt terrible that I couldn't carry my baby and hated my body for the whole of 2021. It was tough as I didn't even want my partner to touch me," she recalled.
Dance to your own RHYTHM;
Melissa and Mathilda's real-life experiences prove that the path to body acceptance and self-love is non-linear and often an arduous experience. However, let these lessons remind us that we are stronger than we think. Whether it's learning to love our bodies throughout life's different stages or remaining mentally and physically resilient in the face of societal pressures, what matters is that we keep on moving.
"[What I love about dance is] the confidence that comes with it over time. You learn to embrace everything about yourself: your physical appearance, uniqueness and flaws."
"Music [inspires me to keep moving.] I have my parents to thank for my love for music! Growing up, they played songs by ABBA, Michael Jackson and Aaron Kwok. MTV was a thing back then too, so watching all the cool dances in the music videos really ignited my interest in dance," shared Melissa.
Get up and groove to Melissa's playlist
Whenever Melissa's in the mood to move, she loves tuning into a mix of house music, disco and Janet Jackson's hits. Her go-to songs also include Do You Wanna Funk (Remix) by Sylvester, He Loves Me 2 by Cece Peniston and Shoop by Salt-N-Pepa.
"Dance is 20% talent and 80% hard work. And the hard workers may last longer in the game because they are more resilient to failure. When you eventually make it, you will thank your two 'left feet' for making you the strong, determined dancer that you have become," Melissa noted.
As an ardent music festival lover, Mathilda is pretty open to different genres of music and doesn't have a fixed playlist for workouts. That said, she revealed that Tokyo Drift (Fast & Furious) by Teriyaki Boyz or "anything" by The Weeknd motivates her to push a little harder for her reps. For Mathilda, staying curious and adventurous inspires her to live her life to the fullest, every single day.
"One of the New Year's resolutions this year was to put myself in uncomfortable situations. I've also set milestones for my strength training. I tried bouldering and did skipping for the very first time too."
"I believe that when you start your day with a workout, it gets your gears moving. It propels me to be a little more awake at work. It also serves as great content for others who enjoy following along my fitness journey and discovering the types of exercise that are accessible to them," Mathilda explained.
Unwind & decompress with Mathilda's playlist
Curious about Mathilda's top tracks for cooling down after a satisfying strength training sesh? "Give me anything lo-fi. I have them on loop all day. Or jazz. But let's not mention jazz 'cause that's what grandmothers listen to?" she playfully quipped. Mathilda loves to decompress with songs such as Under Water by Otomizu, Solitude by M83 and Closer by Slow Magic.
Write yours with DIGNITY & RESPECT
Moving forward will not be easy. There will be moments where you will fall, break and even stumble along the way. But after the storm, look towards the sunshine and celebrate how far your body has carried you — literally — through the good and bad times.
"This postpartum journey taught me to be kinder to myself and to people who are struggling with their self-image and self-esteem."
As Melissa "pushed" herself back to dance, it dawned on her that she had to learn to "re-love" her body in order to keep doing what she loves. "My body can no longer move like how I used to, but I'm so glad I didn't allow myself to be sucked into this idea of a perfect postpartum body and instead, choose to give myself a chance to get to know my new body back," she reflected.
She revealed that she's still "finding" the balance and has days where she would "still feel terrible" about the way she looks. However, she's also learnt that "we are all works-in-progress."
"With this body, I can give representation to other women who look and feel the same way as I do or struggle with the same things."
As for Mathilda, she confessed that she used to well up in tears whenever she spoke about her ectopic pregnancy as she used to feel "so disappointed" in herself. But now, she's mustered the courage to shed light on her experience and sees herself as a "survivor."
"I started getting better after reading the story of another woman who went through the same experience as me. It really shaped my mind to be more positive and to become a stronger person than I was before," revealed Mathilda.
When it comes to fitness, both Melissa and Mathilda hope that more women will learn to be patient with their progress and to view staying active as an act of self-care. "Being active is more than just losing weight and looking good. It could be the opportunity to spend a beautiful day at the park cycling with your family," suggested Melissa.
As for Mathilda, she advised: "Cultivate a growth mindset that you have the power to overcome everything. If something scares you, all the more you should do it because you'll get to experience the euphoria after. Always keep your goals and intention in mind."
Next, hear from The Nail Social's Cheryl Ou on what it means to be socially conscious.

Comments, questions or feedback? Email us at [email protected].