Our "I Am Her" series features the female movers and shakers of the industry to learn how femininity and power coincide beautifully and seamlessly together.
Dressing up your nails is a personal activity. But for Cheryl Ou, doing your nails can extend beyond one's self and become an avenue for social change. This manifests in her work as the co-founder of The Nail Social, Singapore's first 'socially conscious' nail salon.

Cheryl started out as a nail technician and educator until she decided to try her hand at entrepreneurship. Her business venture aimed to simply make non-toxic, cruelty-free, and eco-friendly nail products available on a more commercial level at first. However, along the way, it also ended up becoming a place to train and empower underprivileged women — from ex-offenders, youths-at-risk, marginalised, and more — to have a better livelihood.
To learn more about her life's work, we chat with Cheryl about the beginnings of The Nail Social, her other socially conscious initiative The Social Space, being effectively empowering for her employees, and more.
Fill in the blank (be as creative as you like): I am an entrepreneur, a social enterprise advocate, and .
"A problem solver."
When you started as an entrepreneur, was it easy to find non-toxic, cruelty-free brands to use for your business? How much has the landscape for eco-friendly nail products and the nail art business in general grown over the years since you founded The Nail Social?
"Not really. There were many non-toxic nail polish brands but I found many of them to be more suited for home DIY use as they didn't last very long, and were not practical for use in a commercial salon. So I spent months researching and testing out tons of non-toxic brands before finding something that was comparable in terms of quality, durability and colour range, and suitable for commercial use.
The first-ever business I started back in 2005 was actually a nail salon and the idea of non-toxic polish was virtually unheard of. Back then, the cost was our main deciding factor and we didn't even think twice about the ingredients that went into the products we were using.


After a few years of working in the salon, I started to get contact dermatitis on my fingers from the harsh chemicals and I also had friends in the nail industry who developed lung issues because of the toxic fumes from the products.
It was then I realised how important it was to use products that were non-toxic and safe, not only for the customers but also for the staff who were exposed to them on a daily basis. So when we started The Nail Social, we made it a point to invest only in high-quality, eco-friendly products to ensure the well-being of both our customers and staff."
The Nail Social is also a social enterprise that trains and employs underprivileged women. Why was it important for you to do this?

"Back in 2014, I had just come out of a very bad experience with an investor from a previous business venture who I felt was purely motivated by money, and that episode forced me to think about my own motivations as an entrepreneur. I decided then to dedicate myself to creating meaningful companies that inspire and drive social change in our community.
After reaching out to social workers, women's shelters and other social service organisations, I realised that donations and hand-outs are only short-term solutions. I wanted to be able to make a more sustainable impact, so I decided to look back at my past experience as a nail technician and diploma in Nail Technology to good use, and reached out to my ex-salon manager, Germaine.
Together, we decided to use our skills to provide training for women who had challenges finding employment, and that was how The Nail Social was born. By empowering them with a vocational skill, stable employment and income, the women will then be able to support themselves and their family in the long term and not be reliant on hand-outs."


The Social Space is another one of your socially conscious initiatives. Kindly define 'social consciousness' for the casual consumer.
"Social consciousness is being aware that we are all part of a larger eco-system and every decision we make and every action we take, does not only affect us individually but has the potential to make a difference to others in the community as well.
At The Social Space, we are huge advocates of making conscious decisions. We set out to create a multi-concept space to show the customer's that it is possible to be socially conscious just by going about their day to day activities- from getting your daily coffee to shopping for household essentials, to indulging in some retail therapy and event getting your regular manicures.
We also hope that along our journey, we would also be able to inspire other entrepreneurs and show that it is possible to build a business that was profitable, scalable and genuinely made a difference to people and the planet."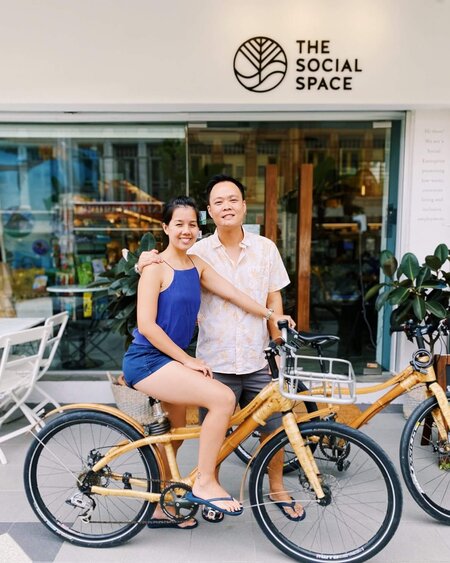 You believe that 'the customer isn't always right' which is a contrast to the old business adage. How important are employers as a source of empowerment for employees?
"Yes, I believe that employers have a responsibility to create a safe space for their employees. I try to be fair to both customers and employees — customer service works both ways and while we make it a point to treat customers with respect and dignity, our employees deserved to be treated with respect and dignity as well.
If a customer is out of line or abusive, my loyalty is to my employees and I will not hesitate to stand up for them. It's important that they also know I will always have their back, only then will they feel safe and empowered to make good customer-focused decisions."
Talk us through your beauty routine and essentials. What makes you feel the most powerful? Beautiful? Sexy? What kind of look is your go-to if you have to battle a challenging day ahead?
"I'm pretty simple and low-maintenance, so I honestly don't have much of a beauty routine. I love being outdoors and I feel most beautiful after a good workout actually. I rarely wear make-up and because I cycle to work, I am typically in a tank top, jeans and flip flops on most days! While I do appreciate dressing up for a night out once in a while, being comfortable and being myself is most important to me when tackling a workday."

What's your go-to manicure? What nail art/nail style would you recommend to a woman who wants to tell the world that she's living 'a beautiful life'?
"I'm pretty adventurous when it comes to my manicures, so my nail art/style will really depend on my mood at that moment and that can range from an elegant French manicure to a quirky floral print. Nail art is a great way to express your individualism, so there's really no one size fits all design/colour for everyone…but when in doubt, a classic deep red will make you feel like you're ready to conquer the world!"
Read more empowering stories of women here.
Comments, questions or feedback? Email us at [email protected].