Quick question: What do Kendall Jenner, Margot Robbie, and Lady Gaga share? Aside from their celebrity status, they also prefer the same workout: Reformer Pilates. It's low-impact yet high-intensity, meaning it's gentle on the joints but you'll still sweat buckets and sculpt your physique sans the bulk. This workout is loved by many because it provides a full-body exercise. You'll improve your flexibility, strength, and endurance all while having fun with rhythmic moves. But how does it differ from 'regular' Pilates?
What is Reformer Pilates?
While Mat-Based Pilates uses your body weight and gravity for resistance, Reformer Pilates utilises special equipment that will allow for a wide range of supported forms and movements. While it looks futuristic, the bed-like apparatus was actually created in the 1920s by Joseph Pilates and was used to rehabilitate injured soldiers and dancers. Today, Reformer Pilates has evolved into a vigorous fitness workout but its roots in healing and strengthening the body remain.
Want to try it out? If you're a newbie, we're sure you have lots of questions. So we had a chat with Jasmine Chong, the co-founder of Flow Pilates by Lab Studio located in East Singapore, to give us the dossier on what you need to know about Reformer Pilates before booking your first class.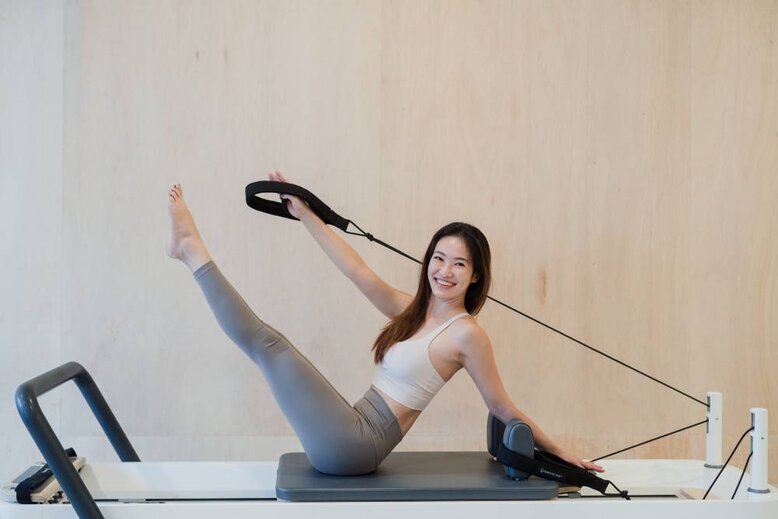 The benefits of doing Reformer Pilates
What exactly can you get out of doing Reformer Pilates? While each body is unique and will respond differently to this workout, in general, Reformer Pilates is designed to help build long and lean muscles. "It challenges you to use a muscle 'eccentrically'. This means you lengthen your muscle by increasing both strength and flexibility. At the same time, it relieves lower back pain by adding support to your core," Jasmine says.
Adding to that, the movements and positions used in Reformer Pilates also promote spinal mobility and pelvic stability, which means your upper body can enjoy a better range of motion — something that your older self will thank you for. And because it's a low-impact exercise, you can still continue doing Pilates even in your later years.
Wondering how often you should do Reformer Pilates to reap its benefits? You'll be surprised to know that you don't have to do it every day. "If you're looking to see results, we recommend you to join us three times a week at The Flow Pilates by Lab Studios for an athletic, full-body chiseling workout that will define your core and have you sweating, burning, and shaking by the time you are done," Jasmine says.

Is Pilates for you?
Picture someone doing Pilates and we bet the first image that will come to your mind is a young woman with a slim figure. However, Pilates is actually suited for bodies of all shapes and sizes. "Reformer Pilates is for everyone of all capabilities," Jasmine says.
True enough, Pilates is one of the exercises that are suitable for people with disabilities. "This includes those with lower back pain and poor posture, people who are recovering from injuries, and women who are pre-natal or post-natal. Of course, we do recommend getting your doctor's advice and approval prior to joining us," Jasmine shares. So, no, you don't have to be fit and athletic before booking; even beginners are welcome!
It's also a common misconception that Reformer Pilates is for women only. But Jasmine explains that it's good for all genders. It was actually a male-centred practice at first. (Remember the guy we told you about who made the apparatus used for the exercise?) However, as Pilates became an essential part of conditioning for dancers, female instructors started to dominate the field.
Pilates is gentle, but can also be intense
While Reformer Pilates is great for physical rehabilitation, it's not limited to recovery purposes. It can also help strengthen the body much like other workouts. "Due to the controlled, small isometric movements and pulses that activate your slow-twitch muscle fibers, Pilates also leads to strength-building and long lean muscles being toned," Jasmine explains. "A well-programmed class will ensure that you get the full benefits of a resistance-based workout with low-impact movements that are safer on your joints." She adds that this is why elite athletes continue to have Reformer Pilates as part of their fitness regimens even when they are out of an injured state.
If you're worried that Pilates might be too easy for you, don't be; it could be real intense and you'll surely get those feel-good endorphins after each session.
What type of Pilates class should you take?
Most Pilates places, like the Flow Pilates by Lab Studio, offer different classes that you can take depending on your goals and fitness level.
Beginners can start easy with a class that will help them master the basics. Jasmine shares that they have Reformer Align at their studio. "This is a flowing full body reformer workout, and it is suitable for those who prefer to work at a controlled pace where they can feel equal parts of strength, mobility, and flowing movement," she says. "Expect to activate muscles you've never worked on before while building a strong foundation in Pilates and refining your technique."
Is a sculpted body your main goal for doing Pilates? Go for a muscle training-focused class like Flow Pilates' Abs, Arms, Ass. "With this class, you will work your abs, chisel your arms, and lift your ass to sculpt your figure," Jasmine says.
Ready to take it up a notch? Try a fast-paced class that has cardio and strength routines such as the Reformer Dynamic. "Our signature reformer class is an athletic, fast-paced, and intense full-body workout that strengthens and tones the entire body. Expect 50 minutes of total body chiseling that will define your core while creating long lean muscle definition without the bulk. This class is ideal for those who enjoy working hard and feeling challenged, and is for intermediate to advanced practitioners."
If you're up for something even more challenging, there are also specialised Reformer Pilates classes like Reformer Jumpboard. "It is a high-intensity class where the jump board employs the principles of plyometrics to train coordination, strengthen muscles and burn calories. It's great for athletes because it develops and strengthens the fast-twitch muscles in the quadriceps without compression — helping to improve speed, agility and, power," Jasmine explains.

What you need to prepare for your first class
Often, most of the Pilates tools and accessories are already provided the studio. Flow Pilates by Lab Studio, for one, is equipped with everything you need for a good Pilates workout. Jasmine shares that all you need to bring are a water bottle, a pair of grip socks, and a "happy and open mind". In-house grip socks are also available for purchase in their studio if you need a fresh set.
As for your attire, something comfortable that moves with your body is a good choice. Loose clothing (like an oversized t-shirt) may not be the best as it can soak sweat and hamper your body from moving freely. You can also opt to keep your mask on for exercises that do not require high cardio intensity if you feel more comfortable with it.
All in all, Reformer Pilates is a good workout for anyone. It's perfect for those who are looking to gain strength and flexibility without putting strain on their joints. It's definitely worth a try!
Flow Pilates by Lab Studio

437 Joo Chiat Road, Singapore 427650
Next, check out the best running shoes here.

Comments, questions or feedback? Email us at [email protected].