Our "I Am Her" series features the female movers and shakers of the industry to learn how femininity and power coincide beautifully and seamlessly together.
If you've attended a product launch, a big sale event, a movie premiere, a wide-scale virtual gathering, a wedding or a private company event in the Philippines, there's a good chance that you've encountered interactive technology made by Waveplay Interactive. You can see their works almost everywhere. They've been featured in local noontime television shows and their crowd-favourite 360 Selfie and Glamshot Infinity has probably made its way on your social media feed at some point.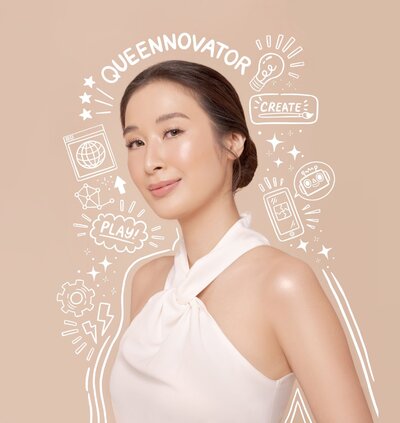 At its helm is Sharon Yu Ong, who founded the company at age 23. Although inexperienced, she was armed with good ideas and perseverance to turn them into reality. Fast forward to a decade later and she and her company are now at the vanguard of marketing innovations. Even during the thick of the pandemic, her team was able to innovate and seamlessly translate on-ground experience to virtual spaces. For this, she was awarded the Innovator of the Year Commendation in Campaign Asia-Pacific's 2021 Women Leading Change Awards (WLCA).
Curious about how she started it all? Ahead, Sharon Yu Ong shares about her early days in the industry, Waveplay Interactive's "big break" and her creative process.
I'm an entrepreneur, a gamer and _________.
I'm a Chief Playmaker (at Waveplay Interactive), innovator, and mum.
When did you realise that you wanted to work with interactive technologies? What's the biggest project that you worked on before creating your own company?
Over 12 years ago, this was before smartphones were a thing, we were doing our college thesis. I thought about cinema advertising through gaming, where you could turn crowds into human joysticks playing a branded game by waving their hands up left and right. I hired a developer from Singapore to help me produce a rough proof of concept, and it worked, although only for one player in a small room.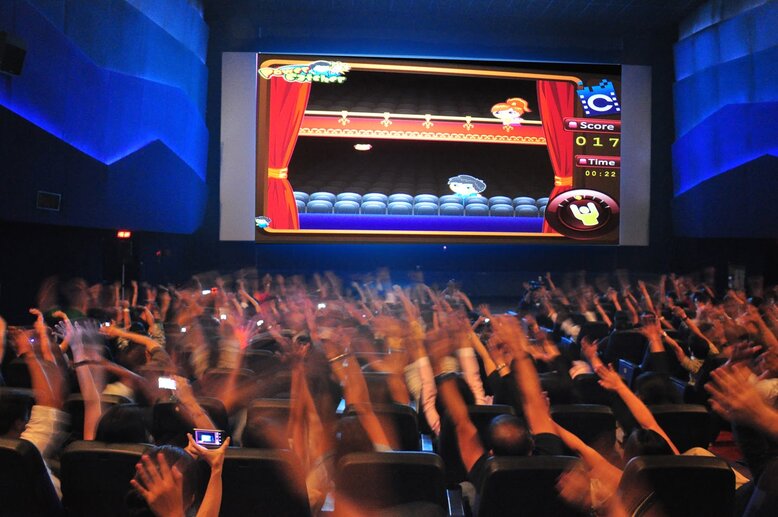 We didn't win Best Thesis but it was an idea I continued to believe in. So much so that I applied for a cinema company and presented it to my boss. He allowed me to execute it for their top three cinemas, and we called it Winema. It was the first interactive cinema in Asia. During the launch, that magical moment of seeing the excitement of cinema-goers waving their hands and screaming in unison made me pinch myself to see if I was dreaming. A top movie blogger even told me his young boy enjoyed the game more than the movie. Winema received rave reviews and got featured back then on the landing page of Yahoo.
Tell us about your early days in the tech industry. What's the biggest project that you worked on before creating your own company? What's it like working in a male-dominated space?
I co-founded Waveplay Interactive at 23 years old and would describe myself as an oblivious and overly optimistic newbie. Fortunately, I've met kind clients (now our good friends and longtime partners) who never judged based on my inexperience, age, or gender. They gave our ideas a chance, provided advice on industry trends, and advised us on opportunities to innovate.

What motivated you to start your own business? What was it like starting a business with a family member? How were you able to raise funds? What were the challenges you had overcome in the beginning?
While I learned many priceless lessons from working in a corporate environment, I also realised that 9-5 desk jobs are not for me. I was optimistic about the human joystick technology's application in the event industry, but had no connections and didn't know where to begin. My father cringed when I told him my plans of starting an interactive experience business, mostly because he didn't understand what I was talking about. Even so, my parents provided the funding we needed, and with two partners who are experts in creatives and R&D, we set up Waveplay Interactive.
It took us months before landing our first client, which required us to fly out of town. My dad, being protective of me, urged my brother to join the trip and since he's a gamer himself. I told him that if he's interested, there's room for one more partner. He has since been a great addition to the team, heading up operations. It was challenging to offer a new concept in 2011, when innovation wasn't a requirement for events because those standards haven't been set.
Our big break came when we presented to the Creative Director of the Philippines's longest-running noontime show who was very open to new ideas and soon after, Waveplay powered the world's first interactive audience game on TV.
This was the precedent we were waiting for. At that point, whenever we show the TV project to potential clients, they go, "Oh that's you guys!" With this recall, it was the golden opportunity to amplify our momentum, so I began cold calling agencies, aggressively getting contact infos of event organisers from every booth and event I encountered. Because I knew, as soon as we get that chance to present, get them to experience our "interactives", their eyes will open up to all the possibilities we can do together.

From 360 Selfie to Webplay Virtual Events, your company produces some of the most innovative event experiences in the Philippines. Can you tell us more about your team's creative process? How do you come up with exciting ideas and how do you make these ideas into reality?
Information from anywhere can be "idea triggers" — your social media feed, that viral meme sent to your Viber group, experiences, a podcast, conversations with clients and friends, and even the efforts of other companies. One of our client-favourite concepts is the Holo Foto.
It's the first instant holographic "polaroid" in the event industry that gives guests a retro photo souvenir, showing the brand holographically when you look at it at different angles. Holo Foto was actually inspired by a local makeup brand with stylish retro visuals. Their campaigns are cool, trendy, and it got me thinking, "If the brains behind this makeup brand were to create an interactive experience, how would they do it?" Putting myself in their shoes, Holo Foto was the output of that rumination.
What I love about our company culture is we're poised to innovate efficiently to the point that you can just list down ideas and know it's something we can launch in a few weeks' time. Our efficiency to innovate is the result of years of creating versatile technologies that can produce custom applications for unique requirements. It's in the genes of our industry to evolve over and over again, so we have to be proactive on the changing needs of our market and reinvent in advance.
What exciting technology can we expect next from your company, Waveplay Interactive?
When physical gatherings were halted due to the pandemic, the global event industry was widely affected. Many pivoted their events to webinars and Zoom, but we aspired for ways to continue creating one-of-a-kind interactive events, even in a socially distanced setting. In May of 2020, we launched Webplay, the Philippines' first virtual events platform.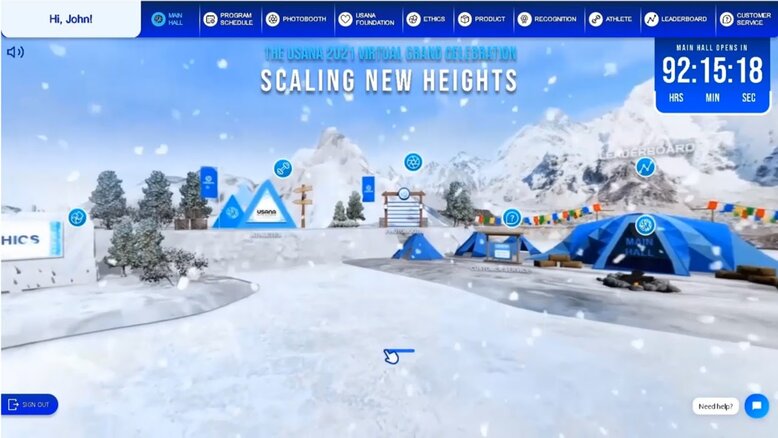 The Webplay platform is so customisable, anything can be made possible for online events. For instance, when USANA wanted an "Everest's Summit" themed celebration, guests felt the snow as soon as they logged in — from the main camp, to the instagrammable stations, up to the true to theme side activities.
In anticipation of physical events' comeback, our team is continuously developing new on-ground interactive concepts, especially contactless options. With hybrid events touted as the next frontier, we also envision to fuse our live and virtual event tech in order to maximise both audiences' participation whether they're attending in person or virtually.
What new technology are you most excited about right now? Why?
The possibilities of augmented reality excite me. It used to be an intimidating platform, but with the pandemic forcing the public to learn about tech know-how, QR codes, and even help them kill boredom with AR filters, it's now easier to get people participating with their mobile phones. The AR landscape has grown so much in the past years that you can explore new immersive engagements that meet specific objectives.
As a millennial working mum, how has technology helped you achieve work-life balance?
Our team and I have been working from home since the pandemic, and effectively at that. Our virtual venues are supported remotely with no hitches. With our toddlers' virtual schooling, I like how I can set meetings flexibly so I can join their classes. It's sometimes challenging though when they're wrestling while you're in a meeting, you can bet there were times I gave my kids the scare stare while my camera was on. Despite everything else, I will definitely continue on with virtual meetings since it works for us. Most of our recent hires have also shared as a caveat that if things go back to normal, they'd prefer to continue working from home, and I totally get why.
Name your 5 Clozette essentials.
Since I'm working from home, my meeting staple is a sleek turtleneck paired with comfy shorts. I also tend to overshop on pyjama sets. When I go out, sleeveless bodysuits and perfectly fitted mom jeans are a no brainer choice. Of course, I bring with me my eyelash curler and AlcoPlus alcohol.
This interview has been edited for brevity and clarity.
Inspired? Read more empowering stories of women here.
Comments, questions or feedback? Email us at [email protected].