Some people are born with inherently weak hair and some have weakened hair due to chemical treatments like bleaching. If any of these apply to you, your mane needs a haircare regimen designed to strengthen it and make it more elastic to prevent more hair breakage. The Oribe Hair Alchemy Collection — which includes a shampoo, conditioner, and treatment serum — promises to do just that. #TBLBureau Campaigns Manager Xuanyi tried the range to see if it can make her crowning glory stronger and more resilient.
*The product was sent as a press gift. The views and opinions of the reviewer are independent and purely editorial.
Oribe Hair Alchemy packaging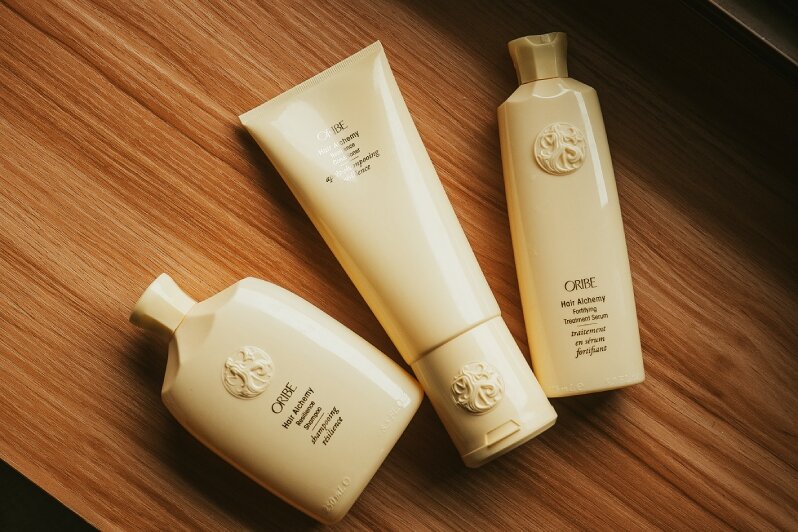 The collection comes in a sleek, creamy yellow-themed packaging that has Oribe's logo embossed on each bottle. There aren't any pumps, so you have to pour the product directly onto the palm of your hand. "The product flows out easily from the opening, sometimes requiring quite a bit of control to prevent it too much from coming out," Xuanyi shared.
Oribe Hair Alchemy first impressions and claims
"My hair fall and frizziness worsened after I permed my hair half a year ago," Xuanyi said. The Oribe Hair Alchemy Collection seems to be the answer to her problem, as it claims to be the answer to fragile hair strands.
It's formulated with a blend of chia seed, plant-based protein and bio-fermented bamboo leaf, as well as a moisture-charged hyaluronic acid complex that transforms dry, damaged hair into a more resilient mane. The formula claims to fill in the gaps between your hair proteins, creating a stronger structure that reinforces your hair resilience against physical stress and increasing its elasticity. The brand claims that you'll see results in as fast as one use, but recommends using the entire collection daily for a week or more.
Using the Oribe Hair Alchemy Collection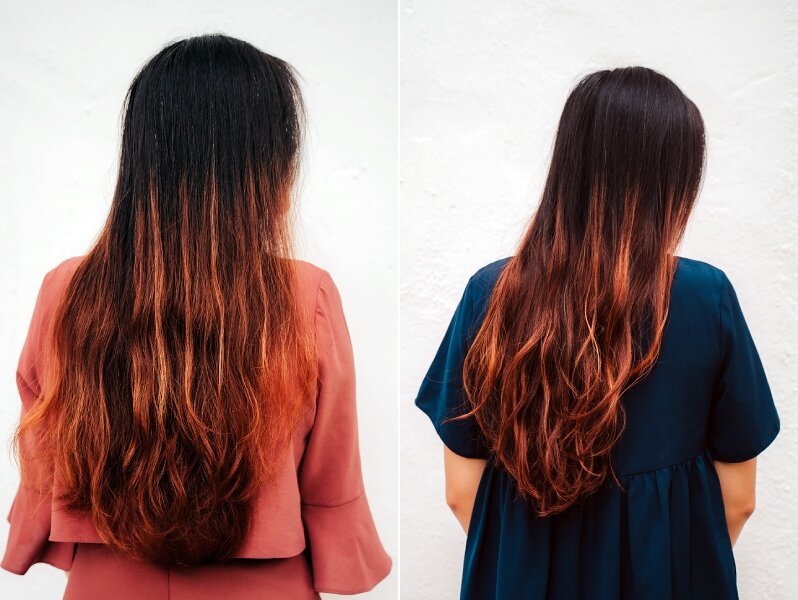 If there's one word to describe the experience, Xuanyi said it'd be "rich". "The products' consistencies are very rich and creamy," she said. "The shampoo lathers really quickly which I really like. The serum is lightweight and absorbs into my hair very quickly when I apply it to wet or dry hair."
The scent also elevated her haircare regimen. "I love the nice floral scent from the blend of organic ingredients in the formula."
She used the products every other day for two weeks and observed that her tresses were visibly improved as promised. "My hair feels softer and bouncier, especially each time after I use the serum. I haven't yet noticed the difference regarding hair fall but it does feel like my hair texture is slightly better when I comb it."
Of the three products in the range, her personal favourite is the serum. "My hair feels really soft and silky after I apply the serum and blow dry my hair. I like that it gives my hair volume immediately and lasts through the day."
Are you interested in trying this haircare collection?
Final verdict on the Oribe Hair Alchemy Collection
So is this haircare range worth splurging on? "I would recommend it to people who do not go for hair treatments but would love to still pamper their hair once in a while since the complete regimen does feel like a salon-like hair treatment," Xuanyi said.
The Oribe Hair Alchemy Collection is available at the brand's partner salons, website and Net-A-Porter, with prices ranging from SGD49 for the shampoo and SGD64 for the treatment serum.
Need a new hairstyler? This cordless hair straightener from ghd might be the one you're looking for.
Comments, questions or feedback? Email us at [email protected].