It's inevitable that we'll encounter hair woes like frizziness, tangles, and dryness when you live in a country with humid weather. If you have coloured hair, it's double the trouble! A trip to the salon is a luxury not many of us have had lately, so we need to turn to at-home solutions instead. In comes the Farmskin Superfood For Hair Ultra Nourishing Hair Mask, which promises to infuse your tresses with a nourishing blend of oils to restore them to their natural healthy, soft, glowy state.
We asked #TeamClozette Campaign Manager and professional makeup artist Stephanie Ooi to give this hair mask a try. Here's what she has to say about the experience.
First impressions, claims, packaging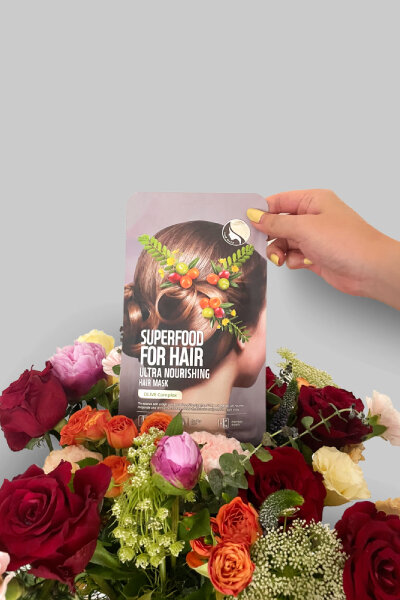 "The packaging looks very premium," Stephanie mused. "It made me curious to see whether or not the product can really help with my tangled, frizzy and dry hair caused by too much colouring and bleaching." As for the packaging, the hair mask comes in a sealed package similar to skincare masks. Even the hair cap looks like a sheet mask at first glance, made from a breathable cotton-like fabric.
The Farmskin Superfood For Hair Ultra Nourishing Hair Mask in Olive claims to be ideal for those with damaged hair. Its creamy formula is packed with a rich blend of naturally derived ingredients that soften and repair your damaged tresses. It contains an Olive Complex, made with highly concentrated olives, and colostrum (the milky fluid that's produced before real breastmilk) as its hero ingredients. Supplemented by calming vitamin tree fruits, and softening rosehip oil, keratin, and ceramide, this hair mask works from root to tip to restore your crown to its former glory.
So how do you actually use it? Let's find out.
Usage and application
If it's your first time using this kind of hair mask like Stephanie, you shouldn't worry because it's fairly fool-proof. "The illustrated instructions provided on the packaging are very straightforward and easy to understand. This saves me from having to go to the Internet to get the answers," Stephanie shared.
To use the mask, you need to wash your hair and gently towel dry it beforehand. Then, gather your hair in a bun and slip on the bag like a turban with the narrow side just past your hairline. Leave it on for 20 to 30 minutes and go about your other tasks in the meantime. It's a fuss-free hair treatment, without any drippage experienced during the process.
"The texture of the Farmskin Superfood hair mask feels lightweight and creamy," Stephanie recalled. "I must say that the product has a generous amount of cream — around 40 grams — and it is more than sufficient for my mid-length, layered hair. People who have thicker and longer hair don't need to worry as there's enough cream provided."
Stephanie shared that she gently massaged her scalp to "maximise the effect of the mask" while waiting for the treatment to do its magic. Once the half-hour is up, you need to rinse off the product in the shower with lukewarm water.
If there's one "drawback" to this whole experience, according to Stephanie, it's the rinsing part. "The product will make the floor very slippery, so you'll need to make sure you have a good grip on a rail or steady balance, otherwise you may slip," she cautioned.
Still, Stephanie has nothing but positive thoughts on this mask. "My hair definitely feels nourished after one use," Stephanie said. "I can comb through it with my fingers instead of using a detangling comb. It also left my hair smelling very pleasant with a nice floral scent."
Final thoughts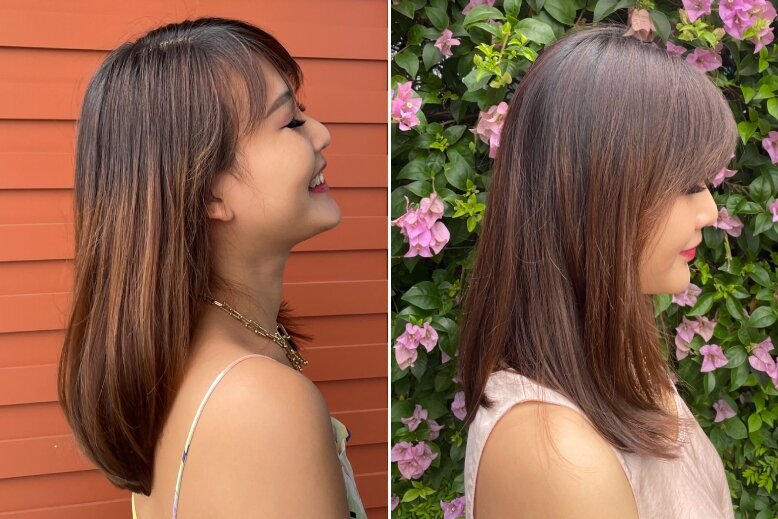 Is the Farmskin Superfood For Hair Ultra Nourishing Hair Mask worth picking up? For Stephanie, it's an absolute yes. "I would recommend it to people who have tangled, frizzy and dry hair," she enthused. With one hair mask, her hair looks less flat and dry and a lot more voluminous and lustrous.
Each pack comes with three masks and costs SGD32.90/~USD25 — roughly around SGD11 per mask — at BEAUBIT and from the official Farmskin website. A good deal, don't you think? If you want to try this hair mask for yourself, it's also available in Malaysia for MYR485 and the Philippines for PHP280.
*The product was sent as a press gift. The views and opinions of the reviewer are independent and purely editorial.
Need a moisturising serum? Check out the Biohyalux Hyaluronic Acid Serums made by the biggest HA manufacturers in the world.
Comments, questions or feedback? Email us at [email protected].