First came the Supersonic that blew our minds (and hair) away, then came the Airwrap, a styler that wowed us with its hair curling magic. And now, after seven years in the making, famed technology company Dyson is adding a third innovation to their impressive beauty tech line-up. In this Dyson Corrale review, we'll see how a cord-free hair straightener with plates that can actually bend fares in real life.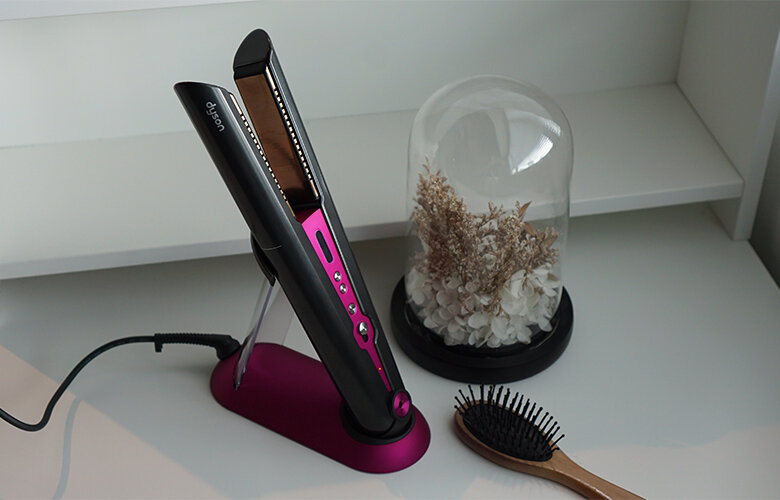 Ask anyone on my team and they'd tell you that I have to style my hair before stepping out of the house. My natural hair is slightly wavy and frizzy so it can look quite messy without some much-needed grooming. Plus, the styling makes grooming all the more fun since I often keep my hair mid-length anyway.
Great design, sleek packaging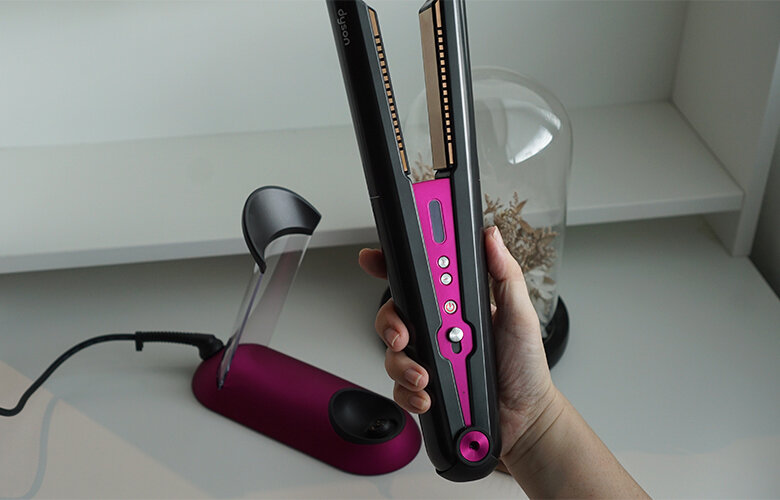 First things first, Dyson never fails to impress with great design and packaging — no surprises there. In the box, you'll find along with the hair straightener, a cool-looking charging dock, a magnetic charging cable (which reminds me of an Apple MacBook's charging cable) and a sleek heat-resistant travel pouch. You can charge the Dyson Corrale by directly plugging the charging cable or do it my preferred way, make a permanent spot on your dressing table for the charging dock and keep it charged to enjoy the convenience of cord-free hair styling as and when you need it. I've long dreamed of a cordless hair styling tool and was thrilled to review the Dyson Corrale after learning that it is cord-free — and more.
Cord-free styling and flexing plates among our favourite key features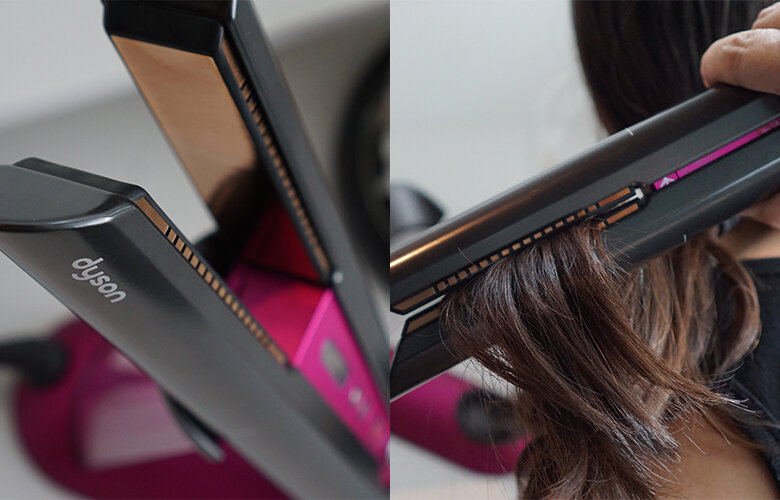 Aside from being a cord-free hair styling tool, the other main highlight of the Dyson Corrale has to be its patented Dyson flexing plates. Made from manganese copper alloy with 15 micro-hinged segments for flexibility, the plates can bend slightly around your hair to allow better grip and control as well as a more even heat distribution so lesser damage-inducing heat is needed to style your hair. The brand prioritises hair health — that is what I like most about Dyson's hair technology.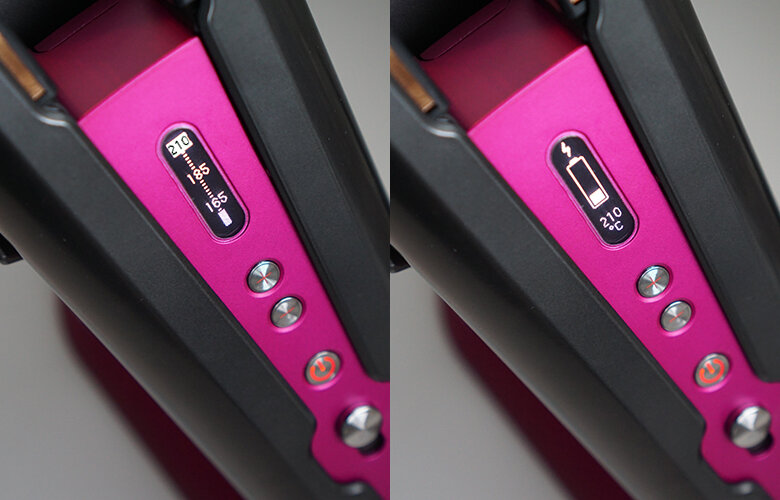 Neatly tucked at the side of the styler is its control panel, strategically positioned to avoid any accidental pressing of the mode buttons during the styling process. Starting from the bottom is the safety lock, which allows you to unlock the plates when in use or lock to keep the hot plates concealed away once you're done. After switching on the straightener, select one of the three heat settings — 165°C, 185°C or 210°C — by simply toggling the + or - buttons. If you're new to DIY hairstyling, a good guide is to start with the lowest temperature to see how your hair adapts to the heat. Once your selected temperature setting is reached, a chime will sound and the OLED screen will display its temperature along with a battery level indicator.
Powered by a four-cell lithium-ion battery, it takes 40 minutes to get the Dyson Corrale to 90 per cent charging level or 70 minutes to a full charge. What's cool is that the charging automatically stops at full charge so you never have to worry about overcharging. A fully charged Dyson Corrale is said to give you 30 minutes of cord-free styling. I'm pretty swift and can style my hair in under 20 minutes, so the time limit has not been an issue for me so far.
Here's my third time trying the Dyson Corrale. First, I straightened my hair using the lowest heat setting at 165°C. I then added waves to my hair using the medium heat setting at 185°C — all under 20 minutes.
Carry on with its flight-ready feature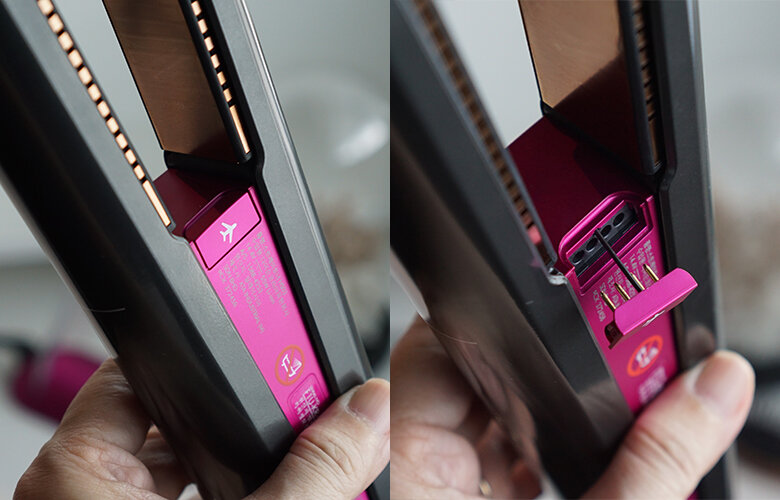 I may not be travelling any time soon, but I'm always keen to find out if a styler travels well because, yes, I always bring along a hair styling tool for fabulous hair anytime, anywhere. It's good to note that due to the stricter regulations in Japan, you will not be able to fly in or out of Japanese airports with the Dyson Corrale. But other than that, this gadget is good to travel anywhere with its universal voltage and a flight-ready feature that disables the batteries, making it safe to carry on flights.
Is the Dyson Corrale worth SGD699?
So what's the final say for this Dyson Corrale review? Is it worth its hefty price? Well, in my opinion, with an extensive amount of technology packed into one sleek-looking device, it is an impressive piece of innovation at a relatively fair price point. Does it do the job well? Yes. I enjoy its cordless feature that gives me the fuss-free freedom to style my hair anywhere without the hindrance of a cable. Its ability to straighten my hair smoothly using the lowest heat setting is a big plus too. While I do wish it was a little smaller and lighter, the weight does not strain my arm or bother me much. It may be a bit of a splurge, but if you're a hair styling geek like me, I'd say consider saving up and getting your hands on this innovative beauty tech.

The Dyson Corrale straightener is available at SGD699 in two colourways: Nickel/Fuchsia and Purple/Black. The Nickel/Fuchsia variant is available on dyson.com.sg, and at the Dyson Demo Store in Owner Centre at Capitol Piazza and Dyson Demo Store in Beauty Lab at Funan Mall, as well as major electrical department stores. The Purple/Black variant is exclusively available on dyson.com.sg, and at the Dyson Demo Store in Owner Centre at Capitol Piazza and Dyson Demo Store in Beauty Lab at Funan Mall.
*The product was sent as a press gift. The views and opinion of the reviewer are independent and purely editorial.
Comments, questions or feedback? Email us at [email protected].