Blow dryers have had a reputation for damaging hair for the longest time. But that may change soon thanks to SHARP's Plasmacluster Hair Dryer. Officially called the IB-JX9KE-N, the latest hair dryer from the Japanese brand promises to make the hair healthier with each use.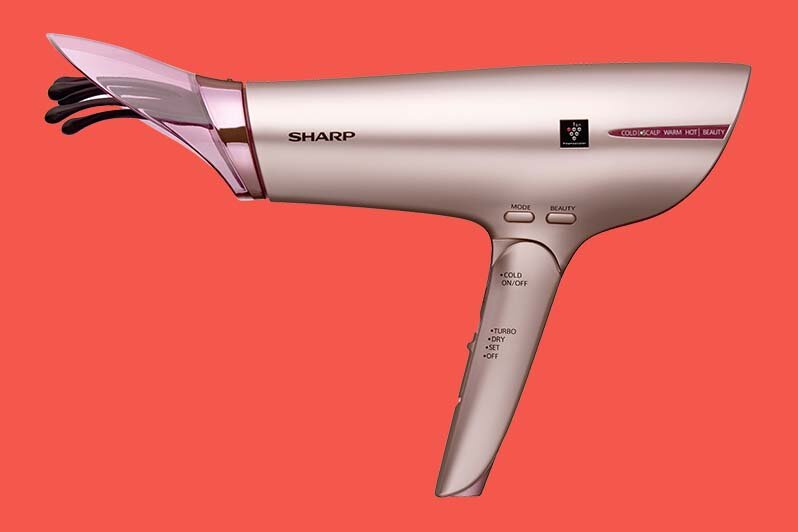 How SHARP's Plasmacluster Hair Dryer improves hair health
The hair dryer works by manipulating positive and negative ions. These controlled ions envelop hair cuticles with moisturising water molecules that protect locks from damage. The result is healthy hair, improved scalp condition and balanced sebum in pores.
Aside from the moisturising benefits of the special ions, the blow dryer itself also isn't as harsh as a traditional hair dryer. It has smart temperature control to prevent hair damage and uses high wind speeds to imitate the natural air drying process so you can be sure that your crowning glory won't be fried.
SHARP's Plasmacluster Hair Dryer has four modes to suit different occasions: Hot, Warm, Scalp and Beauty. The Hot Mode is perfect for days when you're strapped for time and you need to get rid of excess water without drying out your hair. For days when it's sweltering hot outside, the slightly lower temperature of Warm Mode is ideal. If you like semi-dry hair, you can achieve it using Scalp Mode. Beauty Mode is great for special events where you want your hair extra shiny.
Where to buy SHARP's Plasmacluster Hair Dryer in Singapore
The SHARP Plasmacluster Hair Dryer is available online at the Cocoro Life store and all major retailers islandwide at SGD249. Each hair dryer will include a modelling nozzle, quick-drying set wind blowing nozzle, scalp massager and an ion device cleaning brush.
Get "glass hair" with the best hair oils in Singapore. Check them out here.
Comments, questions or feedback? Email us at [email protected].