When the Dyson Airwrap Multi-Styler was introduced in 2018, it was certainly a trailblazer, to say the least. It can straighten and curl your locks effectively without the dreaded extreme heat and subsequent hair damage that usually comes with hairstyling. Just when you thought things couldn't get any better, the new and improved Dyson Airwrap Multi-Styler enters the scene.
Dyson Airwrap Multi-Styler new attachments in 2022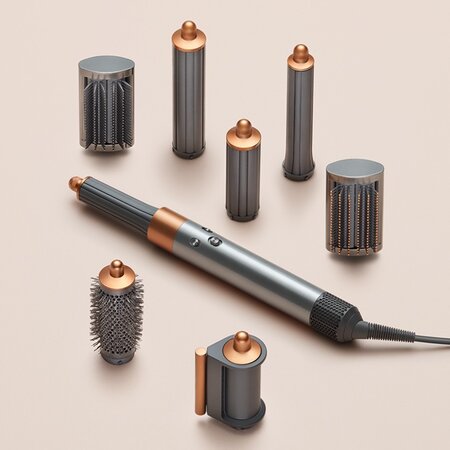 The latest version of Dyson Airwrap Multi-Styler is designed to be more inclusive of different hair types and cater to different hair lengths and textures. It's definitely an exciting update considering that many curly-haired gals in the beauty community found the original to be already quite good!
Dyson Airwrap 2.0 comes with re-engineered blow-drying, smoothing and curling attachments that will help you create multiple hairstyles with ease. This includes a variety of curling barrels with a rotating tip so you can freely create different types of curls without changing attachments.
Additionally, the brush attachments and hairdryer are also improved for optimal smoothing. Finally, curly-haired gals are in for a treat with Dyson's new wide-toothed comb attaching that's perfect for adding volume to locks.
Even with all these improvements, some things never change. Dyson Airwrap Multi-Styler still utilises the Coanda airflow effect to style hair instead of relying solely on heat but it's now enhanced to deliver a better user experience. So it's the same proven technology but with new upgrades!
Dyson Airwrap Multi-Styler price, where to buy in Singapore
The newest version of Dyson Airwrap Multi-Styler is now available for SGD849. You can choose from two sets available: one is for hair that's shorter than chest length, while the other is for longer locks. However, the wide-tooth comb attachment is yet to launch in Singapore. Stay tuned for more updates!
(Cover photo from: @dyson)
Comments, questions or feedback? Email us at [email protected].