This article was first published on 22 September 2020.
What turns a fad into a cultural phenomenon? What's The Hype Around delves into the influences and longevity of the biggest, hyped-up trends right now.

Sunnies Studios has come a long way since its inception and days at mall kiosks with a single product range in 2013. Its founders — couple (now husband and wife) Eric Dee Jr. and Bea Soriano, and cousins Georgina Wilson and Martine Cajucom Ho — wore many hats and got down to the nitty-gritty themselves, from handling deliveries and creating artworks to personally replying to DMs on the brand's Instagram account.

Their perseverance and, of course, influence paid off. In just five years, what was once an online eyewear store with a four-person operation became a full-blown lifestyle brand that eventually ventured into the food and beauty industries by 2018 with Sunnies Cafe and Sunnies Face.
But its exponential growth is not the only intriguing fact about the Philippine-brand Sunnies Studios. What's more curious is how its beauty brand, Sunnies Face, gained international traction, specifically in the United States where it garnered the attention of the country's major publications including Allure, WWD, The Cut, Hypebae and Vogue. The hype behind Sunnies Face blew up even further when it announced a collaboration with Rose Inc., a digital platform created by model and actress Rosie Huntington-Whiteley in 2019.
And as of 2023, Sunnies Face is now available in Singapore via Shopee and BEAUBIT. It also has skincare products, with the current line-up including a makeup remover, sunscreen, lash serum-cum-mascara, and moisturiser. Did we mention there's a nail polish line, too?
How did Sunnies Face start? The founders always had a "but" for every makeup product that they liked: "I love this formula, but the colours just aren't right. I love what this product does, but it's just a little too expensive. I love this packaging, but the branding isn't me." To finally end their search for their idea of the perfect makeup products, Sunnies Face was born. Standing by their slogan "Beauty that gets you", Sunnies Face prides itself in creating "affordable luxury" that won't "conceal you" but "bring out your best features".
The brand was an immediate hit in the Philippines. People lined up for hours to get a piece of their now-iconic Fluffmatte Lipsticks, which are available in nine gorgeous matte shades. Influencers raved about its quality formula on their channels at the time. Now, it's one thing to get hyped up during the initial launch. But Sunnies Face was able to sustain its popularity two years after its introduction to the market. What did they do right to get into this hype wagon? With all the controversies thrown at the brand and founders along the way, do they deserve the hype? Let's discuss.
How Sunnies Face became the Glossier of the Philippines
Just like how Glossier became an accessible "it" brand for the cool girls of California, New York and beyond, Sunnies Face quickly became "it" for the cool girls of Asia. It's the beauty brand associated with that effortless, "undone" look, an aesthetic that is so "right now". But let's be honest, releasing a range of matte lip shades is not exactly groundbreaking. So how did they manage to snag this position in a relatively oversaturated beauty market? Here are some possible reasons.
Right place, right time
It wouldn't be farfetched to say that the team could have noticed the local beauty market wanting for that it girl beauty brand. Back then, although there were many makeup options available with similar shades (think Maybelline and Colourette Cosmetics) and similar price points (think Ever Bilena), there just wasn't anything with a minimalist branding that exuded affordable "high-end chic".
Glossier was an option, but it was simply not easily accessible. Shoppers had to deal with third-party websites, long waiting time and additional fees for shipping, which made their purchases more expensive. Perhaps partly because of that, Sunnies Face's arrival in 2018 was very much a welcomed one. Finally, there was an it-girl beauty brand that they can just grab off the shelves for an affordable price. The timing was on their side.
Masstige appeal and "the look"
You can't really talk about Sunnies Face's success without mentioning their visual branding. Without it, we doubt that the hype would be as big as it is today. It is their bread and butter and what distinguished them from local competitors. "Personal reasons and controversies aside, the branding of Sunnies Face really speaks to me," beauty lover Anj Saludes said. She shared that even though she doesn't think the lip shades are unique, she still gravitated towards their branding. "Sunnies Face makes 'looking chic' effortless and very attainable with how their products are designed," she said.
Even in the United States where Glossier is so popular and accessible, it still turned heads. "It felt very on point with the effortlessly cool-girl vibe. Along with the packaging, the products themselves (especially the Airblush) really grabbed my attention and I knew I had to try them for myself," said Nicole, an Arizona-based beauty influencer. Nailing that chic yet cheap masstige appeal was what gave Sunnies Face an edge.
The products really deliver on their promise
You need at least four things to go right in order for a brand to succeed — price, place, promotion and most importantly, product. You can launch at the right time and have amazingly consistent branding, but if the quality of your product is poor, you'll be out of the game real soon. Seeing as there is still a lot of hype around Sunnies Face products, it's safe to say their products are on par with expectations.
"I prefer it over other brands because it's a quality Filipino brand. I've tried other makeup brands before and I've had bad skin reactions because I have really sensitive skin. So far, though, I haven't had this problem with Sunnies Face," said beauty enthusiast Rheine Canlas, who spoke highly of Sunnies Face's Fluffmatte in Girl Crush. "The quality is on par with high-end brands yet the price is affordable," added Martha, the lady behind popular Filipino beauty blog The BeautyJunkee.
Sunnies Face(s) controversies and issues
But it's quite impossible to go in-depth about Sunnies Face without discussing the issues surrounding it. For such a young brand, it's been plagued with a slew of serious controversies to the point where many have called for a boycott.
Being a "Glossier copycat"
Because of its similarity in branding and the market it caters to, many pointed out that it looks a tad bit too familiar, including Filipino New York-based blogger Camie Juan. In a Bustle interview, Martine Cajucom Ho, the brand's creative director addressed this controversy: "Glossier is a brand we look up to. They're a modern beauty company changing the skincare conversation. We love how approachable they are when it comes to their customers; we share similar core ideas — be it design, product-led marketing, providing a new customer experience for the 2.0 consumer. They're game-changers, and we feel that any brand that isn't inspired by what they've done isn't looking in the right direction. They inspire us and we would consider ourselves lucky if we're able to add to the conversation they started."
"What a cop-out answer" was what lifestyle journalist
Belle Mapa
thought when she read the response. "I understand drawing inspiration from other brands. Smaller local beauty businesses do this as I understand they source from wholesale packaging suppliers. But when you're an established brand, bordering on institutional — I'll give them that, since they really are international status at this point — there's a higher call to be innovative not just in formula but also in aesthetic," she said, citing that there are undeniable similarities between Sunnies Face's stores and the Glossier store that she visited in Manhattan.
(But is minimalism a safe escape for copycats in the beauty industry? Our take here.)
Filipino brand made in Italy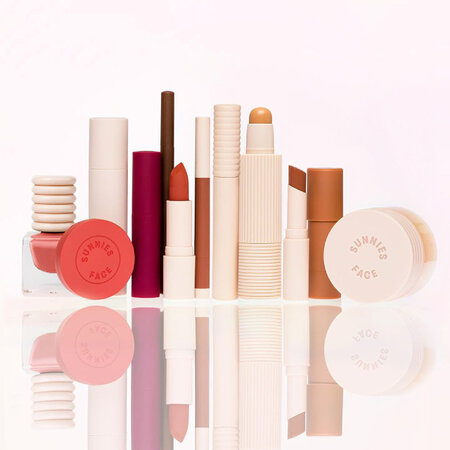 Sunnies Face gets a lot of love for being a successful Filipino beauty brand. But can it really be considered a "true" Filipino or Asian brand if it's formulated in Italy? It's a question some have asked. Technically it is because it has roots in the Philippines and is founded and operated by Filipinos. But the question remains: why not formulate it in the Philippines or in Asia? We reached out to Sunnies Face for their comments but did not receive a response at the time of publication.
Founders' blunders
Majority of the issues directed at Sunnies Studios isn't actually about the brand per se but its founders and the people they're connected to. The founders have been called "Marcos Apologists", with founder Georgina Wilson tweeting her support for the son of the Philippines' late dictator Ferdinand Marcos during the 2016 election. In response, people boycotted the brand, including those who admittedly enjoyed their products. "Buying from the brand means that I add to the wealth and influence of these people. I don't want to give my money to people who legitimise the Marcoses' return to power," Anj Saludes shared, opting instead to support other local brands like Ellana Cosmetics and Filipinta Beauty. "I'd rather spend my money elsewhere, on someone else that doesn't support the people that have left the country to ruins," added fellow beauty lover Em Mampusti.
It's an issue that has affected even overseas customers of the brand. In a three-part series on Instagram, Arizona-based beauty influencer Nicole shared her sentiments: "I was and am absolutely horrified how someone could even stand to be near that family with a 10-foot pole after knowing the history. I'm appalled that a country went through so much pain, hurt and trauma under his rule. That information alone made me question my stance and continued support of the brand," she wrote.
But the controversies did not stop there, another incident happened in 2017 when founders Georgina (with her sister Jess) and Martine posed wearing communist caps at the Tiananmen Square, the site of a 1989 massacre. After being called out, it was rightfully taken down and an apology was issued.
Despite these controversies, many still continued to support Sunnies Face for various reasons. Martha of TheBeautyJunkee provided a perspective: "I can't call for a complete boycott of the company because we can't deny it is providing livelihood to people. Whenever I'm asked these questions, there's always a push and pull between my nationalistic and compassionate virtues, and in situations like this, I guess a grey area can be useful. Brands are their own entities and one founder doesn't necessarily represent the values and beliefs of the whole, so Sunnies Face should have their own diplomatic stand as a brand and independent of the founders' leanings; it should stand for its own values and in order to keep it this way, we should always keep them accountable. It's hard to separate yourself from the brand when you are the founder, but I do believe a dichotomous approach is always possible. I hope it is the same case for Sunnies Face."
Belle also admitted that it is challenging to let go of a product you love when you find out that it's connected to an issue. "It's so hard to be a conscious consumer sometimes. I'll find a brand I like then when I catch something wrong it's like, 'Oh no, I liked your stuff though'. Not to say I won't support them again. Once they improve business practices, I'm down to give them another shot," she said and mentioned that she faced a similar situation with Lush after they addressed a greenwashing issue they were embroiled in.
So, is Sunnies Face worth the hype?
Is the hype behind Sunnies Face well-deserved? If you're looking at the products and the brand itself, it's a yes for us. Not only does it deliver on its promise at an affordable price point, but it also has a brand positioning and aesthetic that is so "right now". But in this era where society is becoming increasingly aware of social injustices, should we ignore such issues and base a brand's value purely on its cost and quality? It's a question that only an individual can answer based on her moral compass. What are you willing to "forgive"? Where do you draw the line?
If we may, one way to look at it is to think of your relationship to a brand that you love but has problematic issues like you would with a friend who has upset you: tell them what's wrong and how you want them to change. Reach out, let your voice be heard. After all, another key to a brand's success is its relationship with its customers. Spoil it and it is only a matter of time before the hype dies down.
(Cover photo from: @sunniesface)
Is BTS worth the hype? Here's what we think.
Comments, questions or feedback? Email us at [email protected].