Our "I Am Her" series features the female movers and shakers of the industry to learn how femininity and power coincide beautifully and seamlessly together.
It's undeniable at this point that makeup's transformative power goes beyond the surface. Not only does it enhance or elevate a person's confidence and persona but also enables one to discover a whole new craft. To some, it even awakens a truth that goes way beyond creativity. It becomes the embodiment of identity. That's how it was for award-winning Singaporean makeup artist Ginger Lynette Leong, who lives boldly and proudly as a trans woman changing the wave of beauty within and outside of her country.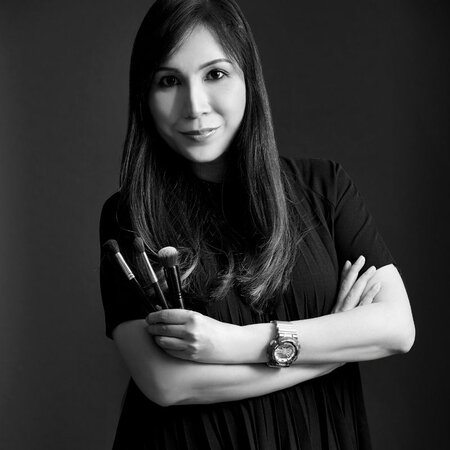 Award-winning makeup artist, Ginger Lynette Leong
After winning the Shu Uemura Beauty Art Makeup Competition in 2009, her work in makeup artistry has made its way to various editorial spreads. She's also collaborated with international brands like Laura Mercier and Takashimaya. Ahead, her story of how makeup eventually led to a journey of self-love and self-acceptance.
You say that your first memory of makeup was when you were around seven years old. Do you still remember what attracted you to it and how it made you feel?
I remember always seeing my mum getting dolled up with a pressed powder and a lipstick back then and watching her just made me so happy. She looked so radiant and bright. It wasn't long after that I ended up sneaking to her room to play with makeup; it was when she's either too busy to notice or when she's not around. The first time I applied it on myself, I felt really great and pretty.
My mum found out about it and she didn't really agree with it. So that's why I continued to sneak around whenever I played with makeup then.
At what age did you become aware that you were 'different' and how did you come into terms with that?
I felt that I was different back when I was pretty young — maybe just nine years old. I started to think about why I was so feminine, why I loved playing with paper dolls, why I loved cooking and why I loved makeup — all of it. And the thing is, there was no internet or social media then to give clarity.
It was only when I got to know my 'sisters' that I discovered I am not alone. We share the same social problems so we were able to encourage each other on how to cope with our families, with work, and more. I am truly blessed to have very true and genuine friends and I cherish them a lot. They are my second family.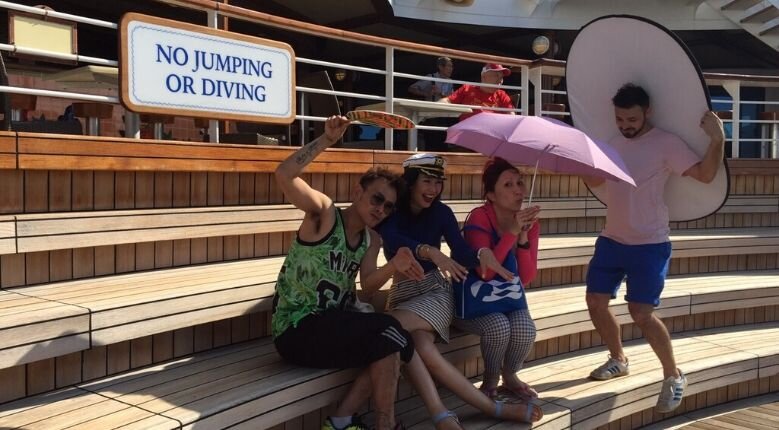 Ginger with her friends
Speaking of family, did your own self-discovery affect your relationship with your family? If so, how were you able to manage it?
I am presently in very good terms with my family, but it wasn't all easy. Time was one factor and then there's also a lot of compromising. I couldn't simply ignore them and go all the way with my transition. Thankfully, my brother was pretty open-minded and did his best to talk to our dad and our other family members.
Self-respect also plays a major role in managing our current relationship. I continue to work hard to prove myself and really show my family that no matter what happens, I will never regret my transition.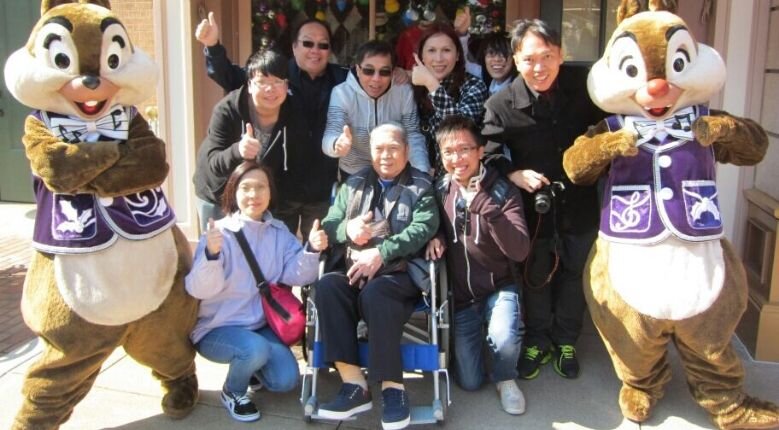 Ginger with her family
Has makeup helped you embrace more of yourself when the world wasn't as accepting and friendly as it is now? How so?

I have always struggled with gender identity problems and I still do even now. I often feel like 'why do I need to go through so much hard work just to prove myself'? There are even moments when I feel like some opportunities are not given to me. In those moments, I turn to makeup.
Just like painting, I use makeup as a tool to enhance people's beauty and self-confidence. I believe that by pursuing this passion, I help others feel and do better. One of my customers even encouraged me not to give up doing makeup until the day that I can't do it anymore. Even with the struggles, these words of appreciation and encouragement motivated me to go further. It is a craft that allows me to extend my creativity and keep my ideas running. So no matter what, I will always continue to pursue both to express my passion in this artistry.
It's definitely the job satisfaction that makes me forget everything else and just do my best. When I see my clients' faces or receive good comments about my work, I achieve true happiness and I think people can see that in me, too. And that is something you can't fake.
What is it about makeup that made you want to pursue it as a career?

I was initially an admin officer for an insurance company for about seven years. As years passed, I told myself that I want to do something different instead of a normal desk-bound job. I was pretty good with arts during my school days so I took a part-time course in Cosmoprof for bridal and fashion makeup. That eventually led to a part-time, then full-time makeup artist job at MAC.
After seven years with the brand and another year in Clinique, I ended up as a freelance professional makeup artist. After a few months as a freelancer, I won my award for the Shu Uemura competition. And the rest is history. To date, I'm still in this industry and am currently a retainer for ADB (most known for brands like DrSpa, DrGL, and DrHair).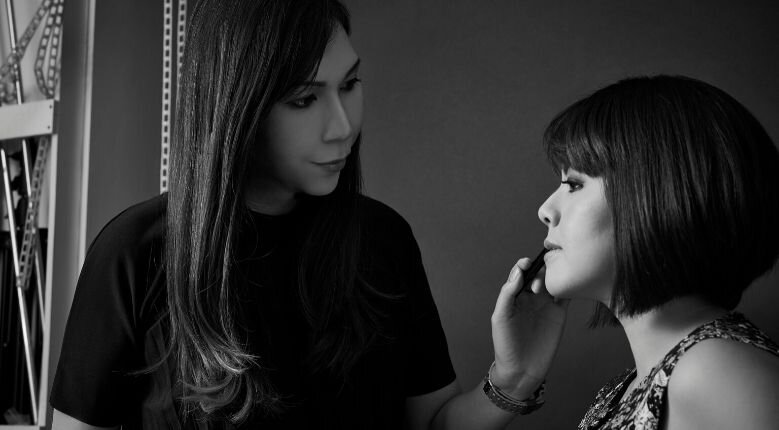 For Ginger, her relationship with makeup helped her define true happiness.
What do you think are aspects of makeup or the beauty industry that can be changed in order to make the industry friendlier and more inclusive to everyone who loves makeup, regardless of race, gender, or age?

One thing I noticed, especially for younger generations, is that they focus too much on themselves and often forget about mutual respect. I think respect and forgiveness, no matter the industry is important. Based on my experience, words can really hurt and there are better ways to phrase things to come up with a compromise. Listening to others and not always focusing on yourself and your own perceptions is also something people should learn.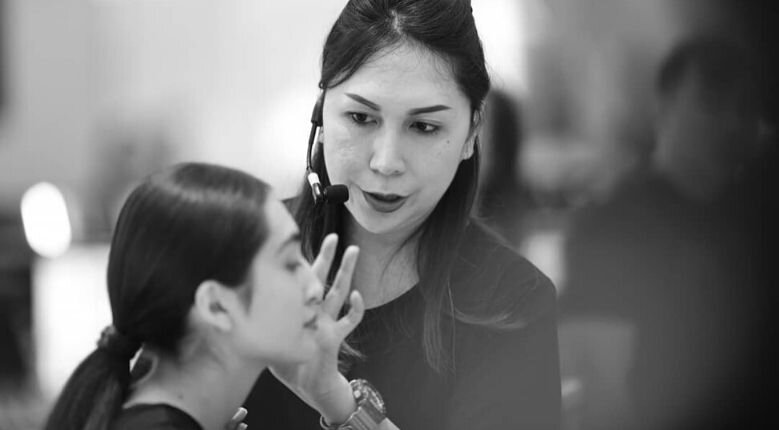 "I will always continue to pursue both to express my passion in this artistry."
If you can give us your top three beauty tips that work for anyone who loves makeup (like a piece of universal advice), what would these tips be and why?

To me, prepping the skin is so important. If you are taking care of your skin, the makeup application will definitely be easier. Next, don't forget to protect your lashes and lips. I do notice that the trend of liquid lipsticks is still pretty strong, however, always remember to moisturise and scrub your lips. You will see a major difference in doing so. The same goes for eyelash extensions. It is pretty common now but with prolonged usage, your own natural lashes will become weak and would drop off so using a lash serum is important to prevent that. Lastly, invest in a good set of makeup brushes. Makeup brushes are essential to all makeup artists so quality does count. They are like an extension of your hands, which helps you to achieve the best results when doing your makeup.
Last but not least, what's your message to little Gingers who are still navigating their way through the world about their identity?

First, love yourself and be kind to others. Next, in every problem, there's always a solution. And at times, it's not just always about you but also about letting others shine. Third, if you think you are doing a good job, give yourself some self-pampering. Fourth, choose your friends wisely because we constantly need the support of family and friends. Speaking of your family, make sure you love them, too. One day they will truly understand you.
This interview was edited for clarity and brevity.
Inspired? Check out stories of other exceptional women here.
Comments, questions or feedback? Email us at [email protected].