A lot of beauty trends and makeup tips involve covering up blemishes and evening out skin texture. But people are now being more open to and accepting of the real status of their skin — pores, fine lines, pigmentation, and acne all included.
In this episode of BeauTea Talk, host Roanna and guest host Yashora share their journey as people with acne-prone and textured skin. They share tips on managing troubled skin, from skincare routines to practices that have helped them over the years.
What causes textured skin?
There are so many causes for textured skin. Hormones, stress, and strong skincare formulas can all trigger increased skin texture. Acne-prone skin can also be aggravated by using dirty makeup brushes and expired makeup.
There are also medical conditions that make it hard to control blemishes. One of these is polycystic ovarian syndrome (PCOS), where your body overproduces androgens a.k.a the hormones responsible for our oil glands. Because of the abnormal amount of androgens, the oil glands also produce an abnormal amount of sebum that acne-causing bacteria love to feed on. If you have PCOS like Yashora, it's literally quite impossible to get your skin to behave without the help of medications.
Yashora's minimalist skincare routine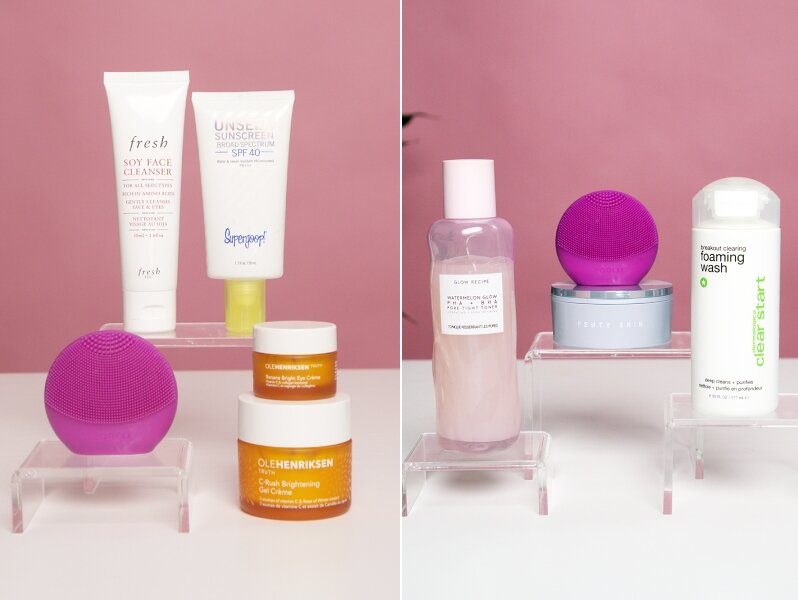 Overloading your skin with skincare may trigger more acne breakouts. If this describes your skin to a T, it's best to pick a cleanser, toner, and moisturiser that will cleanse your skin, replenish hydration, and help lighten post-acne marks.
In the morning, Yashora starts with a gentle cleanser like the fresh Soy Cleanser applied with the Foreo LUNA fofo to remove any sebum that's built up on her skin overnight. She then uses the brightening Ole Henriksen Banana Bright Eye Creme and C-Rush Brightening Gel Creme moisturiser for any dark marks and hyperpigmentation. As the last step in her daytime routine, Yashora religiously applies the lightweight Supergoop! Unseen Sunscreen to protect her skin from UV damage.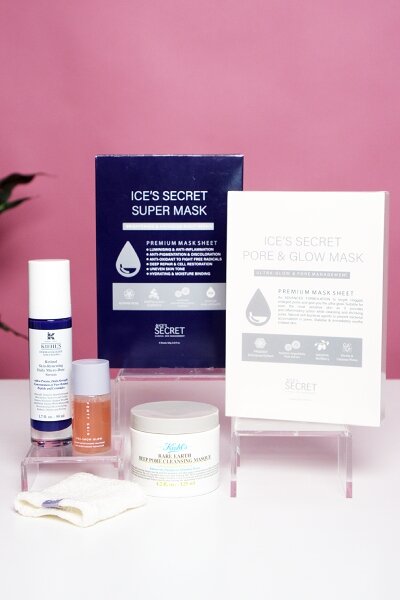 It's a little different when it comes to her evening skincare routine. She still uses the Foreo LUNA fofo but uses the more "heavy-duty" Dermalogica Clear Start Breakout Clearing Foaming Cleanser to remove any makeup she wears during the day. She then applies a hydrating Glow Recipe Watermelon Glow Toner before applying the Fenty Skin Instant Reset Overnight Recovery Gel-Cream.
She also uses some skincare treatments if she feels like her skin needs extra help. One of her favourites is an exfoliating Ice's Secret Pore & Glow foaming sheet mask to clear out her pores. She also uses the Fenty Skin Pre-Show Glow 10% AHA exfoliating treatment if her skin is particularly clogged. If her skin needs some soothing action, she pops on the calming Ice's Secret Super Mask to relieve any redness. She's also started using a gentle Kiehl's Retinol Skin-Renewing Daily Micro-Dose Serum once to twice a month. Whenever her skin produces excessive amounts of sebum, she applies the Kiehl's Rare Earth Deep Pore Cleansing Masque, an oil-controlling and pore-purifying clay mask.
Roanna's maximalist skincare routine
When it comes to acne-prone skin, skincare routines can widely vary in terms of how many products you can use. Some will swear by the basic skincare routine of cleanser and moisturiser, but as they say in the Asian skincare community, "Your mileage may vary." For Roanna, every step in her skincare regimen serves a purpose in managing her acne-prone skin that clogs very easily.
Her mornings start with cleansing her face with a daily exfoliating scrub like the est.lab LUMIWHITE Exfoliating Scrub, which she applies with the Foreo LUNA 3 Plus. Afterwards, she applies the RE:ERTH Calming Toner and Skin Days Pore Perfect Serum. In addition to these products, she also uses the RE:ERTH Blemish Control serum treatment and the brightening RE:ERTH Illuminating Concentrate for dark marks. She finishes off with the Sigi Skin Idyllic Fields, a waterless soothing moisturiser that contains oat extracts to reduce any skin irritation and redness. For days when she'd have a special event, she'd apply a 90-second mask with an LED device — the Foreo UFO 2 — for added treatment.
At night, Roanna adds more nourishing products — the Estée Lauder Advanced Night Repair Serum and fresh Lotus Youth Preserve Dream Night Cream, to be exact — so she can wake up to hydrated skin in the morning. She also makes it a point to double cleanse and remove her makeup with the Drunk Elephant Slaii Makeup-Melting Butter Cleanser before going about her regular skincare routine.
Some advice for those with acne-prone skin
If there's one thing you need to remember, it's perfectly okay to have skin texture. "You're not a doll," Yashora said. While we can manage our skin woes with skincare, Roanna added that we shouldn't be "obsessed" with having "perfect" skin. At the end of the day, real skin comes with texture — it's what makes us human after all!
Tune into our past episodes on BeauTea Talk here.
Comments, questions or feedback? Email us at [email protected].