While movement restrictions have started to ease, people's interest for nature and nature-inspired activities remain. Remember how so many of your friends became plant parents at the onset of the pandemic last year? But more than that, the pressing issue of helping the environment has also become clearer. The good news is you can help cultivate both in one — really — by adopting your own tree!

Herbal Essences
, in partnership with
Watsons Malaysia
, is holding a tree planting campaign called
"
Forests For Good
"
to do their part in supporting forest replanting efforts across Malaysia, starting with a tree plantation site in Perak. This initiative is also inspired by the Greening Malaysia Programme, a 100 Million Trees Planting Campaign to help preserve the country's biological diversity while improving the quality of its rivers and the entire environment. Here's what you need to know about it and how you can join.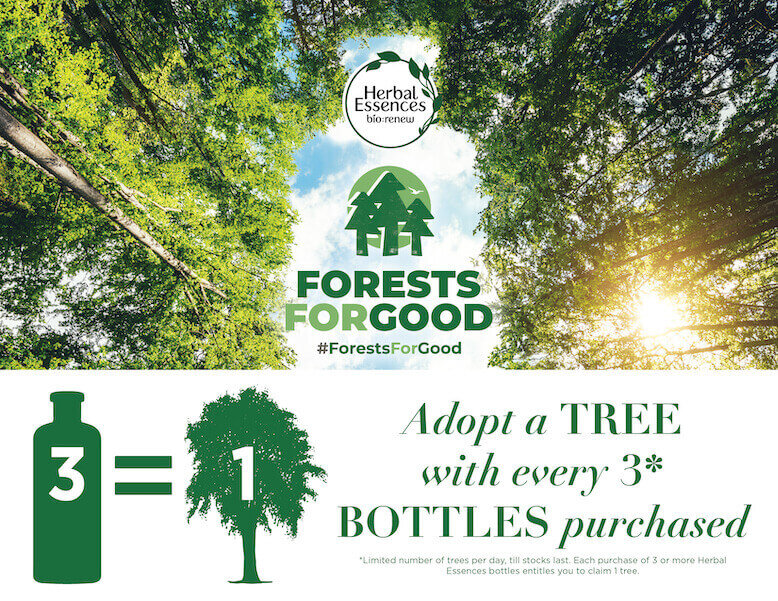 Be a tree parent in three steps
Step 1:
All you have to do is buy three bottles of Herbal Essences bio:renew products from any Watsons Malaysia store or its
website
and you'll be able to
adopt your very own tree
.* You can adopt multiple trees during the campaign period with a repeat purchase of at least 3 bottles in every receipt.
Every three bottles entitles you to one tree planted on your behalf. The more bottles you purchase, the more trees will be planted.
Step 2: After purchasing your Herbal Essences products, Watsons Malaysia will send a text with your unique code and a link to the Watsons campaign page.
Step 3: From there, you will be redirected to the P&G Forests For Good page where you can input your unique code to adopt your tree, name it, and track its growth. You can even show off your tree with your friends on social media and inspire them to adopt a tree of their own. The more, the merrier!
Why you should adopt a tree
Deforestation has been a widespread problem around the world and has led to natural calamities such as flooding, landslides, prolonged droughts, and global warming. Planting trees through reforestation initiatives will help to
capture and store
carbon dioxide, the elemental culprit that causes the polar ice caps to melt at a rapid speed. Trees also help prevent soil erosion that causes landslides and floods.
What makes this initiative unique is that Herbal Essences partnered with the social enterprise
EcoMatcher
to make tree-planting more interactive for everyone through blockchain technology. EcoMatcher will plant the tree at a planting site on your behalf. Through blockchain technology, you can stay updated on your tree's progress and track your carbon footprint.
Support sustainability through your haircare
Aside from this initiative, the Herbal Essences bio:renew range helps the environment each time through its packaging too. They come in recyclable bottles that are made with 25% post-consumer recycled (PCR) plastic.
So if you've ever wondered if your haircare routine can help not just your hair's health but also the environment, here's your answer.
P.S. Don't forget to sign up for our giveaway in the form below!
Don't miss out on the fun. The first 30 registrants who submit a sustainability pledge will be able to adopt a tree, on us! Sign up through the form below.
This giveaway is open to Malaysia residents only.
Comments, questions or feedback? Email us at [email protected].