Did you know that thinning hair can be caused by having a sensitive scalp and clogged hair follicles? If you suspect that these are the causes of your hair woes, you're in need of a hair and scalp treatment to address the root cause of your mane issues. Luckily, there's one you can get in Singapore.
We consulted the scalp and hair experts at TK TrichoKare, the leading Trichological Centre in Singapore which provides customised European herbal hair remedies that are approved by trichologists (a.k.a. people who specialise in studying hair and scalp-related diseases). Its treatments are based on years of herbal medicine knowledge and backed by scientific research — ensuring an effective and pampering solution to hair woes.
What is the TK TrichoKare Scalp Purifying Therapy?
#TBLBureau Program Manager Roanna tried TrichoKare's award-winning Scalp Purifying Therapy to see if it can help improve her sensitive, itchy and clogged scalp. This scalp detoxifying treatment is a customised five-step approach to soothing inflammation and decreasing hair thinning based on individual hair & scalp conditions. It also promises to delay scalp ageing, which can also contribute to hair loss.
Each session lasts for 2 to 2.5 hours depending on your individual scalp condition. This already includes a pampering scalp cleanse, treatment and light massage. Sounds neat, doesn't it?
Read on to see how Roanna's session at TrichoKare went.
What to expect from this hair and scalp treatment session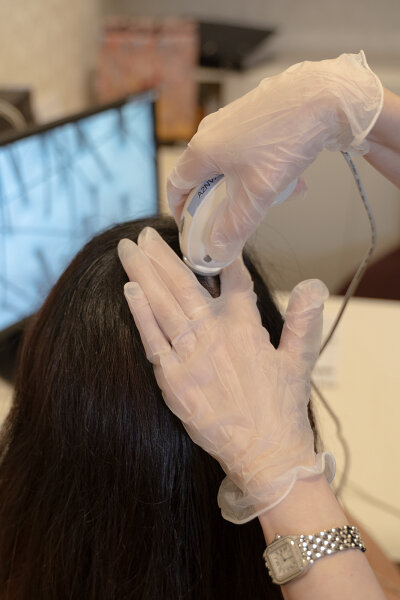 Step 1: Assess. As with any hair and scalp treatment, Roanna's session started with a thorough scalp assessment. A scalp probe was used to go through different areas of her scalp — top, centre, sides and back — to analyse its condition. "The hair & scalp specialist was very thorough in her analysis and explained the condition of my scalp while scanning through," she shared. "My scalp appears to be oily and was heavily clogged with flakes all over, especially on the back bottom and near the face line."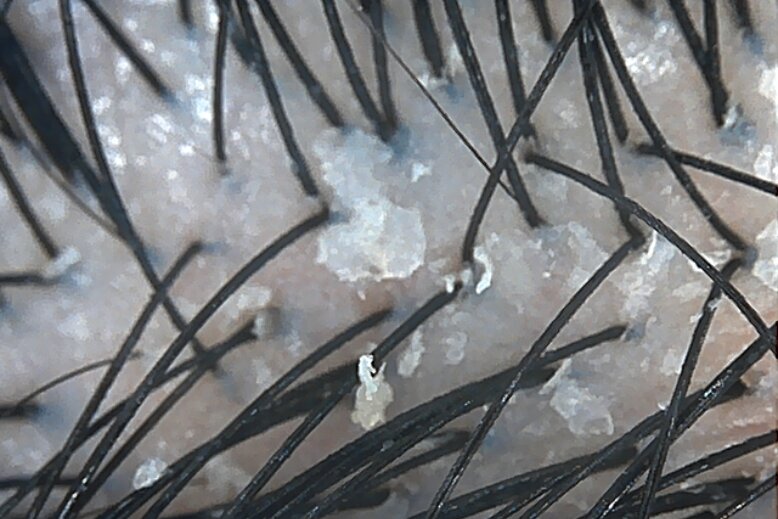 Before moving on to the second step, the specialist recommended using a primer spray to assist in dissolving the built-up dead skin on her heavily clogged scalp. The spray was gently but thoroughly massaged into her scalp, which Roanna says was "very relaxing".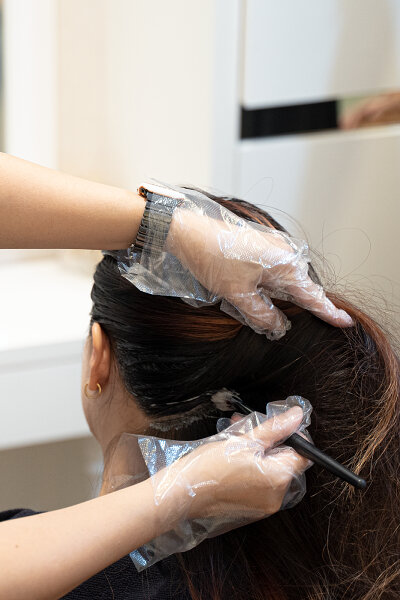 Step 2: Hair Masque. The specialist then applied a European herbal scalp masque to start detoxifying her scalp. The masque was customised according to Roanna's scalp condition and applied with a soft brush before it was massaged for better absorption. This was, hands down, Roanna's favourite part of the treatment. "The masque had a strong minty and cooling feel on my scalp, making it feel soothed as she massaged in the product."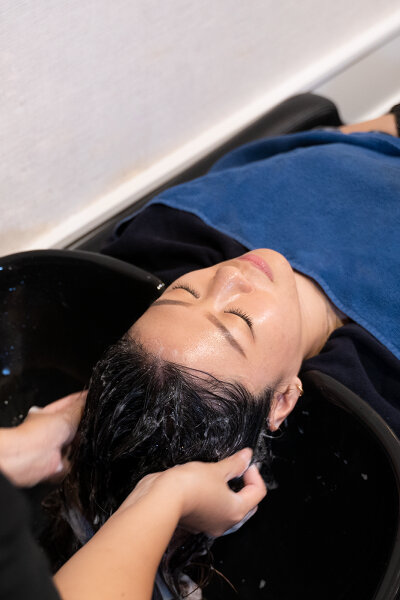 Step 3: Hair Bath. The masque was then washed off thoroughly, followed by applications of the shampoo and conditioner. "The shampoo also had a minty cooling effect on the scalp and it was so calming that I almost fell asleep! A Hair Protein Mist was also applied to my hair strands to help combat frizziness."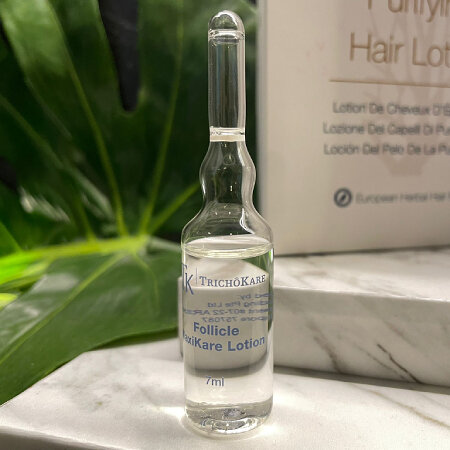 Step 4: Customised Ampoule with Nano Mist Application. After cleansing, the hair & scalp specialist proceeded to apply a customised ampoule (MaxiKare ampoule) to the scalp to further stimulate hair health and growth. She then misted Roanna's hair using a nano mist device that converted the ampoule into smaller molecules that are easier for the scalp to absorb and opened up the pores in her scalp. "The therapist also placed a warm herbal pack onto my shoulders to loosen up any tension — super relaxing!"
Step 5: Photodynamic Therapy. The last step in the hair and scalp treatment was an LED infrared light therapy. TrichoKare uses a combination of laser light technology and heat to support hair regeneration and accelerate scalp healing.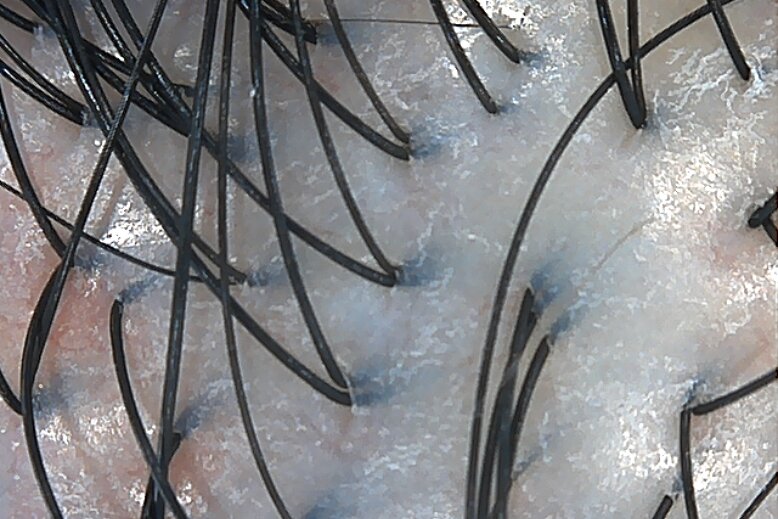 After the treatment, the hair & scalp specialist ran another scalp scan so Roanna can see the difference. "I could see a majority of the areas on my scalp were now clean and free from flakes. The skin on the scalp also appeared glowy and healthy with no signs of oiliness."
Roanna was given a take-home care kit to make the hair and scalp treatment's effects last longer. It contains a travel-sized Nourishing Bath (50ML) and a CompleteKare Mask (50ML). Roanna loved using the shampoo (a.k.a hair bath) the most. "It cleanses well with a nice cooling sensation on the scalp."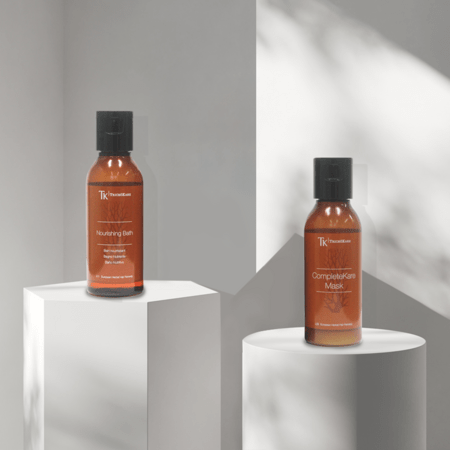 Final verdict on the TK TrichoKare Scalp Purifying Therapy
All in all, the hair and scalp treatment was a luxurious treat. "I enjoyed the treatment and felt that it helped me thoroughly cleanse my scalp from the clogging gunk and flakes," Roanna said.
"I'd definitely recommend it to anyone who is battling any hair and scalp issues! This treatment is great for people who suffer from scalp conditions such as excessive oiliness, dryness, flakiness and sensitivity as it helps to thoroughly cleanse and treat the problems at their roots — pun intended."
For a limited time period only, try TrichoKare's Scalp Purifying Therapy for yourself at just SGD40 NETT (U.P. SGD770) and receive a free MaxiKare Ampoule* and a set of Nourishing Hair Bath and CompleteKare Mask. Sign up here or WhatsApp 91508891 and quote "BeauLifeTK" (exclusive code for TheBeauLife readers only) to enjoy these exclusive perks! Promo is applicable at all TK TrichoKare outlets islandwide.

To continue your journey to healthy scalp and hair at home, stock up on your favourite hair products via TK TrichoKare's new e-Shop. From now till 30 June 2023, use the code "first5off" to enjoy SGD5 off your first purchase. No minimum spend is required and free shipping is available for orders over SGD100!
Comments, questions or feedback? Email us at [email protected].