How's your hair looking these days? I for one have been neglecting my dull, limp-looking tresses since I've been working mostly from home. However, this is about to change now that most of us are returning to the workplace. This means looking more presentable for in-person meetings, work events and group gatherings. Plus, looking good can give you a confidence boost too.
With this, I tried out Pantene Nutrient Blends, a haircare range that aims to give you good hair days with its silicone-free, nutrient-rich formula. Should you add this to your haircare routine too? What else is noteworthy about it? Read on for my review.
Before my Pantene Nutrient Blends hair makeover: Limp, lifeless hair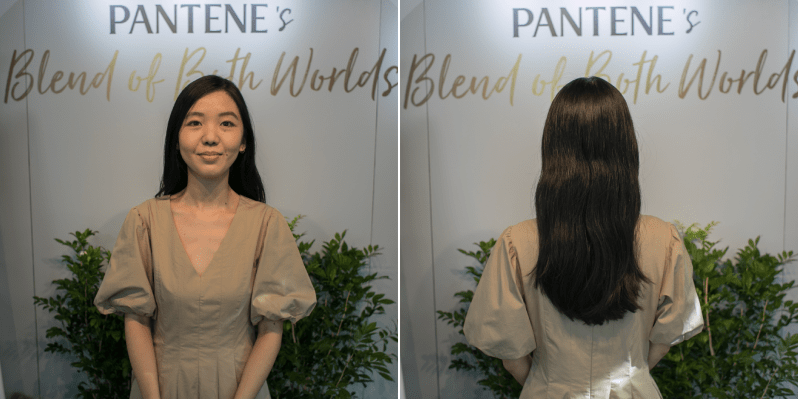 I was born with naturally wavy, relatively thick hair but have always found it tough to build more volume at the roots. Furthermore, as the day progresses, my hair tends to become greasy, limp and 'weighed down' — a far cry from looking healthy, bouncy and voluminous — especially after it's been exposed to the sun, sweat and other external aggressors.
I've also been wanting to refresh my vanity with products that are formulated with natural ingredients too as they tend to be kinder to our environment and may also be gentler and more suitable for sensitive scalps.
Hair makeover experience at the Pantene Truck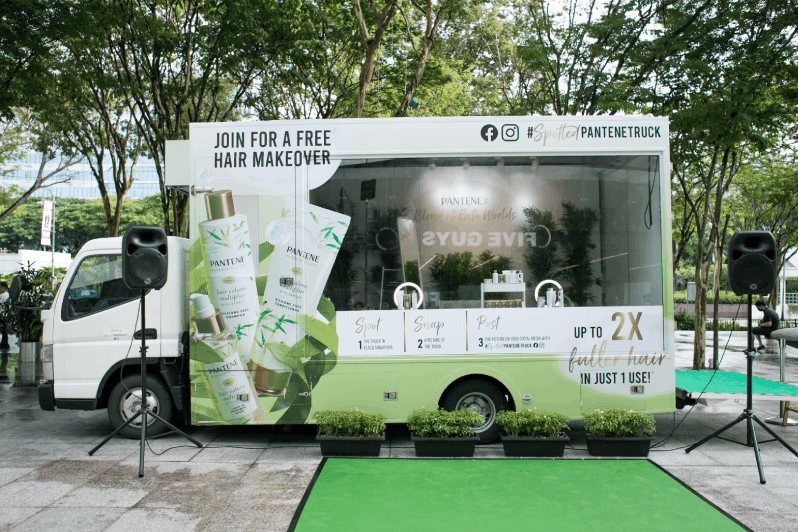 In an attempt to revitalise my tresses, I decided to drop by the Pantene Truck pop-up. The pop-up was specially organised for beauty lovers to treat themselves to a complimentary hair makeover — with a little help from a friendly hairstylist — and to learn more about the benefits of the Pantene Nutrient Blends range.
Beauty content creators including Audrey (@tippytoess), Evonne (@evonnz), Maybeline (@maybelinesim), Rachel (@rachelkalexa), Jacelyn (@jacelynphang), Hannah (@mshannahchia), Vinna (@vinvola) and Isabelle (@lovebellavida) dropped by to experience their complimentary hair makeover too.
My brief for the hairstylist was simple: restore life and volume to my tresses without requiring elaborate hairstyling methods or tools. This allows me to easily recreate the haircare and styling steps at home as well.
How to use the Pantene Nutrient Blends Hair Volume Multiplier Treatment Spray
The hairstylist swiftly began the makeover by spritzing water onto my dry hair. Then, he sprayed around a dozen pumps of the Pantene Nutrient Blends Hair Volume Multiplier Treatment Spray across sections of my scalp before giving me a quick yet soothing scalp massage.
The rinse-free treatment spray can be applied on dry hair too and is easy to use, so that anyone who wishes to have fuller-looking tresses can enjoy the product's benefits at home or on the go. In a matter of minutes, I could already witness the product's voluminising effect. Couple this with a quick blowdry — with a focus on 'lifting' the roots — my hair looked even livelier, bouncier and fuller.
Before and after using Pantene Nutrient Blends: from lifeless to voluminous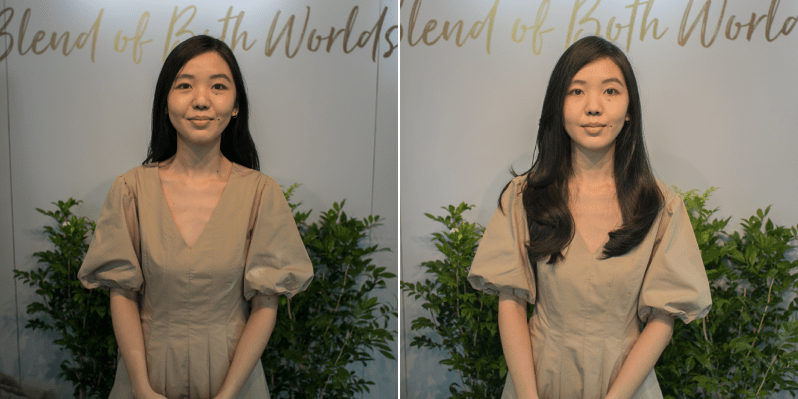 Pantene hair makeover, complete! I was so blown away by how my tresses could look this beautiful and voluminous without requiring a lot of haircare tools and products. Turns out, the secret lies in Pantene Nutrient Blends' thoughtful formulation, which boasts a blend of natural, nourishing and anti-oxidant boosting ingredients.
Enjoy the Blend of Both Worlds with Pantene Nutrient Blends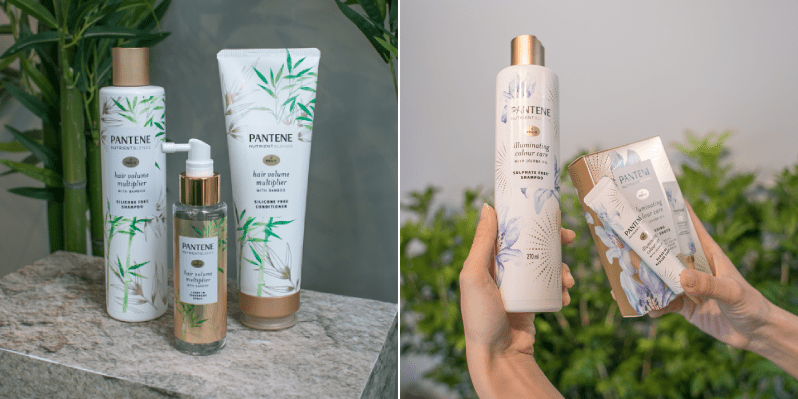 I've only experienced the Pantene Nutrient Blends Hair Volume Multiplier Treatment Spray at the Pantene Truck pop-up and the results were already nothing short of impressive. What's even better is that the Pantene Nutrient Blends range also contains a shampoo and a conditioner for users to achieve voluminous good hair days with ease.
The range is free of silicones, which makes it great for users with thin or fine hair as silicone-based hair products can potentially weigh hair down. It also contains a medley of natural ingredients. It features bamboo from Fujian, China, which can help with follicle growth as it's a rich source of vitamin B7, and charcoal from Japanese Binchotan to renew and detox the scalp as oak trees are known for their purifying properties.
Have coloured hair? Keep your peeled for the Illuminating Colour Care range too. This new addition to the Pantene Nutrient Blends lineup is infused with jojoba oil to add radiance and repair damaged tresses. It features three products: a sulphate-free Shampoo, Conditioner and a Glossing Rescue Shots.
Where to buy Pantene Nutrient Blends
Revive your limp, dull tresses with this three-step haircare routine and experience the blend of both worlds — voluminous hair with zero silicones — with Pantene Nutrient Blends. Products are priced at SGD11.90 each and are now available in stores and online.
Shop the Pantene Nutrient Blends range today at selected retailers including FairPrice, LazMall, Guardian and Watsons.
Comments, questions or feedback? Email us at [email protected].