The holidays are fast approaching. You know what that means — it's time to think about gift ideas! Presents are a great way to show affection. But more than things they can cherish for the occasion, why not give your loved ones gifts that will hold value for a long, long time? Perhaps something that helps them improve one aspect of their life — like their hair concerns. A heavy workload may have been making them stressed, which may then affect their hair's health. With the right gift, we can help reduce the risk of them getting stress-induced hair troubles and lessen their worries in the process. Give your loved ones the gift of great hair (and no more hair loss) not just for the holidays but even beyond the season.
Sounds grand? It can actually just be simple but thoughtful, like the holiday hair care sets from PHS HAIRSCIENCE. (You can snag these at a discount — on us! More on that later.)
For the women in your life: the gift of a glorious, healthy crown
From the gal who cannot go without styling her hair with hot tools everyday to the lady who has forgotten to take care of her mane, your favourite woman deserves a hair-nourishing regimen during the holidays — and beyond. The FEM Fortify Deluxe Coffret —which has everything she needs to restore her crown to its full, gleaming glory — is the one to get her.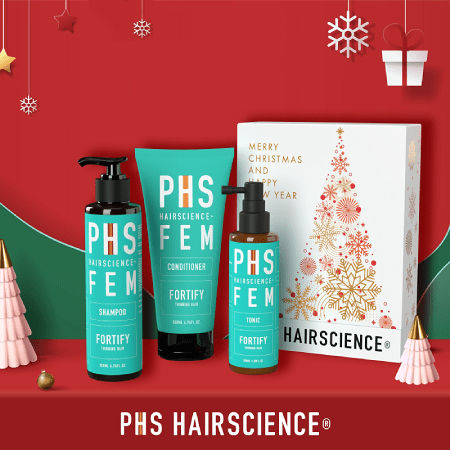 A simple hair regimen composed of power-packed products can make all the difference in your giftee's hair's health. Start her off with the FEM Fortify Shampoo that gently cleanses the scalp while flooding it with nourishing ingredients that replenish moisture and strengthen the scalp and hair. The shampoo is formulated with rice stem cells that promote scalp circulation for better hair growth, Patent 5 Complex to purify and strengthen the scalp, and walnut extract to strengthen hair follicles and speed up hair growth.
Help her achieve the softest bed of hair possible with the richly hydrating FEM Fortify Conditioner. It promises to reduce hair fall by strengthening the hair fibres from within. It contains moisturising tomato stem cells that help improve the hair's resilience, while its milk protein extracts leave the strands stronger, more supple and elastic. The sweet almond extract in it reduces the chances of hair breakage, strengthening the tresses like no other.
Let the FEM Fortify Tonic, which promises to repair damaged hair follicles, amplify the shampoo and conditioner's scalp-strengthening powers. It is formulated with Patent 5 Complex, healing and strengthening lotus stem cells, and antioxidant-rich oat extract to replenish lost proteins that are required for hair tissue growth.
This holiday haircare gift set will help strengthen the best woman in your life's hair from the inside out, creating longer-lasting results with continuous use.
For the men in your life: the gift of robust, healthy locks
Let the men in your life stay confident about their hair. Help them get nourished and healthy locks — with minimal effort — through the help of the HOM Fortify Deluxe Coffret holiday haircare set which consists of the HOM Fortify Shampoo and Tonic.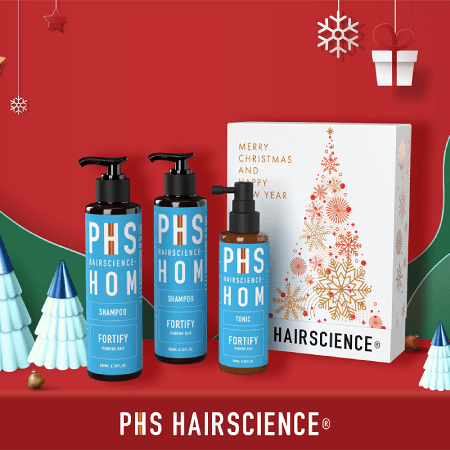 For your favourite guy who sweats it up at the gym or is always busy and stressed at work, gift the goodness of the problem-free and healthy scalp and hair. Start him off with the HOM Fortify Shampoo, a scalp cleanser that re-energises the scalp to reduce hair fall. It also protects the hair follicles from the formation of DHT, a hormone that has been found to be one of the primary causes of hair loss and thinning among men. In addition to the PHS HAIRSCIENCE Patent 5 Complex, it also contains sweet flag extract to promote blood circulation and strengthen hair roots. No more hair fall and hair thinning!
Now, we know some guys don't really like to take a lot of steps in their grooming routines, but we think you should implore your faves to add just one more step after shampooing. Give them the HOM Fortify Tonic to help them further get the benefits of good scalp care. This tonic floods the scalp with lotus stem cells that strengthen the follicles and scalp. A bonus? It also relieves any feelings of itchiness and dryness as well as dandruff. Perfect for those after workout showers and days when it's just too humid.
We always want to give our loved ones the best no matter the occasion, so why not give them gifts that keep on giving and allow them to continue enjoying hair that grows healthy, thick and lively this holiday season and beyond?
Start gifting with these holiday haircare sets from PHS HAIRSCIENCE. Plus, you can enjoy 20% off with the code "CLOZETTE20" on regular products until 31 December 2021.
Comments, questions or feedback? Email us at [email protected].