Your comb, the carpet, your linens — these are just some of the places you might find hair, aside from on top of your head, of course. While seeing them in those places can be annoying, it's completely normal for us to shed some hair. Did you know that we lose about 80 strands per day?

So when do you take it seriously? The easy answer is if you notice that you're shedding more than normal, it's time to pay more attention. But aside from visibly seeing more strands shedding, you should also keep an eye out for feelings of sensitivity and itching on the scalp. When you notice these, start a routine that's specially tailored for hair loss.
But first, did you know that many hair issues — including hair loss, dryness, dullness and lack of volume — stem from scalp problems? Which makes sense when you think about it because the scalp is where the hair takes root. So before the hair can grow abundantly, you need to tend to the scalp first. For this, products that nourish the scalp as they nourish the hair is the answer. Our pick? The
Ryo Hair Loss Care
range.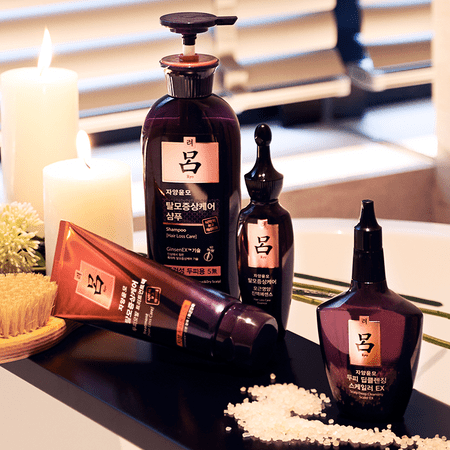 All the products in the range have Korean Ginseng, which has been proven effective in slowing down ageing. When used for the hair, it rejuvenates and strengthens the scalp, leading to better hair growth.
Aside from Ginseng, the products also have green tea from Jeju, which is rich in catechins that help reduce hair fall and Polyphenol that promotes growth. They also contain precious beans and Camellia flower to keep them moisturised and soft.
Your new routine
Step 1: Deep clean the scalp
For a more thorough cleansing, the
Ryo Scalp Deep Cleansing Scaler Ex
should be on your to-get list once it releases in July. Made with a unique Scalp Scaling Solution, it gets rid of dead skin cells, cleanses off excess sebum, soothes and cools the scalp and strengthens and nourishes the hair from root to tip. It does all that while being extra gentle on the scalp with a pH level of 5.5.
Step 2: Cleanse your scalp and hair
After that, you'll need the
Ryo Hair Loss Shampoo
, which comes in two variants — one for normal and dry scalp and another for oily scalp. They contain an herbal complex featuring Johwadan (ginseng, Cnidium, pine needle and camellia) and Haesodan (ginger and green tea) that ensures healthy hair and scalp stress relief. It also has a five-free formula, which means it doesn't contain animal-derived ingredients, mineral oil, synthetic colourants, triethanolamine, and polyacrylamide.
Step 3: Treat your scalp
Next, indulge your scalp in goodness with the Ryo Hair Loss Care Treatment, which has been proven effective in preventing hair loss by the Korean Ministry of Food and Drug Safety. Plus, it contains ginseng extract, houttuynia cordata extract and red ginseng extract that moisturises and cools the scalp while nourishing the hair. It's safe to use every day for best results.
Step 4: Give it some extra care
Give your scalp extra strength and protection, too, with the new
Ryo Hair Loss Care Essence
. The same way essences in skincare fortify the effect of a serum or a treatment, this essence will enhance the effects of the Ryo Hair Loss Care Treatment. It contains 20x the power of fortified Korean Ginseng Extract. Plus, it has menthol that cools the scalp for a refreshing touch. Simply apply the essence on the scalp after shampooing and drying, twice a day. Massage it on with your fingertips, making sure to concentrate on problem areas.
Ready to prevent hair loss with Ryo? Get the products at Watsons and Hermo.
For Clozette readers, get 10 per cent off with a minimum spend of MYR40 at Hermo using the code RYOHERMO10%. The code is valid from 9 to 22 July 2019.
Comments, questions or feedback? Email us at [email protected].