Marigold walls and perfectly arranged dinner settings at the ready — the newly-released trailer of The French Dispatch, a film directed by Wes Anderson, has left cinephiles and the fashion community feeling excited yet confused for its aesthetically-pleasing scenes and ambiguous storyline.
The American film director, who's known for his dreamy colour palettes, heavy use of symmetry and acute attention to detail, became a fixture in the style set ever since his films such as
The Royal Tenenbaums
and
Moonrise Kingdom
reignited the trend of movie character-inspired dressing. In addition, Anderson's unmistakable aesthetic has also spurred the Instagram community to contribute their 'Anderson-approved' photos to a dedicated fan page aptly titled
Wes Anderson Planet.
Arriving in cinemas from July, the American film director's latest work "brings to life a collection of stories from the final issue of an American magazine published in a fictional 20th-century French city." But before we delve further into the key style takeaways from the film, get up to speed by catching the trailer here:
The cream-coloured co-ord


The film stars Bill Murray (centre) as Anthony Howitzer Jr., the editor of the "French Dispatch"


Revered actor Bill Murray, who plays Anthony Howitzer Jr., the main character of the film, looks like he's met with disappointing news as he's flanked by a butler and two of his staff. More distinctively, all of the characters are dressed in cream-coloured attire, which could be a juxtaposition against the scene's far-from-mellow mood. We're inspired to dress ourselves in this cool, pastel yellow jumpsuit from Zalora
during our next weekend date.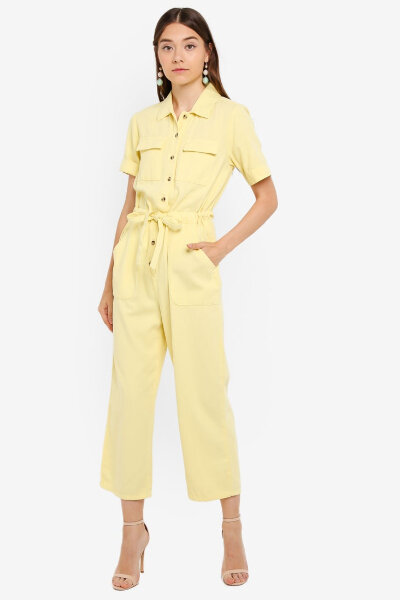 Miss Selfridge utility culottes boiler jumpsuit, SGD61.90/~USD44.57 (zalora.com)


The no-nonsense uniform
Léa Seydoux takes on the role of Simone, a prison guard and muse of an incarcerated artist


Former Bond girl and French actress Léa Seydoux's character might not have spoken much in the trailer, however her sharp, fitted prison warden uniform sends a clear message that she's not one to be messed with. Steal her style with a military-inspired button blazer such as this one from ASOS.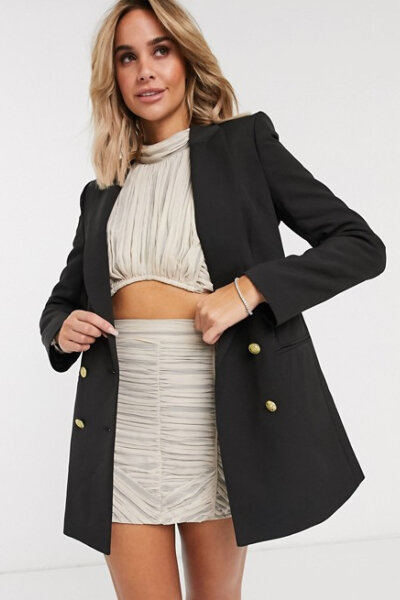 ASOS DESIGN sharp shoulder military button longline blazer, SGD101.90/~USD73.37 (asos.com)
The tangerine frock
Scottish actress Tilda Swinton plays J. K. L. Berensen, a writer and a staff-member of the "French Dispatch"
With the spotlight on her in what appears to be a lecture hall filled with people, Tilda Swinton's character sports a perfectly coiffed hairstyle and an unforgettable dress in a shade of bright orange. She's inviting us to embrace bright, punchy hues in the workplace and to retire our standard, navy dresses for the time being. We're eyeing this flattering dress from Pomelo.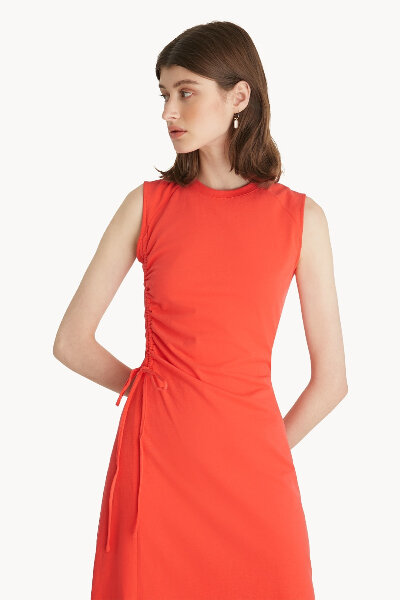 Pomelo Side Ruched Dress, SGD29/~USD20.88 (pomelo.com)


The nightgown as day dress


The film sees Saoirse Ronan co-starring with Timothée Chalamet once again, after Little Women and Lady Bird


We had to do a double take at actress Saoirse Ronan's character, who is almost unrecognisable in the trailer with her tightly-curled locks and sheer, black nightgown. She appears to be comfortable and almost bored after kidnapping a young boy and locking him up in a closet. Her attire signifies the prevailing lingerie-as-outerwear trend which has been spotted on the Spring 2020 runways of
Dion Lee
,
Gucci
and more.
Now that we've brought you through the fashion highlights from the trailer, it's time for us to get back to binge-watching Anderson's movies as we wait in anticipation for the film's release.
Speaking of upcoming films, we can't wait to catch

Laser Candy

, which sees Mario Maurer and Baifern Pimchanok reuniting on the big screen. More details here.
Comments, questions or feedback? Email us at [email protected].