Today brings a mix of exciting and not-so-fun news. Let's start with the good ones: Viu has released the Asian adaptation of teen mystery-thriller drama Pretty Little Liars, Lady Gaga has confirmed her collaboration with BLACKPINK and Caudalie will have an online flash sale. On the other hand, we'll have to wait a couple more days for the anticipated launches of shu uemura x Onitsuka Tiger collection, Dior Summer Collection 2020 and Hana Tajima For UNIQLO 2020 Spring/Summer Collection. Scroll for more deets!
Pretty Little Liars Asian adaptation is now streaming on Viu
Feeling nostalgic for the adventures of Aria, Spencer, Hanna and Emily? Add this to your Viu queue. The Asian adaptation of the beloved teen mystery-thriller drama is now streaming on the platform free. Instead of being set at a fictional quiet American suburb, in this version, the plot will unfold in tourist-favourite Bali. It stars Indonesian internet celebrity Anya Geraldine, Indonesian actresses Valerie Thomas and Shindy Huang, and Malaysian actress Eyka Farhana. This local adaptation is directed by award-winning Emil Heradi, who is part of the crew behind Eat, Pray, Love. You can binge-watch all 10 episodes here.
Lady Gaga to feature BLACKPINK in her upcoming album
Lady Gaga just confirmed rumours of her collaboration with BLACKPINK. The pop star posted her upcoming album's tracklist which included a song called Sour Candy featuring the popular K-pop girl band. The album titled Chromatica was slated to be released this month, but Lady Gaga announced that the launch will be postponed. "It just doesn't feel right to me to release this album with all that is going on during this global pandemic," she said in a tweet. Sour Candy will not be the only artist collab in the album; Lady Gaga also has tracks with Ariana Grande and Elton John. We might not know when Chromatica will drop, but the lineup sure looks promising.
Caudalie will have an online flash sale
Calling all beauty lovers! French skincare brand Caudalie will hold a flash sale in Singapore. If you're already running low on skincare products, it's the perfect chance to restock your arsenal for a bargain. Enjoy a 40-70 per cent discount on all items. Awesome, right? The flash sale will happen from 25 April (7AM) to 3 May (11:59PM). Click here to register.
Innisfree to hold an online DIY mask workshop with Polkaros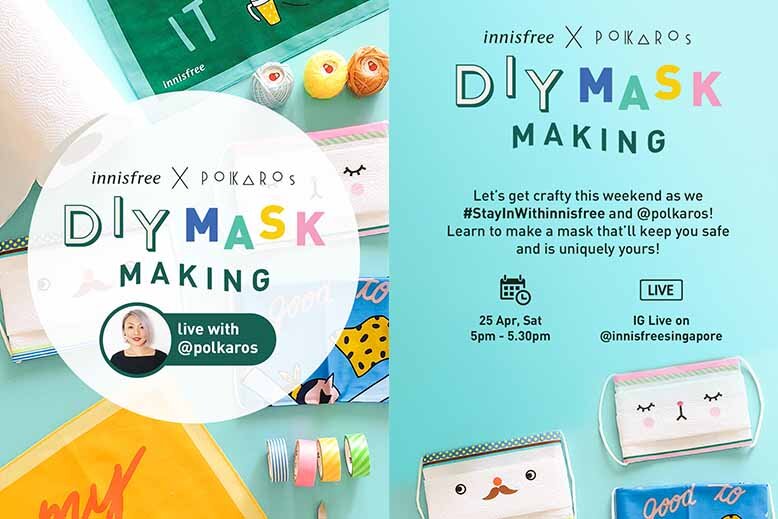 Got no plans for the weekend? Join Innisfree Singapore's DIY mask workshop with Ros, the designer behind lifestyle brand Polkaros. Launched in Japan, Polkaros is known for its unique combination of traditional Japanese design and modern zakka look. Join Ros on Innisfree Singapore's Instagram for a live therapeutic craft session tomorrow (25 April) at 5PM. All you need to prepare are kitchen towels, tapes, strings, thread, markers, stickers, elastic bands and sanitised old mask ear loops.
Shu Uemura and more postpone anticipated product launches
Anticipated launches including Shu Uemura's makeup collaboration with Onitsuka Tiger has been postponed because of extended quarantine protocols. The new release date for the collection will be on 1 June, according to representatives of the brand.
Shu Uemura isn't alone in postponing product launches. Dior Makeup has also announced that the release of Dior Makeup Summer Collection 2020 – Color Games will be further postponed to 1 June as well.
We'll also have to wait a little longer for the Hana Tajima for UNIQLO 2020 Spring/Summer collection as the released date is pushed to 19 June.
(Cover photo from: @viumalaysia)
Missed updates from earlier this week? Catch up here.
Comments, questions or feedback? Email us at [email protected].