2020 has given us plenty of fashion and beauty surprises thus far — from pandemic-ready luxury face shields and the return of velcro 'dad' sandals to space-themed makeup looks inspired by the viral multiplayer game Among Us. At this juncture, there's no telling which trends will emerge next, which makes the experience more fun and unexpected than ever for us.
Speaking of which, we are both excited yet puzzled to declare that Crocs have become the hottest, #stayhome shoes to cop right now, and it's all thanks to the power of the Biebs (Justin Bieber) and major brands such as adidas and Nike. Before you brush off this foam plastic footwear as a fashion fad, scroll on to discover three reasons why Crocs deserve its new title as one of the staple shoes of the season.
Scaling up on collaborations
This tried-and-tested formula of working with influential personalities and brands to create limited-edition drops continues to resonate strongly with the young and fashionable crowd. In fact, it seems as if the most unexpected pairings end up producing the strongest results. Case in point: Global fast-food chain McDonald's and its partnership with rapper Travis Scott and singer J Balvin, which saw the former offering unique merchandise and apparel beyond its golden fries and burgers.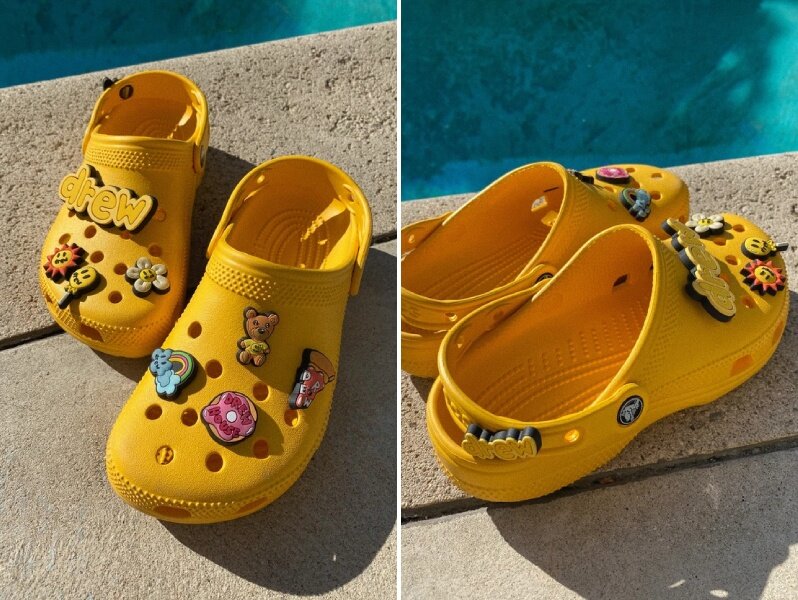 Crocs, too, has been pretty aggressive in teaming up with multiple celebrities to keep itself at the top of every style-conscious individual's social feed. Most recently, the brand linked up with superstar Justin Bieber and his clothing line, Drew House, in releasing bright yellow Crocs, complete with a selection of colourful 'Jibbitz' shoe charms.
The American footwear brand first launched the shoes at midnight on 13 October on its site and was forced to re-start its online sales event after experiencing an overwhelmingly high online traffic. It was later reported that the shoes were sold out in a mere 90 minutes.

Embracing diverse ambassadors
At the start of this year, Crocs also announced its efforts in enlisting a diverse cast of models and influencers to further publicise their range of comfortable and innovative shoes. The brand added actor and producer Priyanka Chopra Jonas, along with Chinese actress Yang Mi to its growing roster of global ambassadors, which included indie darling Zooey Deschanel, South Korean singer Kim Sejeong and Japanese actress Suzu Hirose.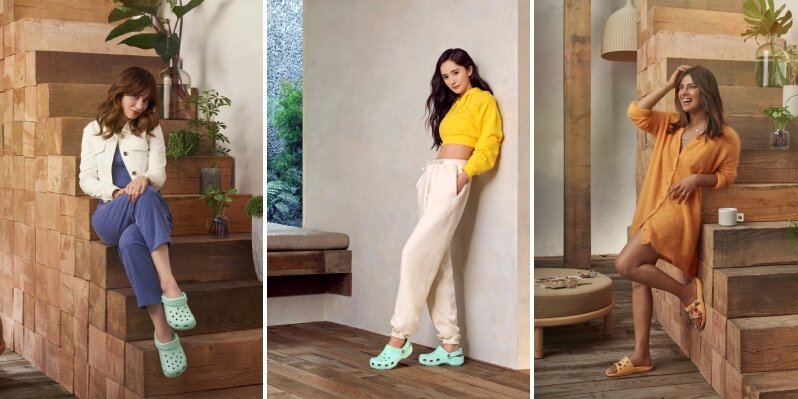 In the campaign visuals, the ladies were seen rocking the brand's colourful and comfortable Crocs along with stylish, loungewear-inspired outfits. Zooey Deschanel's jumpsuit and jacket outfit was made for chill weekend getaways, while Yang Mi's cropped hoodie and sweatpants served as a reminder for us to keep our fitness levels up even in the midst of a pandemic. Finally, Priyanka's cosy cardigan and Crocs combo pretty much summed up our quarantine dressing mood. We reckon that this refreshed direction taken by the brand has helped it to remain relevant and relatable to younger consumers.
Sporty iterations featuring Adidas and Nike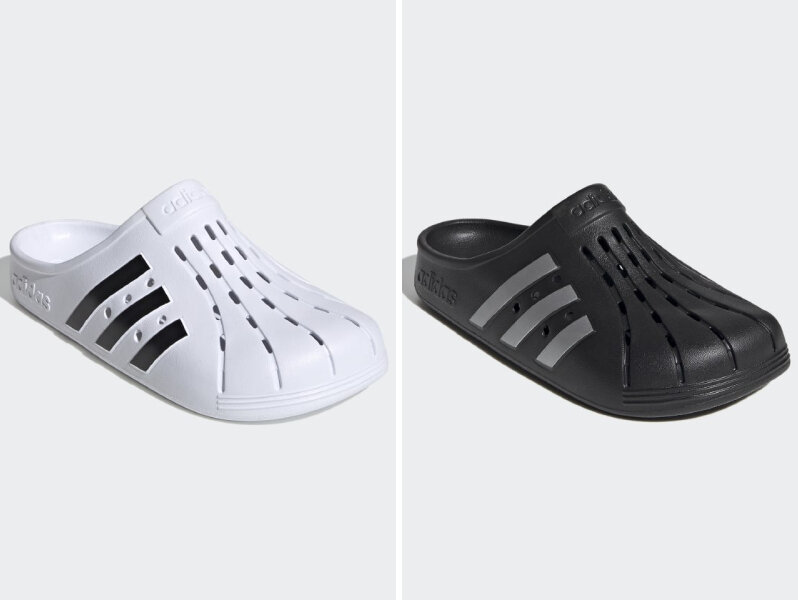 Adding to the hype surrounding these foamin' fabulous Crocs, global sportswear brand adidas also recently released 'Adilette' clogs, which we believe are the brand's iteration of the trending shoe design. The sports-inspired clogs were launched less than two weeks ago, and are designed 'for the comfy, homebody sneakerhead that can't get himself to buy Crocs,' according to Germany-based streetwear blog High Snobiety.
Meanwhile, a digital render of a Crocs x Nike Air Force 1 clog hybrid has been making waves on the Internet. Visuals of the perforated shoe were first revealed to key streetwear publications less than a week ago and went viral last evening as fans began demanding that both brands bring this concept to life. Conceptualised by product designer Kegan McDaniel, these clogs feature Nike's classic 'Swoosh' logo and Air Force 1 soles alongside Crocs' iconic toe box perforations.
So, are you Team Crocs or not?
(Cover photos from: adidas.com, thehouseofdrew.com and @conceptkicks)
Next up, let's discover the latest whimsy J-fashion collabs to know now.

Comments, questions or feedback? Email us at [email protected].