If you're looking for some good news, you're in the right place. This week, we have several headlines that will uplift your spirits even just a tiny bit. Taylor Swift released a new catchy song from her vault. Shiseido is gearing up to launch a new technology called Second Skin. Fenty Beauty is introducing two additions to the Gloss Bomb family. These are just some of the updates that will make you smile today. Keep reading for more.
Taylor Swift's new old song causes buzz
Taylor Swift is on a roll. After launching two surprise albums, Folklore and Evermore, and releasing a re-recorded version of Love Story to much hype, she's causing buzz once again with a "new old track" from her vault called Mr. Perfectly Fine. Like anything resurrected from the past, this breakup song brings back a lot of memories and some intrigue. Who is Mr. Perfectly Fine, you ask? Taking into consideration that it's written in 2008, fans landed on a suspect: Joe Jonas. A little refresher: the two broke up after dating for three months in 2008, and the fallout was not so pleasant. But while the past was full of drama, this issue is now just something that brings a couple of laughs. Even Sophie Turner, who is now Joe Jonas' wife, is in on the fun; she shared on Instagram that the song is "not NOT a bop". All in good fun, at a good time!
Shiseido gears for Second Skin tech launch
There's BB cream, CC cream and very soon we may be having an SS cream. After pulling out WASO from the Japanese market, Shiseido is gearing up for the launch of Second Skin — a new technology that promises to make eye bags and puffiness temporarily disappear in an instant. The way it reportedly works is you'll apply "a formula containing different lengths of silicone polymers" and after letting it dry, you'll put on a "lotion-like formula containing teeny amounts of platinum" on top, which can then "create a flexible, breathable film".
This peel-off mask-like film is said to smooth out any puffiness. It also claims to be "almost invisible", hence the name Second Skin. Shiseido acquired this skincare innovation from Olivo Laboratories in 2018 and it looks like it will hit the market soon. In Shiseido's latest shareholders meeting, Chief Brand Innovation Officer Yoshiaki Okabe announced that Second Skin is slated to launch this year, reported Cosmetics Design-Asia. We don't know about you, but we're really excited about this.

Fenty Beauty introduces new Gloss Bomb lippies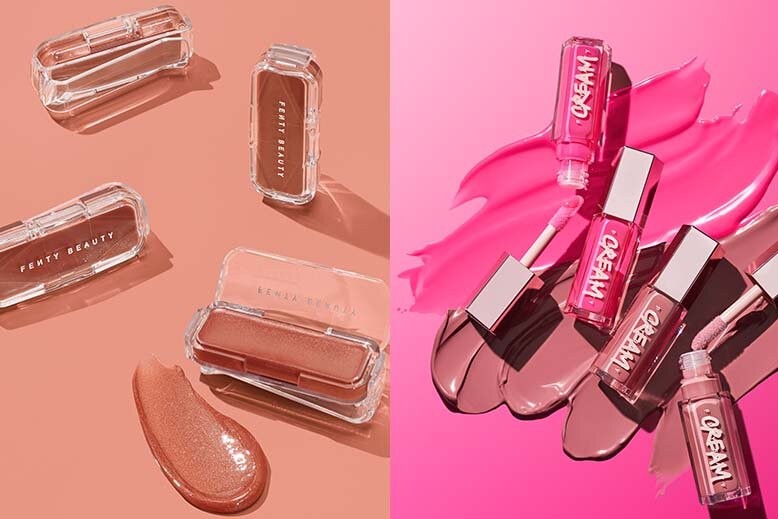 Can't get enough of lippies? Here are some new ones that we're sure you'd want to add to your collection. First, there's the Gloss Bomb Dip Clip-On Lip Luminizer. It's nourished with borage oils and mango butter to create a juicy shine that's gentle and doesn't feel sticky on the lips. If you're more into colour, then you may prefer the new summer shades of Gloss Bomb Cream — Cupcakin' (dusty pink) and Bubble Binge (hot pink). These two are available as a limited edition set so get it while you can. All are now available in Sephora stores and online.
Halal-Certified beauty brand Rosé All Day launches on BEAUBIT
If you're a fan of Southeast Asian beauty brands, you should check out Rosé All Day, which is now available at Beaubit (which ships to Singapore, the Philippines and Malaysia). It's founded in Indonesia by three women and is popular for its no-nonsense products that are perfect for "no-makeup" makeup looks. All its items are cruelty-free and Halal-certified. Some of their must-try products include The Realest Lightweight Compact Powder for a soft matte finish, the Eye Cheek You Pot blushes and the Aloe-Ha Aloe Vera Gel moisturiser.
H&M partners with ZALORA
H&M is in a tricky position in the Chinese market due to a recent controversy involving their commitment to not source cotton from Xinjiang province, resulting in an alleged banning of their products from popular eCommerce sites in China. But elsewhere in Asia, it's strengthening its ties with ZALORA by making them their eCommerce partner for Indonesia, Malaysia and Singapore following the success of their partnership in the Philippines.
Malaysian shoppers now have access to H&M products on ZALORA while Singaporean patrons can start shopping from the platform starting 14 April. With the ongoing stay-at-home guidelines, going online seems to be the best move for retailers, many of which have boosted their digital presence during the pandemic. Some are even expanding their shipping destinations like Pomelo and Don Quijote, which now ship to the Philippines.
republiqe auctions digital outfits as NFTs for charity
Non-fungible tokens (NFTs) are becoming hot ticket items. Nyan Cat was sold as one, and so was Twitter CEO Jack Dorsey's first tweet. If you're confused about what NFTs are, just think of them as prized items like antique or art — only they're digital. To qualify as an NFT, a digital item must be unique and can't be replaced by a similar item. For example, one dollar can be replaced by another dollar, but you can't really exchange a Monet painting with just another sketch.
This trend is now catching up in the fashion world. Interested in owning your own fashion-related NFT? You're in luck. republique, the world's first digital-only luxury fashion brand founded in Singapore last year, is currently holding an online auction here until 4 May. It's for a matching pair of bespoke digital outfits, an avant-garde puffer jacket and a dress. Fifty per cent of the proceeds will be donated to Britain's National Health Service (NHS). We're really living in a digital world, don't you think?

Burger King launches Chocolate WHOPPER®
Burger King isn't in the mood to play pranks on you this year. For April Fools' Day, they decided to keep it real, and by that they mean the Chocolate WHOPPER® is real. Until 15 April, this savoury sweet treat will be available on the menu in their app and digital kiosks in-stores islandwide in Singapore. It will still feature their signature beef patty with tomatoes and onion but instead of the usual sauce, it will have chocolate sauce. For chocolate lovers who want to really indulge, you can also add a six-piece "Nugget Dipper" — nuggets but instead of ketchup, the dip will be a tub of chocolate fudge. It's really a unique offering, the kind that won't feel out of place in Willy Wonka & the Chocolate Factory. Would you try it?
Missed last week's updates? Click here to catch up.

Comments, questions or feedback? Email us at [email protected].