The Louvre in Paris, The Victoria & Albert Museum in London and The Metropolitan Museum of Art in New York are amongst the most popular tourist attractions in the world. A trip to any of these renowned art institutions isn't complete until you've taken an Instagram-worthy shot of yourself by their front doors or with one of the famous paintings that are housed within, such as the Mona Lisa by Leonardo da Vinci or The Starry Night by Vincent van Gogh.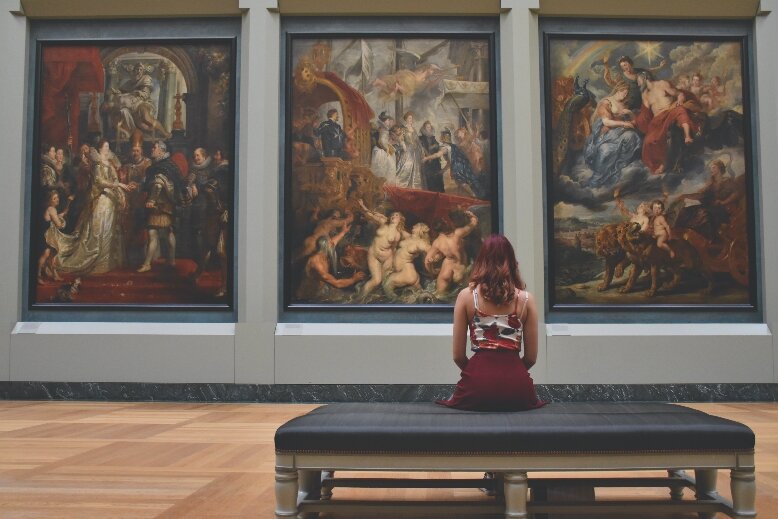 Indeed, capturing precious moments from these visits gives us something meaningful to look back at. However, the true meaning and purpose behind visiting these institutions are often lost if we fail to remember the rich stories and the significance behind these remarkable works of art. Journey into the past with us as we explore the stories behind five of the world's most celebrated paintings.
'Mona Lisa' by Leonardo da Vinci (c. 1503–19)
Mona Lisa, also known as La Gioconda in Italian, is a portrait painting by revered Italian artist Leonardo da Vinci. The oil painting is said to depict Lisa Gherardini, the wife of a Florentine cloth merchant named Francesco del Giocondo. As one of the most recognised paintings in art history, the story behind the Italian Renaissance masterpiece remains a mystery even until today.
According to a report by the Louvre Museum, this piece may have been painted to mark one of two events — either when Francesco del Giocondo and his wife bought their own house in 1503, or when their second son was born in 1502 after the death of their daughter in 1499. Both hypotheses were made after analysing Mona Lisa's appearance and attire. The subject's hair is being covered by a delicate dark veil, while her clothes appear to be plain and unremarkable.
Fine Art Fact: This portrait is set against an imaginary landscape. Da Vinci was said to have applied the sfumato painting technique for this piece, where tones and colours are blended gradually into one another to produce softened outlines and hazy forms.
'The Starry Night' by Vincent van Gogh (c.1889)
As the Greek philosopher Aristotle once said, "There is no great genius without some touch of madness." The Dutch painter had voluntarily admitted himself to a mental asylum in a bid to recover from mental illness and his ear amputation, and The Starry Night is a dreamy depiction of the view of Saint-Rémy-de-Provence from his asylum room.
According to the Museum of Modern Art, this oil on canvas painting is a result of van Gogh's direct observations, as well as his imaginations, memories and emotions. The mesmerising swirling patterns across the piece appear turbulent, while a cypress tree dominates the far left corner of the painting with its flame-like branches. The cypress tree is said to symbolise a bridge between life (the earth) and death (the sky).
Fine Art Fact: Van Gogh produced over 2,000 pieces of art during his lifetime. However, he had only sold one painting, The Red Vineyard, before taking his own life seven months later in 1890. His works only became highly valuable after his death.
'The Water-Lily Pond' by Claude Monet (c. 1899)
French painter Claude Monet was a founder of French Impressionist painting. One of his most famous pieces of work, The Water-Lily Pond, is a depiction of his water garden in Giverny, France. This lovely piece of work is painted using short brush strokes and features an arched, Japanese-style bridge that is surrounded by weeping willows and lilies. Monet was said to have planted the water lilies for fun. However, they almost became his only source of inspiration in his later works. In fact, the water garden was the subject of some 250 paintings by the artist.
As an Impressionist painter, Monet was particularly interested in depicting light in his paintings through the use of brushwork and colour. Instead of applying colours such as black and brown in his paintings, he recreates darkness and shade by placing opposing colours in small strokes next to each other to make his works appear more vibrant.
Fine Art Fact: Monet's home and gardens had been carefully refurbished over the years, and are open for public viewing and visitation. His home receives an average of around 500,000 visitors every year and is one of the main attractions in Giverny.

'Nighthawks' by Edward Hopper (c.1942)
Salt shakers, napkin holders and soda jerks at the ready. According to critics, American artist Edward Hopper's Nighthawks is a quintessentially American painting for its depiction of an American downtown diner scene that was set between the 1930s and 1940s. That being said, the painting also lacks a sense of depth, which forces viewers to take in its details at face value.
Inspired by a restaurant located along New York's Greenwich avenue, the oil on canvas painting also reportedly represents loneliness and alienation, with only a soda jerk and three guests seated by the counter late at night. To this, Hopper acknowledged that he might have unconsciously wished to paint the loneliness of a large city, but also denied that the four characters were meant to symbolise human isolation and urban emptiness.
Fine Art Fact: Edward Hopper's wife, Josephine, played a significant role in the making of this painting too. The flame-haired woman featured in the painting is actually modelled after her. Furthermore, Josephine would also often annotate Hopper's storyboard-like drawings in his sketchbook to help him make the meaning of identities of his figurative subject matter clearer.
'The Persistence of Memory' by Salvador Dali (c.1931)
Who knew that overripe cheese would have any relation to this iconic painting? According to its creator, Surrealist Spanish painter Salvador Dali, the limp melting watches featured in his painting are meant to represent "the camembert of time." What's even more surprising about this piece of art is how it was created in the midst of one of Dali's hallucinations.
Although the inspiration behind this painting remains unclear, this piece had helped Dali achieve fame at the mere age of 28 after it was shown at an art gallery in New York in 1932. His painting was soon purchased by a patron, who later donated it to the Museum of Modern Art, where it has resided for almost 90 years. The painting was also said to be the artist's self-portrait, seeing that he was also fond of creating self-portraits in the past.
Fine Art Fact: Dali had a flair for fashion too. He collaborated with famed designer Elsa Schiaparelli on several designs, including a shoe-shaped hat and a white dinner dress that is emblazoned with a giant lobster.
Which masterpiece did you find the most intriguing? (Cover photo from: Pexels.com)

Now, let's learn a little more about Japan's Picasso, Toko Shinoda.
Comments, questions or feedback? Email us at [email protected].