2021's Spotify Wrapped, a.k.a. the people's version of the Grammys, is finally here. And yes, we know exactly which songs and artists Singaporeans can't stop listening to.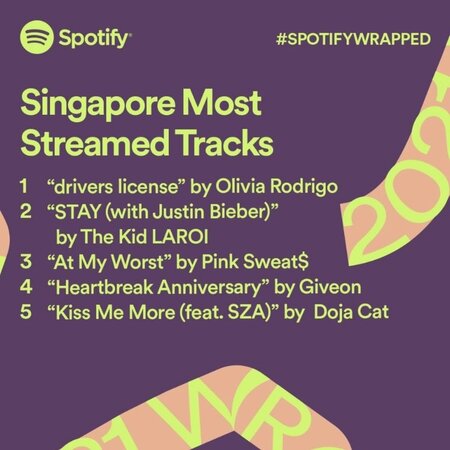 Olivia Rodrigo
topped Singapore's Most Streamed Tracks with
driver's license
and Most Streamed Album with
SOUR
. Meanwhile, global phenomenon
BTS
still topped the list when it came to SG's Most Streamed Artist.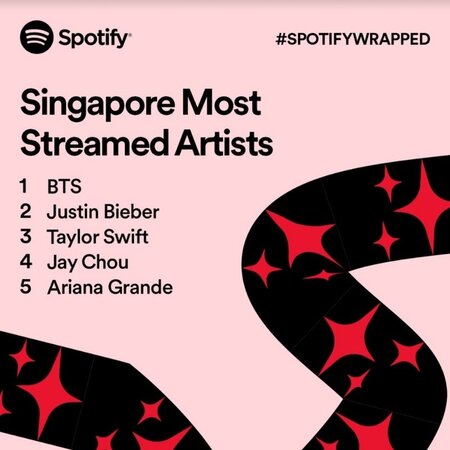 Justin Bieber is still making hits too; he owned second place in all three categories with his collab song with Kid Laroi called
STAY
and his latest release
Justice
.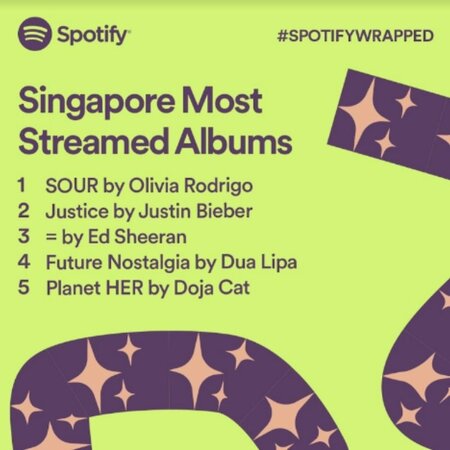 Spotify Wrapped 2021 also listed
Taylor Swift
, Doja Cat, and Jay Chou as artists Singaporeans just can't get enough of.
Aside from curating the songs you had on repeat all-year-round, Spotify Wrapped also released new personal experiences for you to enjoy.
There's
Your Audio Aura
which visualises your top two listening moods in 2021; the
2021: The Movie
feature that creates a three-song soundtrack based on Your Audio Aura; the
Playing Cards
which lets you pick and guess which is true amongst different statements about your listening; and the
2021 Wrapped: Blend
which helps you match your faves with your friends.
Your Wrapped cards also have an easy-sharing feature for direct posting to Snapchat, Twitter, Instagram, Facebook, and TikTok. Have you shared yours? We're curious to see what you listened to! If you're just as nosy as we are, don't worry. We're doing our bit in sharing. Here's a peek at a few #TeamClozette members' Spotify Wrapped.
Clozette Head of Content Becks shared her Spotify Wrapped Audio Aura, which shows that her 2021 music moods are 'healing' and 'dramatic'. Her top artists include Sam Kim, BTS, EXO, SuperM, and Kai.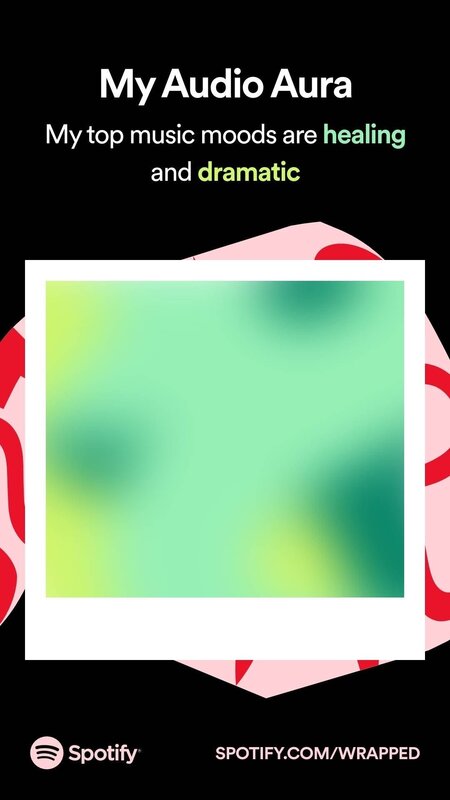 "I guess 2021 was the year I became a K-Pop fan," said Becks. "This year has been all about clearing my headspace for personal healing — so where better to ride than on the energy-boosting South Korean pop culture wave?"
Creative Manager
Audrey
's Top Genre, on the other hand, is Vapour Soul.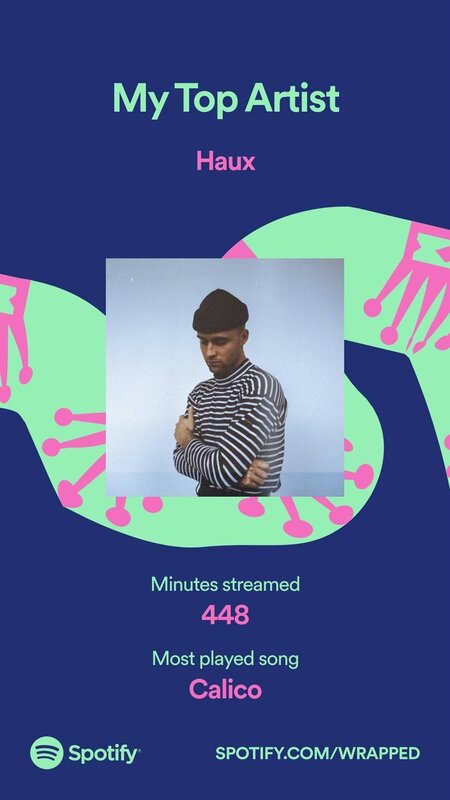 "Music can really take me to places and put me in a different mood. Not surprised that this is my top genre because it set a calming vibe for 2021," said Audrey. Her Top Artist is Haux who sang Calico.

Meanwhile, Head of Community April was quite surprised that Navajo was one of her Top Genres this year.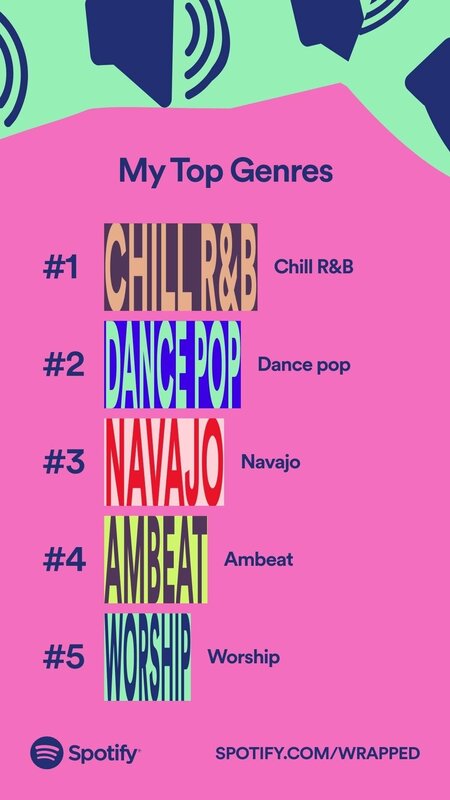 She reacted to her results, saying: "This year's Spotify Wrapped was surprising in some ways, and not so surprising in some others. I do use Spotify as a reference when I practice the bass alone for church worship recordings, however, so it makes sense that the songs I've been working on show up here since I play them on loop for familiarisation. I also see quite a lot of my usual suspects for when I work and relax, but Navajo... seriously?! That's definitely NOT a genre I remember listening to!"
According to her Wrapped, her choice of artists for 2021 include HONNE, Masego, Masayoshi Soken, Nujabes, and Billie Eilish.
As for Integrated Solutions Strategist
Janice
, her Wrapped is filled with K-pop, topped by none other than BTS.

"My results say it all. Not ashamed to be an ARMY," she declared.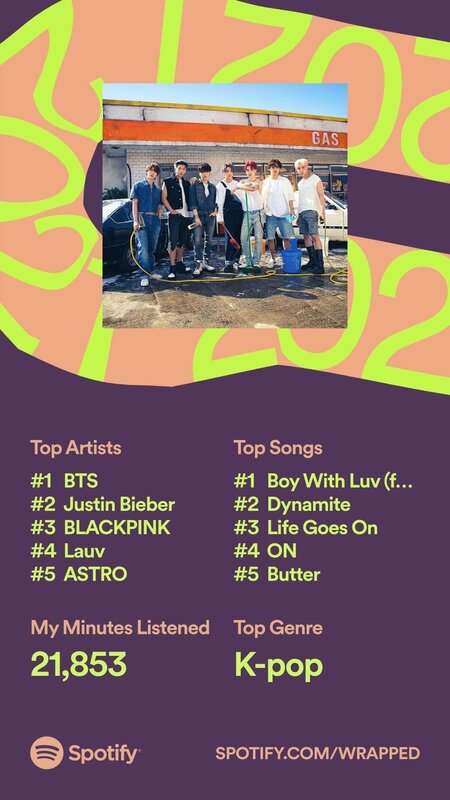 Along with BLACKPINK and ASTRO, she also listened a lot to Justin Bieber and Lauv.
What does your Spotify Wrapped look like? Here's hoping we'll be treated to new great music to obsess over in 2022.
(Cover photo from: @oliviarodrigo)
Comments, questions or feedback? Email us at [email protected].