Ko Mun-Yeong's (played by Seo Ye-Ji) signature catchphrase in the South Korean romantic television series It's Okay To Not Be Okay, "It's beautiful… I want it" pretty much sums up her impulsive tendencies in possessing items (or people!) that she deems beautiful.
The same could be said for her adventurous sense of style too; she's fiercely unafraid of wearing whatever she wants — from tiny dresses with dramatic sleeves to sparkly earrings to lace stilettos. That being said, the show's costume director Jo Sang Gyeong has also revealed in an interview that Mun-Yeong's extravagant outfits are actually meant to contradict her utmost vulnerability on the inside.
However, regardless of the motivations behind Mun-Yeong's choice of outfits, there's no denying that many of us have been captivated by Ye-Ji's gorgeous visuals and her ability to pull off the most fashion-forward ensembles with aplomb. With that, here are six high-fashion outfits we wish to see as part of It's Okay To Not Be Okay fashion.
1. Elie Saab's golden floral motif coat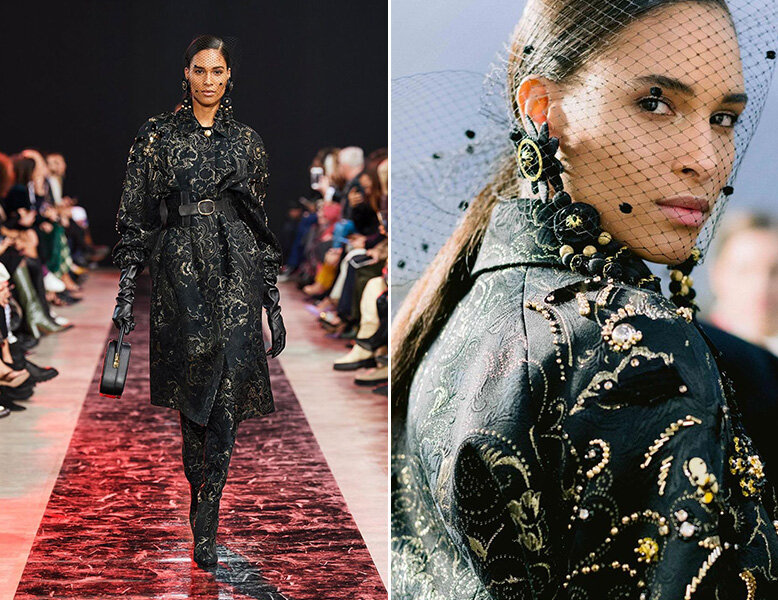 We've seen Mun-Yeong in a variety of black, gothic-esque outfits on the show, from a blazer-style gown and a matching small Givenchy GV3 purse to a black collared blouse with delicate lace details. In short, Mun-Yeong is very much in her element whenever she's dressed in black.
Judging from her fascination with all things beautiful, we reckon that Mun-Yeong would love to own one of Lebanese fashion designer Elie Saab's ultra-feminine creations, such as the golden floral motif coat above from their Autumn/Winter 2020/2021 show. The statement coat features the designer's iconic belted waistline and is paired elegantly with oversized earrings, matching trousers and boots. We won't be surprised if Mun-Yeong were to commit to the entire look by donning the polka-dot mesh mask too. Bring on the drama anytime!
2. Erdem's ruffled gown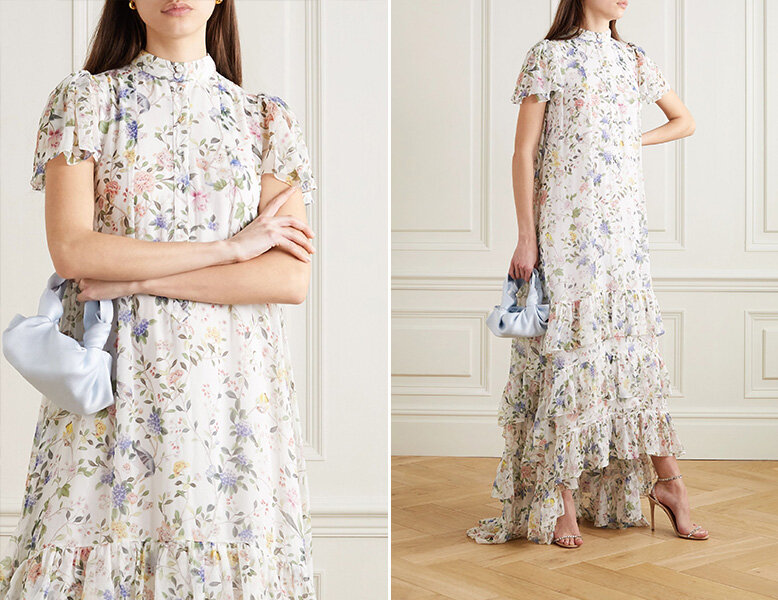 Mun-Yeong may be living in a 'Cursed Castle', a dark and eerie mansion which her father had built for her to celebrate her birth, however, her loungewear ensembles seem to reflect quite the opposite at times. To add to her wardrobe of feminine nightgowns, we recommend the above 'Aurelio' tiered ruffled silk dress by luxury womenswear brand Erdem. This ethereal gown, which is available exclusively via Net-A-Porter, is inspired by a dress worn on the brand's Spring 2020 runway and features a delicate floral print designed in collaboration with interior brand de Gournay.

3. Ulyana Sergeenko's powerful pink suit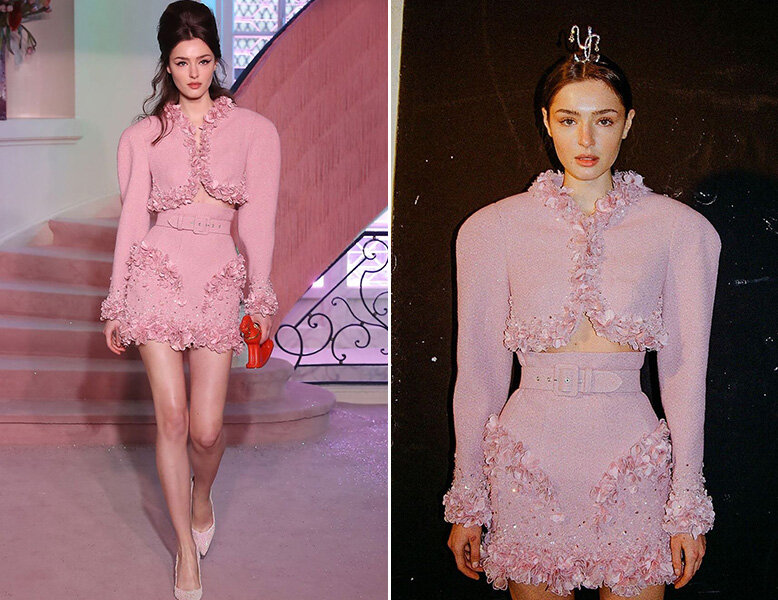 There's no doubt that Seo Ye-Ji looks killer in pink, hence we're hoping to see another powerful, rose-coloured number in one of the upcoming episodes. Following her outstanding appearance in a waist-snatching Minju Kim ensemble on the show, we reckon that she should take the look one step further with an haute couture creation, such as this knockout wool jacket and skirt set from Russian fashion designer Ulyana Sergeenko's Spring/Summer 2020 collection. This set is thoughtfully embroidered with voluminous fabric flowers, sequins and crystals. And true to Mun-Yeong's style, the cropped jacket and fabric belt detail help to define the wearer's waist.
4. Rejina Pyo's dramatic shirt and pencil skirt
What's an It's Okay Not To Be Okay fashion wishlist without a Korean designer feature? Seoul-born, London-based designer Rejina Pyo's pieces may seem less dramatic in comparison to the other outfits featured in this story, however, her designs might just be what Mun-Yeong would soon favour as we progress through the show. After all, the show's costume director also revealed that Mun-Yeong will start to wear more casual and comfortable outfits as the character grows closer to the male lead, Moon Gang-Tae (played by Kim Soo-Hyun).
On the show's eighth episode which aired on 12 July, it appeared as if Mun-Yeong and Gang-Tae were planning to go on an impromptu trip together. While most of us would pack our T-shirts and denim shorts for such casual occasions, we'd like to think that Mun-Yeong would still prefer to step out in stylish and impactful looks. The above look from Rejina Pyo's Spring/Summer 2020 collection seems to go nicely with Mun-Yeong's style; the 'Julia' shirt is dramatic yet extremely wearable, while the flirty 'Blair' gingham skirt does well in both dressy and casual settings. Finally, the trendy 'Nane' bag satisfies Mun-Yeong's 'cravings' for bold, beautiful items.
5. Chloe's sheer embroidered tulle dress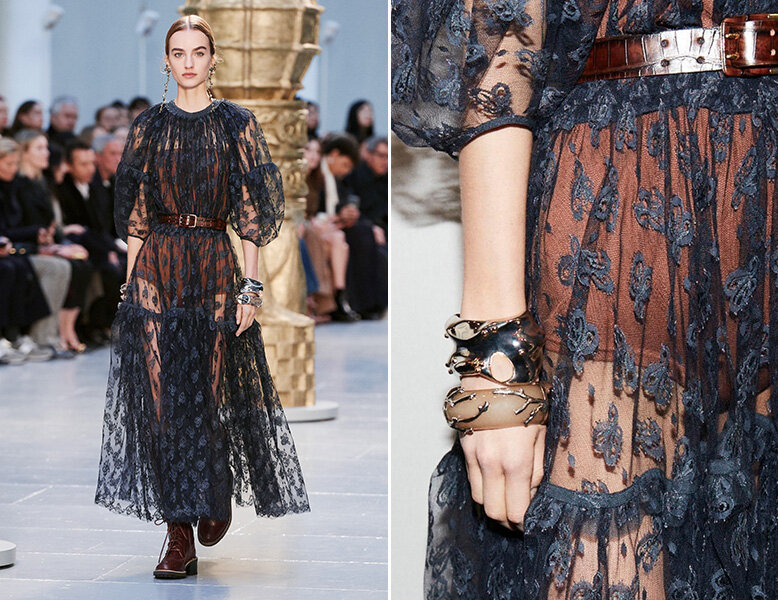 Mun-Yeong literally goes to extreme lengths when it comes to her clothing; she's almost always seen in a tiny number that accentuates her long and slender pins, or in a billowing maxi dress. As we dive deeper into her preference for the latter, we can't help but envision her in French luxury fashion house Chloé's navy embroidered tulle dress.
The inspiration behind the collection also seems perfectly fitting for Mun-Yeong's character too. According to the brand, creative director Natacha Ramsay-Levi sought to explore a diverse landscape of women whose secret complexities reject the boundaries of classical definition through this collection. Similarly, Mun-Yeong is far from the simple-minded, cookie-cutter type of female character that we're accustomed to seeing in classic romantic flicks. In fact, she's always aspired to be independent, domineering and confident.

6. Valentino's feathered asymmetrical dress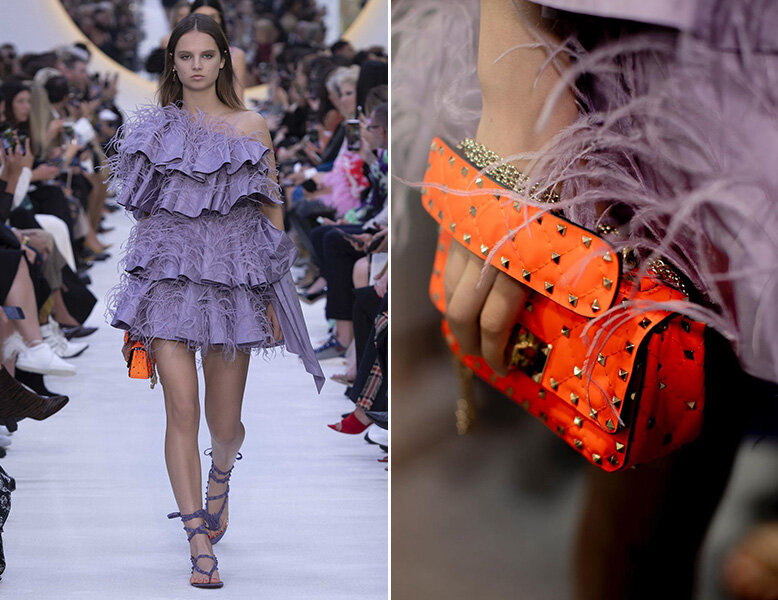 Serving a fierce and fabulous high-fashion look often requires eye-catching embellishments such as faux fur or feathers, hence this fluttery, delectable number from Italian fashion brand Valentino's Spring/Summer 2020 show might just be what Mun-Yeong ordered. Mun-Yeong isn't one to shy away from giant ruffles, as evident in her jaw-dropping cream Minju Kim dress which featured oversized sleeves.
As such, this lavender creation would be a nice departure from her dark, gloomy colour palette while catering to her taste for dramatic yet feminine outfits. To complete her look, we recommend that Mun-Yeong opts for the Valentino Garavani 'Mini Rockstud Spike Fluo' bag too, as its sharp studs perfectly play to her odd fascination for sharp, dangerous objects.
Are you excited to see more of Mun-Yeong's fashion-forward ensembles and more It's Okay Not To Be Okay fashion?
(Cover photos from: @tvndrama.official, @ulyana_sergeenko_moscow and chloe.com)
Love creating fashion looks that are inspired by your favourite TV shows? Here are 5 stylish cartoons to inspire your next casual cosplay outfit.

Comments, questions or feedback? Email us at [email protected].