The late Princess Diana would have been 60 this year. In celebration of the occasion, a memorial statue was unveiled in Kensington Palace's Sunken Garden on 1 July. Aside from capturing Prince William and Prince Harry's mother's warmth, the statue was also able to immortalise one of the princess' oft-forgotten but valuable fashion moments (especially for her children) — the outfit she wore in a Christmas card with William and Harry in 1993.
Diana's stylish sense of dressing — which is often nothing short of impactful — has always drawn plenty of interest among beauty and fashion enthusiasts. She unintentionally (or intentionally?) led a movement which inspired women all over the world to embrace "revenge dressing." Plus, she was never afraid to beat to her own style drum by rocking the casual, jeans-with-blazer combo instead of dainty day dresses on countless occasions.
Above all, Diana exuded confidence and charisma in whatever she wore. In fact, she could certainly be attributed as one of the original style 'queens' in terms of effortless-looking athleisure dressing. Read on as we dish three style tips on how you can also emulate Princess Diana's fashion sense and ace her sporty aesthetic.
Opt for nondescript accessories: carryall & chunky trainers
In the Princess Diana-inspired Vogue Paris fashion editorial above, we see model Hailey Bieber in a tennis court, dressed in a navy-hued outfit with a large Louis Vuitton carryall by her side. True to form, Princess Diana was a fan of the sport and loved stepping out in her favourite pair of chunky trainers as well. However, her choice of carryall is often more nondescript and understated in real life.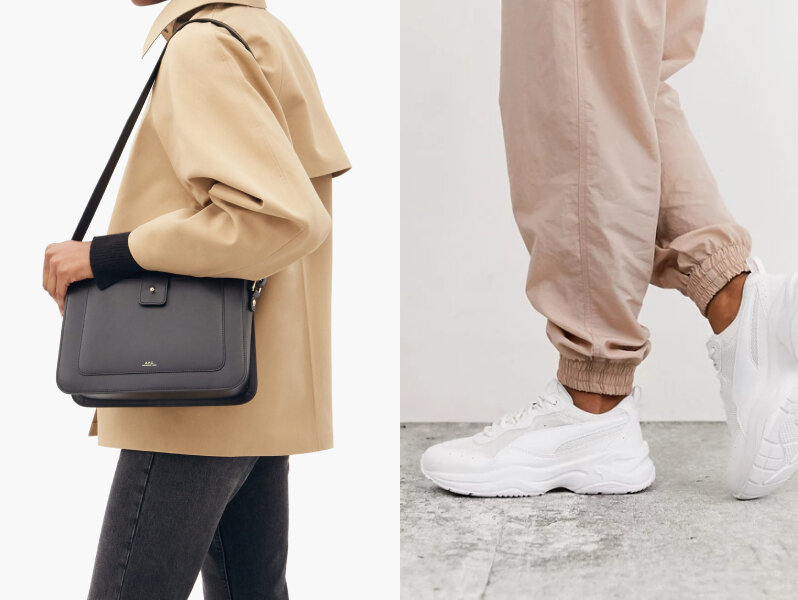 Shop her style: A.P.C's 'Albane' smooth-leather bag is chic, fuss-free, and can easily be worn over the shoulder or as a crossbody. Deck your feet in PUMA's 'Cilia' chunky white trainers, which have a lace-up design and faux-leather overlay.

Know your proportions: oversized sweater & bike shorts
Princess Diana had a penchant for college-style sweaters and bike shorts and was often seen in this sporty get-up on her off-duty days. Although it's tempting to go full-on oversized and baggy for your athleisure ensembles, consider only going a size up for your sweaters. Your bike shorts should have a slimmer, more snug fit in order to balance out your body proportions.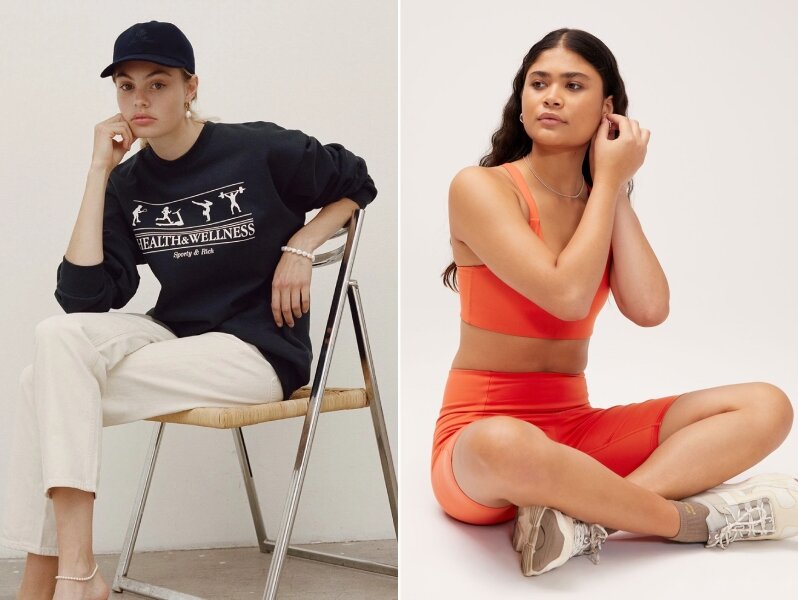 Shop her style: Cosy up to Sporty & Rich's 'Health & Wellness' Crewneck in dark navy, which bears a slightly oversized fit and 'old-school' lettering and design. Pair this sweater with size-inclusive brand Girlfriend Collective's 'Tart' high-rise bike short, which is sustainably made from recycled water bottles.
Embrace pap 'shielders': baseball cap & sunnies
Whether it's due to more functional or ornate reasons, we'd like to think that Princess Diana's decision behind embracing baseball caps and sunglasses was partly due to her dislike for the paparazzi. After all, she has spoken up about the toxic and intrusive behaviour of paparazzi, and was known to devise different creative ways to avoid them whenever she could.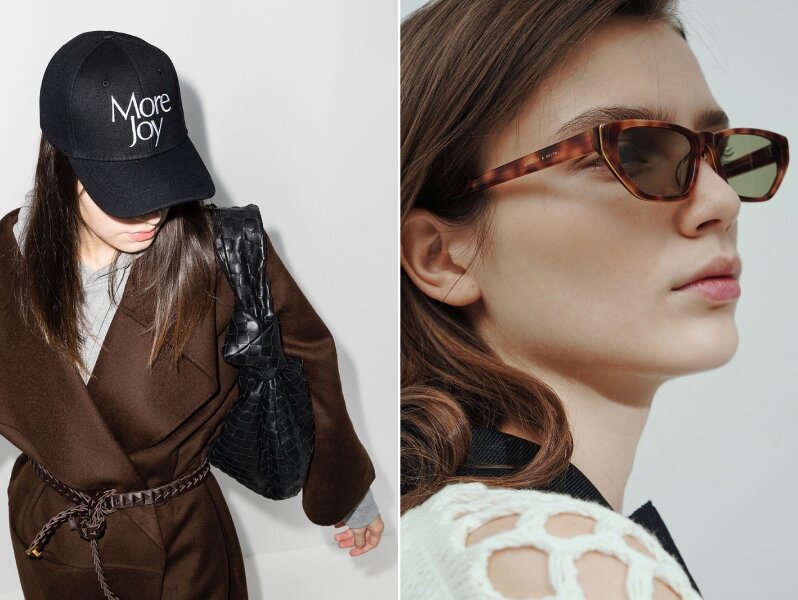 Shop her style: Hide your messy bedhead with this 'More Joy' logo-embroidered baseball cap, designed by Scottish fashion designer Christopher Kane. Then, shield your peepers with Charles & Keith's acetate tortoiseshell cat-eye sunnies, which are ideal for those with bottom-heavy face shapes such as round, square and triangular.
Are you fond of Princess Diana's sporty-casual style as well?
(Cover photos from: sportyandrich.com and farfetch.com)
What happens when you become internet famous? Discover what it's like from popular Singaporean influencer, Mongchin by clicking here.
Comments, questions or feedback? Email us at [email protected].