Call this 'the Bridgerton effect' if you wish, however, period dramas have become more popular than ever and our obsession with this genre is showing no signs of slowing down. Whether it's transporting us back to significant moments in history (The Crown) or offering us a look into the lives of aristocrats in the early 20th century (Downton Abbey), period dramas never cease to captivate our attention as they're often filled with fascinating characters, elaborate costumes and stirring storylines.
Now, if you've already finished watching Bridgerton and are impatiently waiting for its second season in 2022, here are five other period dramas you ought to add to your binge-watch list for a little more time-travelling through your telly — or laptop screen.

Cable Girls
Ever wondered how life was like during the roaring 1920s? For starters, it wasn't the best of times for working women in Spain, who experienced hardships and severe restrictions on their rights in a male-dominated society then.
Netflix's first-ever Spanish Original Series Cable Girls offers audiences a glimpse into the lives of four working women who decided to work at a telecommunications company in Madrid. The four main characters — which are played by actors Ana Fernández, Nadia de Santiago, Blanca Suárez and Maggie Civanros — begin to form a close friendship as they learn to navigate their personal lives and their work. The series first aired in 2017 and runs for five seasons.
Why you should watch it: Spanish films and dramas are severely underrated, don't you think? Hence, we reckon it's time that we paid more attention to them and give them the due credit that they rightly deserve. Additionally, this series is worth a watch as it touches on important topics such as feminism, progress and sisterhood. Get empowered by adding this series to your Netflix to-watch list now.
River Where The Moon Rises
She's an ambitious princess who was raised as a soldier, while he's a simple-minded military general who's willing to put his life on the line for her. Korean period romance drama series River Where The Moon Rises is based on the story of Princess Pyeonggang (Kim So-Hyun) and General On Dal (Ji-Soo) and is adapted from a Korean folktale recorded in The History of the Three Kingdoms. Actors Kim So-Hyun and Ji-Soo are no strangers to starring in period dramas, with the former clinching an award in 2019 for her role in The Tale of Nokdu and the latter capturing hearts with his role as Prince Wang Jung in Moon Lovers: Scarlet Heart Ryeo.

Why you should watch it: Princess Pyeonggang is not your cookie-cutter princess who needs saving. Rather, she's powerful, resilient and unafraid to challenge a man to a sword fight if that's what it takes to protect her kingdom. Strong female leads are a plus in our books and we can't wait to witness this princess' journey towards becoming the ruler that she was always meant to be.
Furthermore, we have no doubt that Kim So-Hyun's solid acting chops and Ji-soo's boyish charm will successfully bring both leading characters to life. Bookmark the Viu Original drama series now as it's set to premiere exclusively on Viu on 15 February.
Outlander
What happens when your honeymoon unexpectedly becomes a one-way ticket to the 18th century? For former World War II nurse Claire Randall (Caitriona Balfe), it's a game of doing whatever she can to survive a never-ending journey of trials and tribulations that threaten her freedom. Outlander is based on the novel series of the same name by American author Diana Gabaldon and it tells an epic tale of a quick-witted woman who finds herself transported back to Scotland in 1743. This historical drama is five seasons in and the sixth is currently in the works, according to Town & Country magazine.
Why you should watch it: Outlander is quite a departure from the likes of Bridgerton, but it's just what you need if you're ready to explore much more intense subject matters. Of course, both series share a few similarities — with them being inspired by popular novel series while boasting plenty of love-making scenes and stellar costumes.
However, we believe Outlander truly takes the cake in bringing audiences back to the past with its genre-bending content, intriguing characters and lush scenery. Ready to explore this gripping series? Squeeze into your corset and stream the first five seasons on Netflix, stat.
The Legend of Fei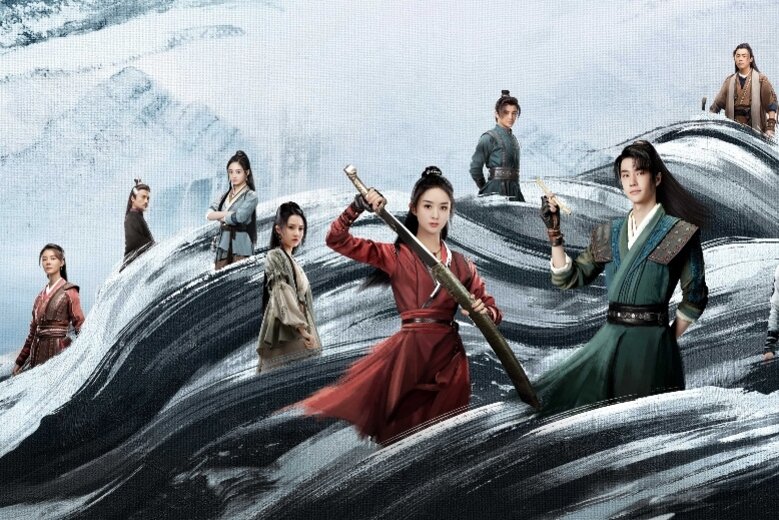 Starring two of the most popular actors in the Chinese entertainment scene, Zhao Li Ying (The Journey of Flower, Princess Agents) and Wang Yi Bo (The Untamed, Gank Your Heart), this action-packed drama follows the story of a friendship between a heroine (Zhao Li Ying as Zhou Fei) and a martial arts expert (Wang Yi Bo as Xie Yun) as they hone their fighting skills and embark on an adventure together.
Why you should watch it: It's hard to resist catching Yi Bo's reprise as a leading character in a period drama especially after we've witnessed his stellar performance in the 'BL' C-drama The Untamed. Plus, the 51-episode-long series is available for binge-watching on Viu — which we trust is more than enough to whet your appetite for period dramas.
Peaky Blinders
From confronting fascist rivals to dealing with violent street gangs and run-ins with the mafia, Peaky Blinders tells the tale of a crime boss named Thomas "Tommy" Shelby (played by Cillian Murphy) who is set on moving up in the world no matter the cost. Since this period crime drama television series is set in Birmingham, England in 1919 in the aftermath of World War I, expect to see plenty of firearms, sharp suits and gritty settings. Similar to Outlander, Peaky Blinders has five seasons to date. Its sixth and final season had just commenced production last month. Fun fact: Anya Taylor-Joy of The Queen's Gambit fame joins the main cast from season five.
Why you should watch it: The series provides audiences with a raw and thrilling insight into the minds of criminal gangsters and the lengths that they go to hold onto their power. Furthermore, it references significant moments in history as well, such as life during the late British Prime Minister Winston Churchill's administration and surviving the Stock Market Crash of 1929 — which are always interesting to watch. Grab your newsboy cap and check out the series on Netflix now.
Which of these shows will you be adding to your binge-watch list?
(Cover photos from: @peakyblindersofficial and Viu)
Have you heard? A Harry Potter TV series is rumoured to be in the works. Learn more here.
Comments, questions or feedback? Email us at [email protected].