Itaewon Class's Kim Da-Mi and Parasite's Choi Woo-Shik will star in the new Netflix drama Our Beloved Summer. The two will play ex-lovers who are forced to reunite after a documentary they did in high school started to gain traction years later. Quite apt that Our Beloved Summer serves as their reunion project after 2018's The Witch: Part 1, The Subversion.


Now, you might be wondering: is this drama worth adding to your watchlist? We give you three reasons to check out
Our Beloved Summer
below.
The plot will hit all the right feels
Choi Woong (Choi Woo-Shik) and Kook Yeon-Soo (Kim Da-Mi) were high school sweethearts. They were madly in love and worked on a documentary together. However, their contrasting personalities got the better of them, leading to a horrible breakup that made them promise never to see each other again.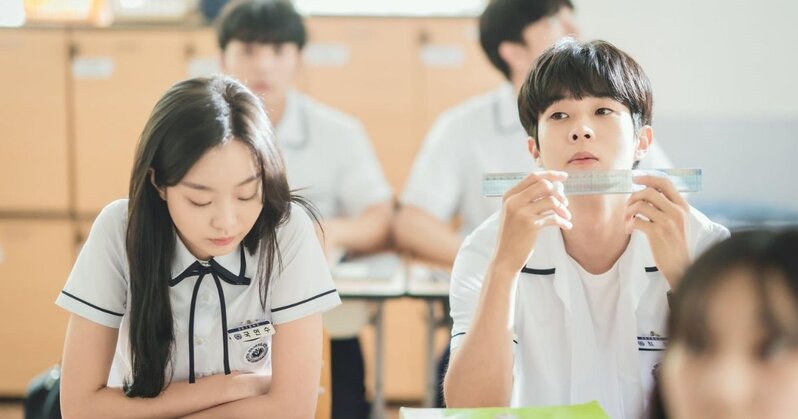 A decade later, their documentary became viral online. This sparked the interest of Kim Ji-Woong (Kim Sung-Cheol), Choi Woong's childhood friend who is also a documentary director. Fascinated by what happened between Choi Woong and Yeon-Soo, Ji-Woong tries to convince the two to reunite and create a sequel for the documentary. After a lot of pushing and pulling, the former couple agrees. However, they did not anticipate the realisations they will discover about their past relationship, as well as their current selves, when they reunited for the project.
Our Beloved Summer
is labelled as a rom-com, but we can already sense that it will definitely remind us of unrequited crushes or lost loves in our youth. Choi Woong and Yeon-Soo's more mature struggles, like finding your place in the world or trying to pursue something you're passionate about, are also guaranteed to pull at our heartstrings.
Kim Da-Mi and Choi Woo-Shik's versatility when it comes to acting also ensures that each moment in the TV series will feel very real to the audience. We already felt the weight of their characters' former relationship through the trailer.
The supporting characters will add another layer of drama to the story
Joining Kim Da-Mi and Choi Woo-Shik in this TV series are Kim Sung-Cheol (
Do You Like Brahms?, Sweet Home
) and Roh Jeong-Eui (
18 Again, Dear M
).
Aside from Kim Sung Cheol's fairy godmother-like role in the main story, his own character development is something we're also excited to see unfold. Sung Cheol's Kim Ji-Woong is described as timid and aloof. However, when he starts working on the documentary, he learns to break out of his shell. We're still not sure whether Ji-Woong will be a potential rival to Choi Woong should Choi Woong try to win back Yeon-Soo. But if it happens, we're totally on board with it.
Meanwhile, Rong Jeong-Eui's NJ is another character that we're not sure what to think of just yet. She's described as a top idol who finds herself falling for Choi Woong's works as an illustrator. There is still very little detail about how and why the two of them will meet. However, we can assume from the trailer that there's a certain loneliness in her that draws her to Choi Woong's kindness. How will she react when she finds out that Choi Woong is reconnecting with his past love? So many intriguing possibilities!
The drama soundtrack features a song from BTS' V (Kim Taehyung)
Choi Woo-Shik and BTS' Kim Taehyung a.k.a. V are both members of the Wooga Squad (check out which other oppas are part of this friendship group
here
!). That's why we were so delighted when we found out that V will record a song for
Our Beloved Summer
's soundtrack. The song is in collaboration with music director
Nam Hye Sung
who also worked on the OSTs for
Goblin
and
Crash Landing On You
.
The track title has yet to be announced, but it will reportedly make use of V's warm vocals that will play a huge part in setting the tone for a lot of scenes in the TV series. We don't know about you, but we're already preparing a box of tissues for uncontrollable tears, just in case.
The pilot episode of
Our Beloved Summer
will be released on 6 December, with two new episodes arriving on Netflix every Monday and Tuesday.
(Cover photo from: Netflix Philippines)
Comments, questions or feedback? Email us at [email protected].