The launch of Obi-Wan Kenobi, the series that continues the story of the Star Wars prequel, in Singapore was quite a spectacle, to say the least. The storyline has been hotly anticipated but Disney+ amped up the excitement even more with a pop-up light experience at the Singapore heartlands.
Obi-Wan Kenobi launch in Singapore
The streaming giant collaborated with the local art collective Very Small Exhibition to create a light display that celebrates the release date of Obi-Wan Kenobi in Singapore on 27 May.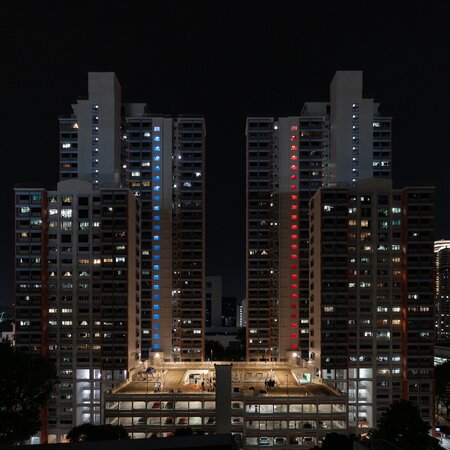 Two residential buildings at Block 813 and Block 815 of Jellicoe Road were illuminated with blue and red lights — making them look like lightsabers from both the Light and Dark sides of the Force.
Obi-Wan Kenobi cast and plot
The six-episode show had a double-episode premiere, with the story set 10 years after the events in Star Wars: Episode III - Revenge of the Sith. To recap, the action-packed 2005 prequel film sees Anakin Skywalker turn to the dark side as Sith Lord Darth Vader while Obi-Wan Kenobi and Yoda get twins Leia and Luke to safety albeit separating them in the process.
Disney+'s Obi-Wan Kenobi explores what happened 10 years after and the show's storyline may also get close to the events in the first Star Wars film released in 1977. The series sees Ewan McGregor and Hayden Christensen reprising their iconic roles as Obi-Wan Kenobi and Darth Vader respectively. They are joined by Rupert Friend (Pride & Prejudice) and child star Vivien Lyra Blair who plays young Leia.
Obi-Wan Kenobi reviews
The reviews are in for episodes one and two. Fans of the show say that Obi-Wan Kenobi lives up to the hype, with some adding that it may "possibly be the best Star Wars series yet" while others say it lacks "force" and is indulging in "nostalgia bait". But overall, it seems like people are finding the series promising!
Obi-Wan Kenobi episodes air every Wednesday. Watch it here.
Comments, questions or feedback? Email us at [email protected].