This story was first published on 6 December 2021.
Squid Game star Park Hae-Soo trades his green tracksuit for red overalls to play Berlin in South Korea's Money Heist (La Casa De Papel) remake. The original role is played by Spanish actor Pedro Alonso who will star in his own Money Heist spin-off set to air in 2023.
Money Heist: Korea's mask
In a video released by Netflix in December 2021, Park Hae-Soo thanked Pedro Alonso for sending him the series' iconic Dali mask, which is the symbol of the Money Heist's Resistance crew. He also teased that the South Korean remake will have a different mask which he will send to Pedro as thanks once the design is unveiled — which we finally see in the series' latest teaser.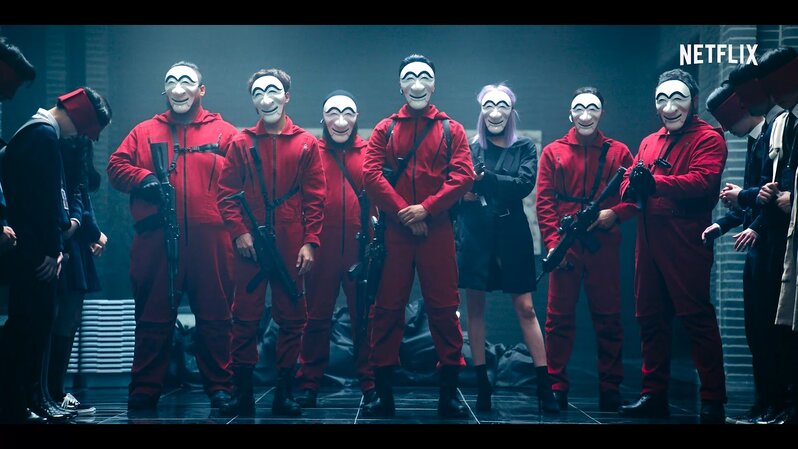 The newest teaser revealed that Korea's mask is the face of Yangban. This is a stock character in the set of traditional Hahoetal masks which villagers and performers wear in street and stage plays, as well as festivals dating back to the 12th century. Yangban refers to aristocrats who are often the object of mockery in the Hahoetal mask dance. Very befitting since Money Heist is about one-upping the rich and greedy.
Money Heist: Korea — Joint Economic Area cast, trailer, and release date
The teaser gives a full glimpse of the show's plot and sees the characters Yoo ji-tae's Professor, Jung Jong-seo's Tokyo, and Park Hae-soo's Berlin in action for the first time and wearing the iconic red jumpsuits with traditional Hahoe masks.

The rest of Money Heist Korea's cast includes Lee Won-jong (Asurado) as Moscow, Kim Ji-Hoon (Flower Of Evil) as Helsinki, Jang Yoon-Joo (Three Sisters) as Nairobi, Lee Hyun-Woo (The Liar And His Lover) as Rio, and Lee Kyu-Ho (Champion) as Oslo.
Catch Money Heist: Korea — Joint Economic Area on Netflix on 24 June 2022.
(Cover from: Netflix)
Speaking of Squid Game, check out this Park Hae-Soo's cute photo with co-stars Lee Jung-Jae and Jung Ho-Yeon here!
Comments, questions or feedback? Email us at [email protected].