As American philosopher Ralph Waldo Emerson once said, "Every artist was first an amateur." It's hard to believe that Singaporean illustrator Michael Ng (AKA Mindflyer) was once quite the 'amateur' himself at drawing, especially if you come across his colourful, whimsical yet effortless-looking works. Matter of fact, the illustrator himself admitted that he "wasn't very good at [drawing]," although it didn't stop him from building an illustrious career in arts and design.
"I've had a strong desire to become an artist ever since I was a little boy as I was always fascinated by drawings and comics. However, I wasn't very good at it, unlike my friends and classmates. This made me feel helpless at times, but it's also what fuelled my 'crazy' idea to keep pursuing this dream anyway," he shared.
Read on as the founder of Singapore's Illustration Arts Fest (IAF) reveals to us the meaning behind his playful moniker (is skydiving his thing?), his favourite design from his latest 'The New Norm' collaboration collection with UNIQLO, and the three most important pieces of advice that he wishes to share with aspiring young artists.
On finding hope and looking 'fly'
Think of the word 'flying' and the term 'skydiving' likely comes to mind, hence we couldn't help but wonder: Is Michael secretly an adrenaline junkie and a fan of the extreme sport? "I am not a thrill-seeker at all. My idea of a thrilling experience is perhaps having to draw with my non-dominant hand or with my feet!" he exclaimed.
"The idea behind 'Mindflyer' was my desire to make everything 'fly' in the most literal yet metaphorical sense possible. It's also meant to explore a little more about escapism," Michael explained. He also added that the flying machines he often features in his drawings — from flying cars to submarine-looking planes — can never take flight as "they are meant to depict the importance of finding hope amidst the most trying times," he revealed.

On colouring outside the lines
Inspiration and creativity shouldn't be derived solely from formal institutions or 'higher' forms of art. For Michael, he loves looking at folk art and 'outsider' art. He shared: "I find that I can understand the feelings of these artists and I believe that they create from deep inside their beings in whatever 'amateurish' crude way as they know how. No pretensions. No need to impress anyone. The purity of their works seems really magical to me."
To our surprise, Michael also cited his 'poor eyesight' as another major source of inspiration — how so? "I like to look at all sorts of images and let my mind 'misread' them. Then, I will sketch and draw these images on my sketchbooks and refer to them for potential, relevant projects in the future," he revealed.
On portraying positivity during the pandemic
"You must've seen the memes about an artist's life before and during the pandemic. My life was just as depicted, except that I've had a bit more time to sketch and try out a few new software tutorials. That being said, I missed working on my drawings in the outdoors as well as hanging out at cafes with my friends," shared Michael when asked about his 'new normal' routine during the Circuit Breaker.
Despite experiencing his fair share of downsides of being an artist during the pandemic, Michael was glad to have joined hands with UNIQLO once again in releasing an eight-design UTme! collection. (His previous project with the brand was back in 2016, which saw him creating a mural for the brand's Orchard Central Global Flagship Store.) The collection showcased his lighthearted take on how Singaporeans ought to tackle the post-Circuit Breaker future with less pessimism and more positivity.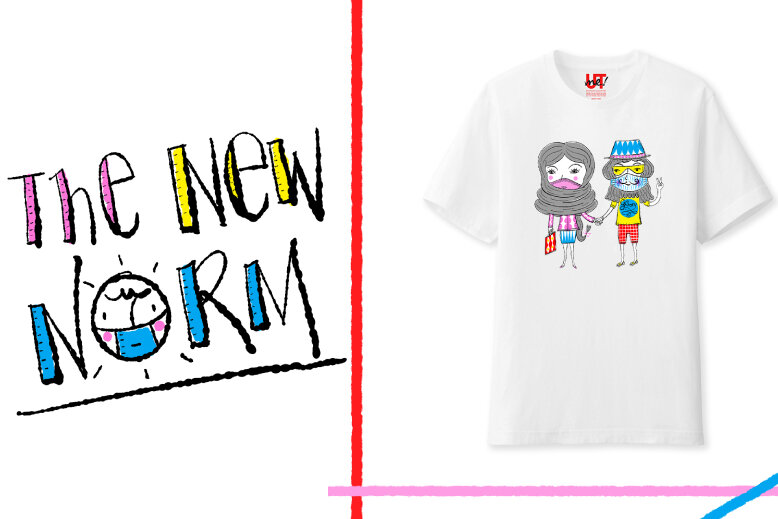 "My favourite design from the collection is 'Groovy', which features a couple revealing their 'ungroomed' selves as they venture outdoors for the very first time post-lockdown," Michael revealed. The design cheekily depicts a lady with tresses so long that she's able to 'wear' them as a scarf. As for her partner, he sports a fancy hat, shoulder-length hair and a Captain Hook-approved moustache. "I love drawing characters with crazy outfits and costumes, and I had a lot of fun imagining what they would look like," the illustrator excitedly added.
On overcoming creative blocks and the (yellow brick) road ahead
Facing a creative block from time to time is perfectly normal, and here, Michael shared his tips on how fellow artists can stay creative and motivated. He revealed: "I always remind younger artists about how fortunate they are to be living in Singapore, where it's filled with plenty of opportunities.
As for my advice to them, I'd tell them these three things: Firstly, keep a sketchbook by your side at all times. Keep on trying and drawing. Secondly, look beyond mastering art and drawing techniques. Read, learn, and try to understand the meaning and history behind different forms of design — from films and architecture to fashion exhibitions and product design. Finally, stay humble. There's always something that you can learn from every human that you've had the chance to cross paths with."
Speaking of paths, Michael continues to paint his very own yellow brick road towards more fulfilling, creative pursuits in the near future. He revealed: "I have a few upcoming collaboration projects, murals and group shows lined up. Plus, the folks at the Organisation of Illustrators Council (OIC) and IAF are also busy planning for 2021. Fingers crossed that we'll get to start 2021 with a bang!"
Check out Michael's 'The New Norm' collection today at UTme!, UNIQLO's very own T-shirt printing service, which is situated within their Orchard Central Global Flagship store. Prices start from SGD24.90/~USD18 for a Kids t-shirt to SGD29.90/~USD21 for an Adult t-shirt.
(Cover photos from: Michael Ng (Mindflyer) and UNIQLO)
Now, check out how local live artists are coping during the pandemic.

Comments, questions or feedback? Email us at [email protected].