ICYMI, Jerry Yan, most known for his iconic role as Dao Ming Si from Meteor Garden, has an upcoming C-drama with Shen Yue, who played Shan Cai in the 2018 remake of the drama. While the new series titled Count Your Lucky Stars is already causing so much buzz because of the headlining duo, it got even more attention recently because someone's not particularly happy about the pairing — at least jokingly.
Barbie Hsu, who played opposite Jerry in the first adaptation of
Meteor Garden
, playfully commented on the official Weibo post about his upcoming drama with Shen Yue, saying, "Dao Ming Si, who are you dating behind my back? Dao, it's Shan Cai!"

Of course, Asian drama fans found the comment amusing, especially when Jerry himself replied, "Shan Cai, don't tell me you're jealous?"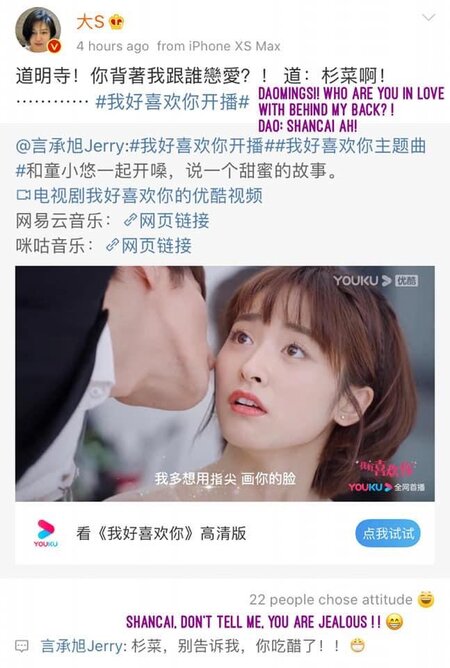 Ou Dingxing, who played Shan Cai's childhood friend Qing He in the 2001 version also chimed in, saying, "Shan Cai, how about you and me?"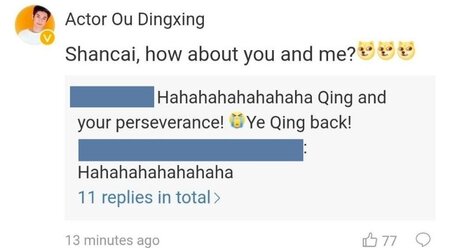 But that's not all! Even Chinese media caught wind of the interaction and asked Jerry about it in the recent live-stream the cast did in promotion of Count Your Lucky Stars. The actor smoothly evaded the question and then proceeded to promote his current drama.
OMG! I'M SUPER HAPPY TODAY! tapos dagdag pa to! Aggggh! pic.twitter.com/Z8kNbzqgoi

— ╰☆☆ 𝙅𝙞𝙡𝙡 ☆☆╮ (@jillyace27) August 3, 2020

With this, we can't help but think: where are the Meteor Garden 2001 cast and how are doing after almost two decades since the drama aired? We check in on them below.


Barbie Hsu
While our hearts are still partially broken that our 2001 Shan Cai and Dao Ming Si didn't end up together, it's good that Barbie reached her happily ever after with Chinese tycoon Wang Xiaofei. The two tied the knot more than 10 years ago after a surprising 20-day whirlwind romance. They have two kids. However, it looks like we are in for another heartbreak as it has just been announced that Barbie has
reportedly
filed for divorce in November 2021.
In a statement through their lawyers, Barbie and her husband shared: 'In the past, they walked as spouses. In the future, they will be parents and friends. They will continue to raise their children together and give them all the love and support.'
She is currently semi-retired from acting but still remains active in the entertainment industry as a model, brand ambassador and occasional TV host.

Jerry Yan
Unlike Barbie, our 2001 Dao Ming Si remains a bachelor even after two decades since the series aired. Jerry is still active in both TV and film, with over 10 acting and music awards to his name. In 2014, he even co-starred with Japanese actor Shun Oguri and South Korean actor Kim Joon for the Lupin III live-action movie, both of whom have also played F4 members in their countries' respective adaptations of Yoko Kamio's shoujo manga (girls' comics), Hana Yori Dango. His drama with Shen Yue officially launched its pilot today.
Vic Zhou
Second lead syndrome, anyone? It's hard to talk about it without mentioning Vic Zhou's portrayal of Hua Ze Lei. But beyond his calm and collected iconic character in
Meteor Garden
2001, he's also portrayed a bunch of interesting roles like an eccentric novelist from
Wish To See You Again
, a romantic lead in
A Moment of Love
and a comedic role in
Two Wrongs Make A Right
. In 2015, the singer-actor got hitched to Taiwanese actress Reen Yu. Together, they are now raising their five-year-old daughter. After a five-year hiatus from acting, Vic returned to the silver screen by starring in three period dramas that aired in between 2018 and 2019.
Vanness Wu

Probably the most active in the Eastern and Western entertainment industries, Vanness has been in over 20 films and TV shows since Meteor Garden. He has also launched a variety of albums and singles over the years in Taiwan, China, Japan, and even South Korea and has even collaborated with international artists like Beyoncé and Avicii for certain Asian music releases. In addition, he is also an active endorser for brands like Levi Strauss & Co., Reebok, and more. Vanness also served as a judge for several seasons of Asia's Got Talent, as well as a host for the third season of The Amazing Race China. As for his personal life, he and Singaporean heiress Arissa Cheo decided to mutually divorce in 2018 after five years of marriage.


Ken Chu

It's not all flowers and butterflies for all of Meteor Garden 2001's cast as Ken Chu might have had it the toughest. The actor who played F4's major playboy Xi Men was heavily criticised years back for his sudden weight gain, which made it impossible for him to book more projects. The health condition was said to be the result of the medication he took for fibromyalgia, a musculoskeletal disease that affects the body's reception of pain.
Thankfully, he was able to bounce back with the help and support of his wife, Chinese actress Vivian Han. The two relocated to Beijing in 2016 after their wedding, which fellow F4 members Vanness Wu and Jerry Yan reportedly attended. Chu ended up attending the University of International Business and Economics where he graduated with a degree in Retail Management in November 2019.
Ah, the nostalgia! All the more reason to binge Meteor Garden 2001 for the nth time, right?
(Cover photo from: netflix.com)
Next, these Thai dramas might just be your new favourite.
Comments, questions or feedback? Email us at [email protected].