Getting a tattoo is a commitment — you're putting something on your body that's there to stay for a long time (not to mention getting it removed can be an absolute pain in the neck). It's letting your ink retell a certain story or help to relive a memory.

On the other side of the coin, being curious and admiring these visible yet intimate emblems can be inevitable. But is it normal? The act of inquiring about a person's tattoo has launched tons of discussions about the appropriateness of asking.

Thankfully, the Clozette Community is ever so gracious to indulge our curiosities. Looking back into their own experiences and personal relationships with ink-and-needle, Kaycee Enerva, Nina Singanon, and May Hernandez-Guerrero share the story behind their most meaningful tattoos.


When the inking began
Nina and Kaycee both got their tattoos when they were 26 years old. Kaycee said she felt like she was already "too old" when she first got inked. Meanwhile, Nina shared that she remembered being so nervous for her first time because she has low pain tolerance and was told it would hurt.
However, any preconceived notion they had about tattooing was easily remedied as soon as they got inked. They've been tattoo enthusiasts ever since. Kaycee currently has six tattoos while Nina has three (with three more already planned out).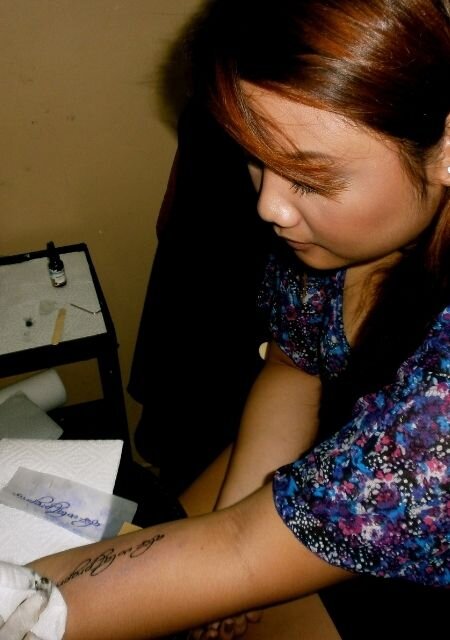 May, on the other hand, only got her first tattoo at 32 years old. It's placed on the back of her right shoulder and was done by legendary Filipino tattoo artist Whang Od. Whang Od, at 103 years old, is the oldest practitioner of the traditional Butbut tribe tattooing technique. May's fascination with indigenous cultures made her decide to undergo this sought-after yet painful method to make the experience worthwhile.
Behind the ink
Out of her six tattoos, the most memorable for Kaycee is the fox watercolour design placed on her right thigh.
"I chose it because it's my spirit animal. A sly and sexy fox," she shared. The fox mirrors something Kaycee actively seeks out in her everyday life: inspiration for survival.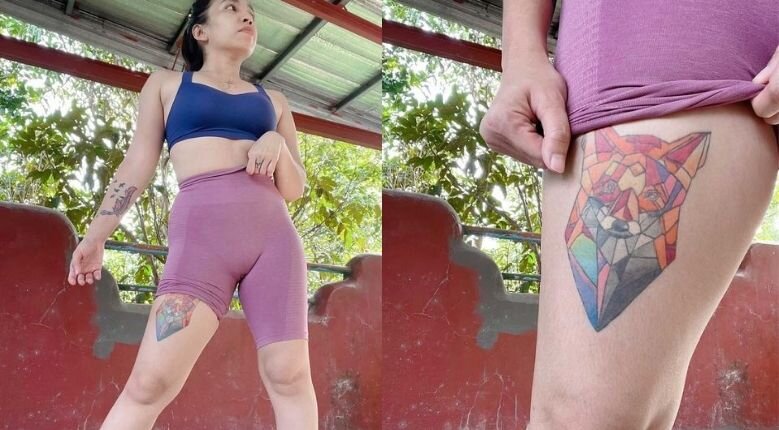 Kaycee, who is a mental health advocate who openly talks about her bipolar disorder, recently released a book called Snippets of Sanity which chronicles her experiences with mental illness. Her tattoo encapsulates her personal aspirations and reality of her condition, making it even more symbolic and sentimental.
"Foxes are known for adaptability and quick-thinking. It inspires me to survive any obstacles that may come my way," she said.
Deciding on the design took at least a week of googling for inspiration. Given the complicated nature of a watercolour-inspired tattoo, it was extra painful and took more than 15 hours (two separate sessions) to finish. It also took months to fully heal.
Her second most memorable tattoo is her first tattoo, which is placed on her inner forearm. It shows a red quill surrounded by birds, which symbolises creative freedom. This serves as a look into Kaycee's own principles as a writer both by heart and by profession.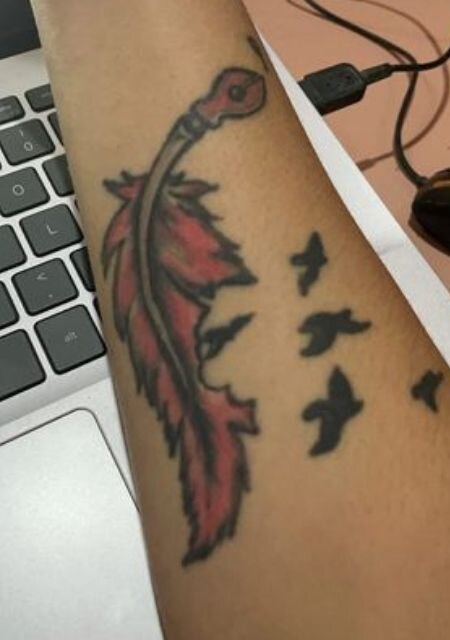 For Nina, choosing just one tattoo to talk about posed quite the challenge.
"All my tattoos are my favourite," she said, saying that she's the type to choose her tattoos based on a very deep and spiritual level.
Her first — a quote saying Alis Volat Propriis ("she flies with her own wings") set on her left inner forearm — inspires her to do whatever she sets her mind to. She said that the placement makes it easier to look at it in times of doubt.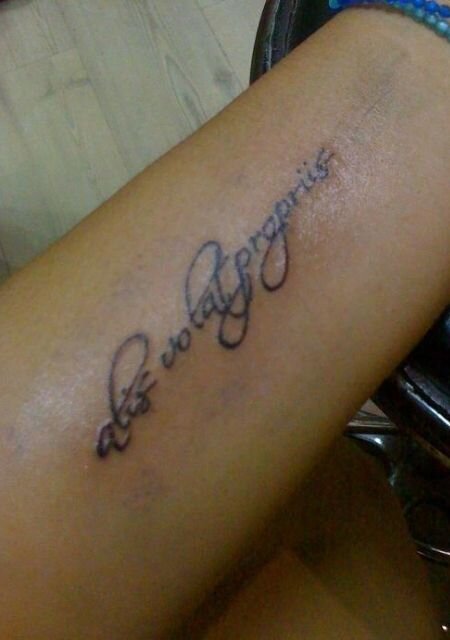 Her second — a Lotus Mandala on her upper back — represents "surviving even in murky waters". She got the mandala because it symbolises balance, reminding her to leave room for her wellbeing even in moments when she wants to give her all to something.
Her third tattoo, found in her right arm above the ditch, is the Little Dipper. Since the North Star found in the Little Dipper constellation is "noted in a lot of literature as the 'guiding light'" Nina sees this tattoo as a symbol of "being guided to the right direction". It represents past mistakes and future aspirations that shape her as a person. It's her smallest tattoo to date, but it's the one that makes her smile the most.
Nina said that she has also set limits on which body parts are tattooable (her back) and which are not (her neck). This is because every symbol is a part of her story.
"I always try to go into a tattoo studio prepared," Nina also shared. "I have the design I want, I know where I want to put it, and I know how big I want it. I always do 'test runs' a.k.a. draw the design on myself on the part I potentially want it on and live with that for about a week. That way, there are no regrets!"
As for May, she went for a design that captures her core values and the uniqueness of Whang Od's tattooing style. The three dots represent "faith, hope, and love" which she tries to live by as a woman, wife, mother, and content creator.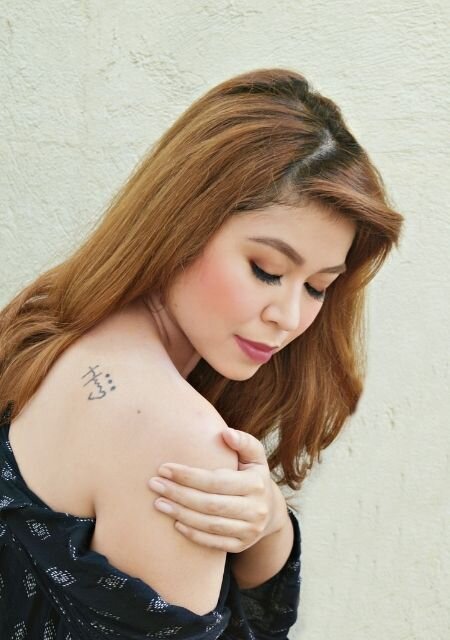 It also symbolises the leap she took in the name of celebrating Filipino culture and tradition, especially considering her inexperience with tattoos.
She looked back at the experience, saying: "My husband and I planned a trip to go to Buscalan in Kalinga where the legendary tribal tattoo artist is living. We trekked through the jungle, deep ravines, and soaring hills just to get inked by Apo Whang Od. It serves as one of my most memorable experiences in life ever."
Talking about tattoo stigma and more inks in the future
All three of them believe that there is still a stigma surrounding tattoos today. Kaycee said that she still gets "weird looks from other parents" when she picks up her son from school. Nina and May backed this up by saying that they also know people who look down on those who visibly display their tattoos. However, they believe that negative perceptions have wavered significantly compared to previous years and that people are becoming more and more accepting of this art form.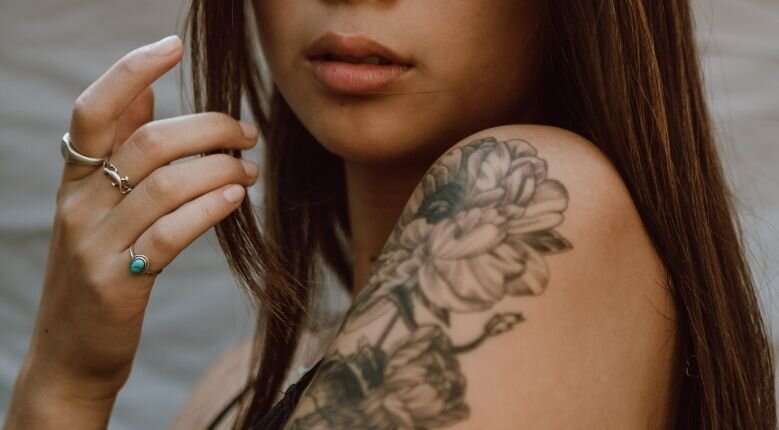 May is still unsure whether or not she'll get more tattoos in the future, but she strongly believes that tattoos help "elevate a person's identity" and allow people to "wear their self-expression". Still, she thinks that not all tattoos should have meanings. No matter how random a design is, it is still reflective of a person's character and personality.
Nina agreed and encouraged that if your reason is simply because you found a design pretty, then go for it. Just because someone gets a tattoo for certain reasons doesn't mean your reasons have to be the same.
With this, Kaycee reminded that, at the end of the day, what matters is knowing you'll never regret your decision "10, 50 or even a hundred years later." It's doing it for your happiness and your story. As for her, she's looking into getting a barbell tattoo next to symbolise her love for and dedication to fitness.
On a final note, Nina summarised all of their experiences by saying, "These tattoos resonate with the time I got them. The reason why I wanted these symbols permanently etched on my body is that they're beautiful and tell my story in a way."
Whether or not this made you think of getting a tattoo or urged you to add another to your current ones, we ask: what are you hypothetically thinking of getting and why?
We're considering these dainty butterfly tattoos.
Comments, questions or feedback? Email us at [email protected].