It has almost been six years since Jessica Jung departed from the nine-member girl group SNSD. Although it's been that long, the shocking news is still a sore topic for some fans, who have been supporting the girls since their debut in 2007. But life happens, and people sometimes might have to take the lonely path to grow. Despite the devastation it caused on all sides, we're happy to say that all the Girls' Generation members are now happy and thriving as they pursue their solo careers. Jessica, in particular, explored her other interests outside performing. She has successfully established her fashion brand, Blanc & Eclare, and now, she's even set to publish her very own book entitled Shine.
This Young Adult novel, now available for pre-order, is the K-pop star's first foray into the world of writing and is the first of her two-book deal with Simon Pulse. Based on Jessica's experiences, it follows Rachel, a Korean-American girl recruited to be part of a nine-girl group of a major Korean entertainment label. 2020 seems to be a big year for Jessica's writing career as book-development company Glasstown Entertainment, has already sold the book in different countries. Not only that, but they're also already working together with the creators of To All The Boys I Loved Before to adapt Jessica Jung's works for the screen.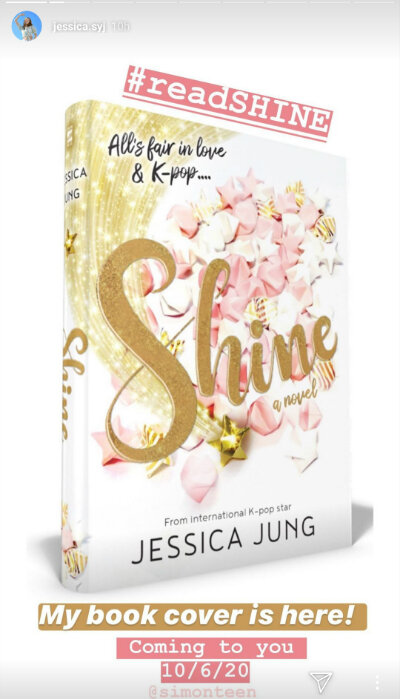 @jessica.syj's IG story announcement of her book, Shine, featuring the cover complete with nine stars, perhaps each standing for the nine girls of her fictional K-Pop group.
We're given a sneak peek of Jessica Jung's Shine as Entertainment Weekly just published an excerpt. It begins with Rachel's girl group undergoing an interview after they've hit major music charts. It's labelled as fiction, but avid fans know, seeing the parallels between Jessica's life and the elements in the book, that this will probably be a thinly veiled attempt to spill all the deets of her K-pop career. So what exactly do we think will happen? Ahead, a few SONEs (aka SNSD fans) share their thoughts.
It will reveal the dark sides of the industry
The K-pop industry is indeed laudable for how they broke cultural barriers and managed to capture the hearts of audiences from around the globe. However, behind the glitz and glam we know lies a rigid structure that can be toxic to the idols in some cases. As the synopsis of Shine says, "The rules are simple: Train 24/7. Be perfect. Don't date." Through Rachel, we would perhaps be given a first-hand account of the rigorous lifestyles aspiring idols have to adopt in order to thrive in the industry.
It will tell Jessica's side of the story
y'all acting like jessica is gonna say something bad about the girls.. anyway pic.twitter.com/KPMgviPMzv

— Holly Thee Stay (@danddyu) January 29, 2020
Jessica's departure from Girls' Generation was controversial, and it eventually led to numerous rumours detailing the reasons for the fallout. For friends Veronica Dee and Julia Agana, both avid fans of K-pop for about a decade now, the book might be Jessica's way of clearing her name and revealing the truth from her side. Veronica thinks that instead of putting the blame on the other girls, "it could show that it might be the fault of both parties, with both being just victims of the K-pop industry." And Julia agrees, thinking, "she might just reveal how it's their strict management company that caused the rift." Of course, that makes sense because for SNSD members, past is past, and they hold no ill will towards each other. In fact, they still treasure and look fondly on experiences they've shared together. Perhaps this is also one way for the author to pay tribute to the girls she basically grew up with.
It will spill the deets of her love life
WHEN JESSICA WRITES ABOUT HOW SHE REALLY LOVES TAECYEON (alias tyson) IN HER BOOK AND HE REACHES OUT TO HER AND THEY GET TOGETHER >>>>>>>>

— paige (@jekyllstal) January 29, 2020
Of course, it's a YA book, so we're expecting a sweet love story to take place, too. Shine's synopsis reveals that in the book, "she begins to develop feelings for K-pop star and DB golden boy Jason Lee." Although there's the no dating rule most K-pop idols are subject to, we know a few stars who broke it because, well, we can't really control our feelings, can we? And, despite having a busy career, Jessica has also been subject to a few dating rumours with other K-pop stars. So a lot of fans are naturally wondering who this Jason Lee is based on and if it would be closely inspired by her real life events like many other aspects of the book.
It will be a story of how her dream pushes her to strive
For Nekky Dela Cruz, a SONE since 2011, the story might focus on how, despite the challenges, Jessica made it successfully in the industry. Knowing she trained for more than seven years to debut, Jessica put in a lot of effort and she wants that to be known. "From the title itself, Shine, Jessica would definitely share her story on how she 'shined' above all," Nekky surmises. From how she crawled her way from being a trainee, to a top star, and now a successful CEO, perhaps we'll see all that unfold in the two-book series.
From what we can see, it seems that the book will be a brave tell-all of Jessica's story. Despite her attempts to rename the characters in her life, we see close similarities, and feel that this one would be a confession of all sorts. With that, long-time fans are rejoicing with Jessica finally finding her voice and speaking her side. And we definitely can't help but be excited as to what will be revealed when the book releases this 6 October.
(Cover photo from: @jessica.syj)
Comments, questions or feedback? Email us at [email protected].