Bearing a surname which literally has the term 'style' in it, we adore how English singer and all-round heartthrob Harry Styles is fun and fearless when it comes to fashion. There's a fine line between looking tacky and tasteful, however, he's managed to pull off the trickiest of outfits with aplomb. He embraces colourful, printed suits as he flaunts his cringey-cute dad dance moves on stage, and continues to defy gender dressing norms with his androgynous sense of style. Remember
that iconic moment where he turned up at the Met Gala in a
feminine, sheer lace blouse
? We do.
In a recent interview with
The Guardian
,
Harry shared his approach to dressing: "What women wear. What men wear. For me it's not a question of that. If I see a nice shirt and get told, 'But it's for ladies.' I think: Okaaaay? Doesn't make me want to wear it less though. I think the moment you feel more comfortable with yourself, it all becomes a lot easier."
Ahead of his 26th birthday on 1 February, join us as we celebrate Harry's best fashionable moments. Plus, we round up the best Styles-inspired picks so that you, too, can step out in style.
Fuschia Shirt With High-Waisted Trousers


Silk shirts look right at home in a rich housewife's wardrobe as they do in Harry's — the 25-year-old crooner made fashion waves during the reveal of his upcoming 'Love On Tour' World Tour 2020. Sporting a cheeky grin and a laid-back stance, Harry was dressed in a bright pink number that was contrasted with flared, blindingly white trousers. Note his matching pink suspenders and heeled shoes, too, which further showcased his inimitable approach towards fashion.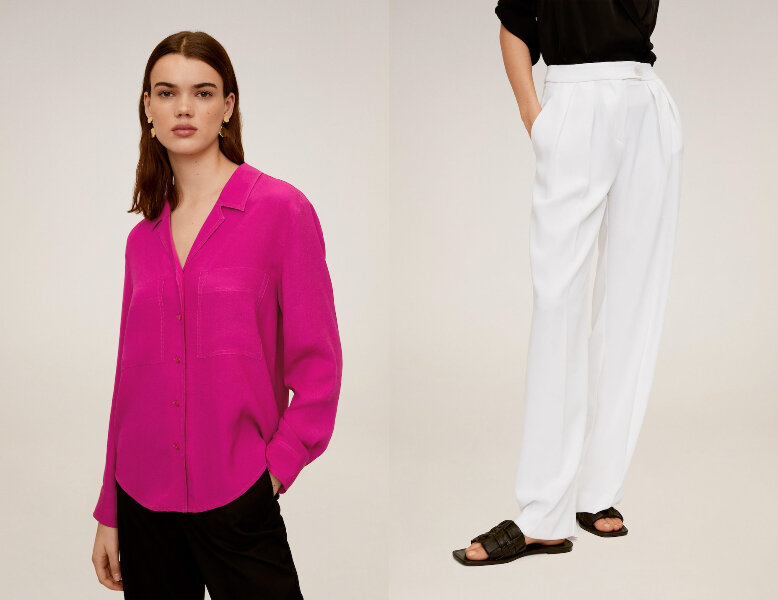 Pockets flowy shirt, SGD 55.90/~USD41.03 (mango.com); Palazzo trousers, SGD89.090/~USD65.98 (mango.com)
Steal his look with this viscose, V-neck collared shirt from Mango, which features long-puffed sleeves for a touch of drama. Its lovely bright pink shade brightens up your ordinary office attire, while its lapel collar detail invites you to layer your favourite necklaces. Complete the get-up with a pair of smart, palazzo trousers, which are high-waisted just like Harry's.
Blue Jean Baby


Decked in a '70s-inspired denim trench and matching flared denim trousers for his music video, 'Adore You', Harry topped off his distinctive look with a crimson-coloured neckerchief and a collared shirt underneath.
While we aren't quite ready to sport a full-on Canadian Tuxedo just like Harry has, we're reaching out for our denim jackets in honour of his signature look. For those who are looking for one, save up for this distressed number from E.L.V Denim, which features a raw, cropped hem and slightly loose silhouette. The particular fashion essential is also part of Net-A-Porter's Net Sustain edit, which highlights sustainable fashion and beauty brands.
7 Rings… and Counting
Apart from rocking a sheer blouse at the Met Gala, Harry made a fashion statement with his accessories, too — he donned a pearl earring and completed his camp-themed attire with chunky rings, with two bearing his initials, 'H' and 'S'.

Accessories from APM Monaco's upcoming 'Valentine' collection. Price unavailable


We're giving heart eyes to APM Monaco's latest range of colourful, stackable rings as they remind us of Valentine's Day candies which are almost too cute to eat. The collection also features alphabet pendant necklaces, so you can do like Harry and wear his initials over your neck.
The Double-Breasted Blazer
This fantastic shot of Harry on the cover of The Sunday Times' magazine dates back to 2017 when he had just debuted his solo single, "Sign of the Times" — we guessed it was also a sign that we needed a statement double-breasted suit just like him.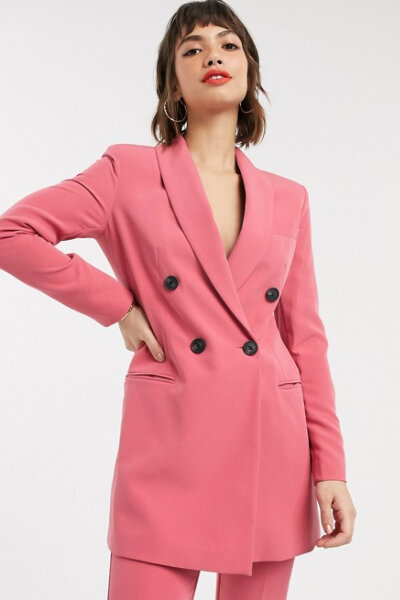 Here's a double-breasted blazer which we can get behind — this piece by Spanish label Stradivarius is actually a blazer dress, which allows us to dial up the feminine factor for an evening out by pairing it with strappy heels. It also features functional pockets for us to store our lippies, mobile phones, and other tiny essentials.
Now, check out the iconic looks sported by the leading ladies in Jonas Brothers' 'What A Man Gotta Do' music video.
Comments, questions or feedback? Email us at [email protected].