Girls' Generation, or SNSD (Sonyeo Sidae), is officially making a comeback in 2022 after five years of hiatus! The K-pop group will be launching its seventh studio album FOREVER1 just in time for the celebration of its 15th anniversary.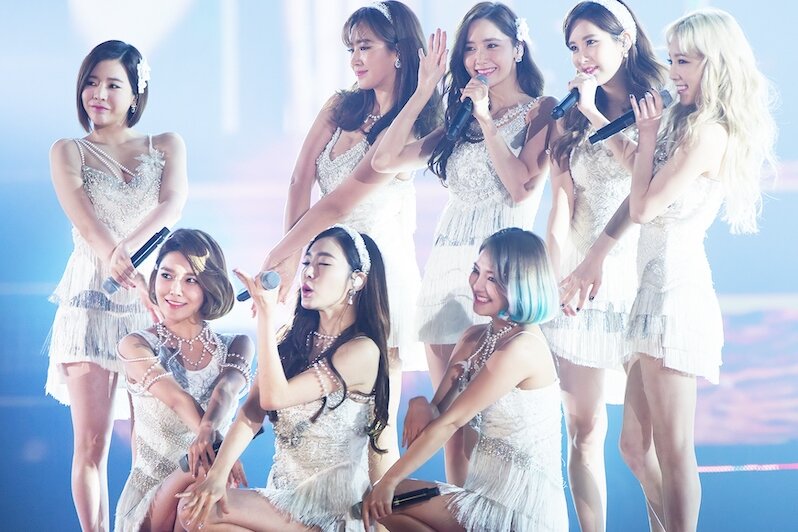 SNSD debuted in 2007 as a nine-member band featuring Taeyeon, Sunny, Jessica, Tiffany, Hyoyeon, Yuri, Sooyoung, Yoona and Seohyun with Into the New World. However, Jessica left the band in 2014 due to scheduling conflicts. Girls' Generation continued as an eight-member group and it is expected that the upcoming album FOREVER1 will feature only the eight members.
Girls' Generation Comeback 2022: Album Release Date
Girls' Generation is set to release its latest studio album on 8 August. This will be the first studio album from the K-pop group since Holiday Night from 2017.
Girls' Generation 소녀시대 The 7th Album
〖FOREVER 1〗

➫ 2022.08.08#GirlsGeneration #소녀시대#FOREVER1 pic.twitter.com/j9wf44AkKc

— Girls' Generation (@GirlsGeneration) July 24, 2022
Teasers for FOREVER1 have already been dropped. Not much is revealed through the announcement posters. However, the pink theme and multicoloured heart suggest a fun, lighthearted vibe.
<'SMTOWN LIVE 2022 : SMCU [email protected] CITY_SUWON' LINE-UP>⁰

⁰#KANGTA #BoA #TVXQ! #SUPERJUNIOR #GirlsGeneration #GirlsGeneration_TAEYEON_HYOYEON #SHINee_KEY_MINHO #EXO_SUHO_XIUMIN_CHEN_DO_KAI#RedVelvet#NCT#aespa#GOT_the_beat #HYO #Raiden #GINJO #IMLAY #JEB pic.twitter.com/pFGvfeW7Yu

— SMTOWN (@SMTOWNGLOBAL) July 12, 2022
In addition to the album, fans can also look forward to Girls' Generations' performance at the "SM Town Live 2022: SMCU Express @ Human City Suwon" concert to be held at Suwon World Cup Stadium on 20 August.
This article will be updated with details as more information becomes available.
(Cover photo from: commons.wikimedia.org)
Next, check out the upcoming reality TV show featuring the Wooga Squad.

Comments, questions or feedback? Email us at [email protected].