Friends has had its fair share of iconic and questionable moments. But, without a doubt, it's a pop culture phenomenon that many of us — along with our family and, well, friends — have enjoyed. So it's no wonder that the nostalgia surrounding the series grew when the official Friends reunion was announced in February of last year (hosted by HBO Max).

It was originally slated for May 2020, but the pandemic put the reunion special on hold. A year later, we finally have a release date and more details about this, dare we say, soon-to-be iconic TV event. Here's what we know about the upcoming Friends reunion.


The entire Central Perk gang will be there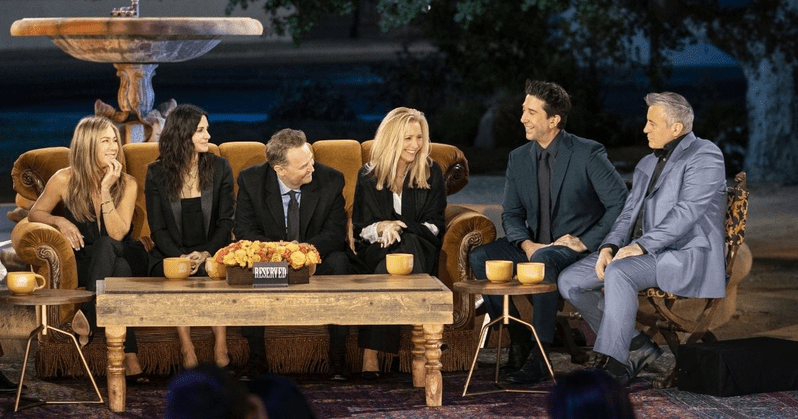 Based on the official teaser released by the program's Instagram account, the full
Friends
cast — David Schwimmer (Ross), Matthew Perry (Chandler), Matt LeBlanc (Joey), Lisa Kudrow (Phoebe), Courtney Cox (Monica), and Jennifer Aniston (Rachel) — will appear in this special episode. Whether or not they'll reprise their roles is still unconfirmed, but we're still glad they'll be complete for this exciting TV special.
The special will be shot on the original set of the series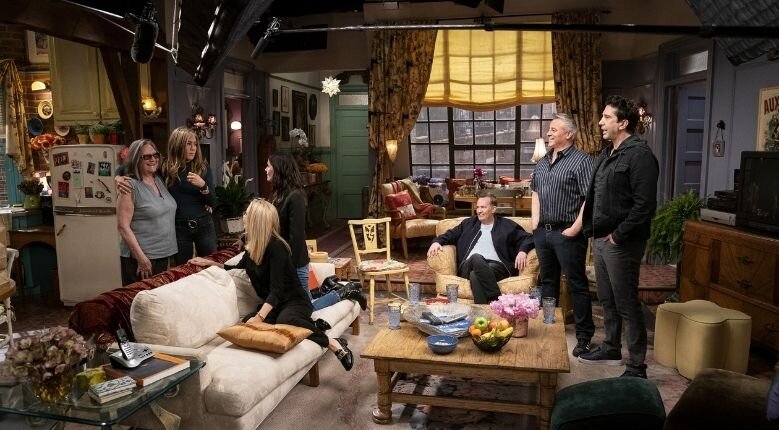 It's not just the main cast that is making a comeback for this special. The reunion will also be held in the original Central Perk and apartment set in Stage 24 at the Warner Bros. Studio. This memorable fictional-turned-non-fictional cafe is one of if not the most-known sitcom backdrops in TV history. Will we get teary-eyed when we see the
Friends
crew on that couch? All signs lead to yes.
It will be unscripted
Many of the original Friends funny moments were
ad-libbed by the cast
. So for those wondering (a.k.a. us) how humorous things would get if the gang were to have full reign over their lines, it looks like we'll witness it in this reunion. Lisa Kudrow shared in an interview with Conan O'Brien (watch above) that the episode will be unscripted. This makes us wonder if the format of the special will be an update on the Friends characters more than two decades after the finale or if will be a sit-down interview panel. Either way, we're keeping an eye out.
The guest lineup is epic
Can we be any more excited for this reunion (yes, we're channeling Chandler with this one)? With this
guest lineup
, absolutely! There's David Beckham, Justin Bieber, Mindy Kaling, and even the youngest
Nobel Peace Prize awardee
Malal Yousafzai.
Fashion Features Writer
Sheryl
can't wait to see Reese Witherspoon reprising her role as Rachel's younger sister Jill. Sheryl said, "She's so cute and seems really nice in 'real life.'" This contrasts how petty Reese's Friends character was on the show. We're also quite intrigued by how she'll look back at her time as a recurring cast member in the series.
For Features Writer
Alyana
, Lady Gaga is the one she's most excited to see. "I know she's been improving in her acting lately (
A Star Is Born
made me cry and I'm looking forward to
House of Gucci
) so I want to see her in a comedic role," Alyana shared. "I think the
Friends
reunion is a good platform for that."
Maybe a
Smelly Cat
duet with Phoebe is in the works, too? HBO Max, make it happen!
Meanwhile, I'm most excited to see Tom Selleck (Monica's epic love Richard), Christina Pickles and Elliot Gould (Mr. and Mrs. Geller), and Maggie Wheeler (OH. MY. GOD. Janice!).
Did we mention their creepy neighbour Mr. Heckles (played by Larry Hankin) will also guest in the reunion special? We repeat: EPIC.
Friends x BTS
Call us biased but allow us to gush about BTS being part of this reunion. An iconic gang meeting another iconic ensemble? We're here for it! Also, in case you didn't know, BTS' RM shared that he actually learnt English by watching episodes of
Friends
. He shared that his mum even bought him a box set of the series. We can't wait to see how he will react when he gets to meet the Friends' gang.
The release date will be...
The
Friends
reunion will stream on HBO Max, HBO Go, and HBO TV channel 9PM GMT 8+ this 27 May.
Comments, questions or feedback? Email us at [email protected].